Now that February has begun and before it ends, let me catch you up on January's events.
That's right. I'm keeping up this year. Well, so far.
Uncle D's Visit
So we spent New Year's Eve at Scott and Heather's as mentioned a few posts ago. New Year's Day, David came and hung out with us. We really didn't do much, but it was great relaxing and catching up. These days we see so little of each other, so I was especially grateful he took the time out of his crazy schedule to come hang for a couple days. I'm sure by the time he left he was exhausted from all the attention the kids gave him. Chloe especially. She just wanted to show off in every possible way, whether it be her knowledge of the story line of a movie she happened to be watching, her ability to do a somersault, sharing her wide selection of games and asking Uncle D to play, or even just fluttering around in her princess attire, waiting for his reaction. It was annoying and cute at the same time, and sadly, while I wanted to tell her to just leave the poor guy alone, I couldn't help but think back to when I was her age and did the exact same thing when we had company. I wish I'd gotten a picture of David and Chloe. Just one of those things you don't think about until after the fact, I suppose. Here are a couple I did get of David with Ryan.
When I saw the one of David and Ryan, I had to share both!

Grandma Jill's visit

My mom flew in on January 3rd. Her trip overlapped with David's by one day, which was a lot of fun. Unfortunately I had just come down with a cold, and was sick the entire time she was here. As a result, we didn't venture out too much. It was still great having her though, and while I wasn't much of a hostess, Chloe and Ryan filled her time plenty. I always love it when my mom comes. There's just something about having her around that makes everything a little better.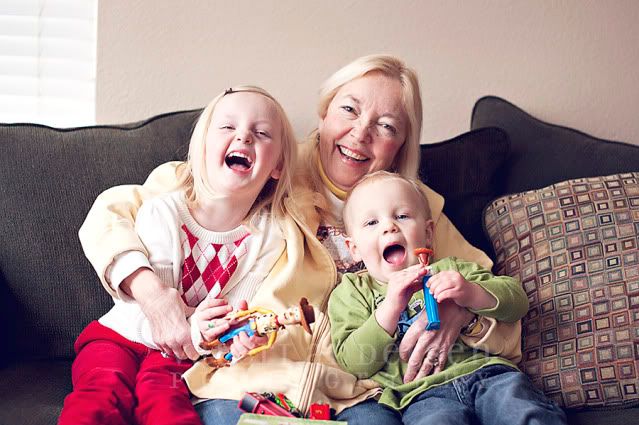 The kids were obviously
not
neglected!
And, for those of you who give me grief about never posting pictures of myself, well, here you go!
My mom flew home on the 8th. On our way to the airport we stopped at the Oakland temple to grab a picture.
This temple holds a particularly special place in my mom's heart as it's the temple where she received her endowments in 1998. It was also the temple in our district growing up (before the Sacramento temple was built), so I went here a handful of times for youth baptisms. It's so unique and beautiful. I'm glad we were able to stop by, even if only for a minute. I can't wait to go on a session there!
Chloe sobbed at the airport when we dropped Grandma off. She does not do well with goodbyes at all! I felt so bad for her. I wish she could see more of her grandparents (both sets!). She is so tender hearted when it comes to family and loved ones. Just tonight, in fact, she said to me, "Mommy, why can't all of my grandmas and grandpas and aunts and uncles live close to us?"
Another Project
Now, moving right along, what would a month in the Andersen household be without a project of some kind? Neil's latest undertaking: overhead lighting in the upstairs.
The guy amazes me. How he makes a trip to Home Depot for needed supplies, cuts holes in the ceiling, climbs up into the attic to play with wires, and finally flips a switch to satisfy his accomplishment, I just don't know. But he did it, and we now have overhead lighting in our office and play area. Our bedroom is also wired for a ceiling fan, and the kids' rooms aren't far behind. What builder doesn't do overhead lighting? Shouldn't it just come standard with a newer home? We've been asking ourselves that a lot over the last 3 months! The downstairs is going to be a royal pain since Neil can't crawl up into the ceiling and will inevitably have to cut out dry wall and patch it up again. Another project for another day!
Ryan's Latest
Not much has changed with Ryan. He is still the destructive boy we've known for two years now. He climbs onto counters, his dresser, in and out of his crib, the dining room table, the piano, the pantry shelves, you name it. He helps himself to the fridge and pantry, plays in the toilet, jumps on our bed, changes out DVDs and CDs to his own pleasing, samples the toothpaste when I'm not watching, scrubs himself down with shampoo, puts on my makeup, you name it. He's unstoppable. Sometimes I feel like his sole purpose is to undo what I've just done. A more detailed post on both Ryan and Chloe is in the works, but for now that's about where we're at. He loves chocolate milk, loves his trains, loves Toy Story 3, has finally started putting words together and is doing a beautiful job of it, and most recently, shown interest in potty training. Looks like we'll be tackling that fun stage very soon!
Chloe's Latest
Not too many updates on Chloe. She's still full of personality, never running low on energy or her voice. She is always talking. Always. ALWAYS! Even when we play the game, "Let's see who can be quiet the longest", we still hear her whispering to herself. The kid drives me nuts, over-explaining everything, questioning everything, socializing with everyone! She has a definite mission on this earth! There's no doubt about it. While she makes me want to pull my hair out a fair portion of each day, I will have to say she's grown up in a lot of aspects too. Tonight she'd gotten into trouble for not listening, and after I'd had a chance to cool down and gather my thoughts I went into her room and plopped her onto my lap. As I rocked her, I confessed that motherhood is hard. I confessed my weaknesses as a mother, and my lack of patience. I promised her I was going to try harder to work with her if she would try harder too. It was really neat seeing where the conversation went and hearing how responsive she was to the things I said. I didn't have to candy coat anything or use simple, basic words to express myself. I was just talking to her like any other human being and she was getting it! About five minutes in, this dawned on me! We were having a heart-to-heart about life! Wow. She is so smart, and truly absorbs more than I probably give her credit for. She's a good girl, all in all, and just as her mother is, trying to be a little better every day.
This was taken about a week ago. She came downstairs in her chef's uniform (which now fits Ryan better than it does her) asking to take Neil's order. She then proceeded up the stairs and back down again with a plate of play food. She loves playing "restaurant" and "house" and "princess" and every other imaginative thing she can come up with. She is the only girl in her Primary class, the only girl in playgroup, and absolutely, positively thrives on it. More on that later.
I resisted the whole New Year's resolution thing as it seems silly to set so many goals for yourself that you're so unlikely to keep. Perhaps my attitude about that is a result of previous years' attempts at making resolutions only to quickly disappoint myself. I will admit I did some serious reflecting in December (mainly as a result of my recent back issues) and, taking into account my normal tendencies, set some realistic goals for myself. 3 things on my list are as follows:
- Finish what you start
- Be in the best shape of your life by August 24th (30th birthday)
- Experience a runner's high
I'm not really sure what inspired me to crave that runner's high, nor did I ever dream I'd have the desire or drive to start running. But guess what? I've been at it for over 2 weeks now, and well, I just may be hooked. Running has honestly helped me on so many levels. By nature I am the type of person who will start a project or form a habit, be pumped and dedicated at the beginning, giving it my all, but quickly give up when it becomes too hard or inconvenient. So lame, but that's just who I've always been. During our move as I was going through stuff and came across at least 4 unfinished craft projects, one of which I started 3 years ago, I just got fed up and decided it needed to stop. Well, strangely enough, running has allowed me to see the light. Already, I've crossed over the first big hump and proven to myself that it really is possible to run. I used to pass runners on the road while driving and think to myself, "Crazy person! Why would you want to run?" followed by, "I could never do that. Even if I wanted to, I'm just not cut out for running." Now when I see a runner I find myself thinking more along the lines of, "You go girl (or guy)!" and "I wonder how long s/he has been running, how far s/he has gone, what brand of running shoes s/he is wearing, etc..." I don't love running, but I love the feeling I have after I've run - both physically and mentally. I'm beat, which is great, but what's better is knowing that I accomplished my goal; that I'm maintaining a healthy habit and proving to myself that I can finish what I started! One of these days, too, I'm bound to feel that runner's high. AND, I'm bound to finish those craft projects I started!
I took my first run on January 15th. I ran/walked (okay, mostly walked) just shy of 2 miles. 2 Fridays ago I finally made a goal of running half a mile without stopping. I honestly didn't think I had it in me, but I just kept telling myself to keep going. And I did just that. Last Monday (Neil's birthday), I really shocked myself and ran 1.5 miles. Last Thur, 1.6 and Fri, 1.7. Monday I surprised myself once again and made it 2.4 miles without stopping. Tomorrow's goal: 3 miles. As difficult as it still is, I've found that running is just as much mental as it is physical. Sure, there comes a point where you feel as though you just might drop dead on the road, but if you tell yourself to keep going, that you
can
do this and that you
need
to do this, suddenly it becomes possible. The mind is a powerful aid when it comes to running, and has ultimately gotten me where I am now. I still have goals I want to reach, but every day I gain more confidence that this is something I am going to stick with. My left knee started bothering me a little over a week ago, and I've worried since then that I may just not have the right knees to run, but strangely, after Monday's run, the discomfort went from a "on the verge of an injury sore" to an "utterly exhausted sore", so I'm hoping that's a good sign that my knees are simply building strength and will start cooperating with me soon. I've had a couple friends already ask me if I'm planning to train for any races. Definitely not getting ahead of myself, and frankly, I have no desire to run even a half marathon. Perhaps that will change in time, but for now, I could definitely see myself doing a 5k. Part of me is tempted to sign up for one coming up in March (here in Ripon) because then I'll really have to commit, but I'm not sure I'm there yet. I think I'll know in the next couple of weeks.
So other than some wonderful visitors at the beginning of the month, Neil's birthday at the end of the month, my getting-into-shape endeavors, installing overhead lighting, kids enjoying their new playroom and Ryan showing interest in potty training, it's been a pretty uneventful 31 days. Let's see what February holds, shall we?