Is it just me or has December flown by? It seems like Thanksgiving was a week ago, and yet Christmas has already come and gone! It's kind of sad. I am relieved to have the craziness out of the way, but bummed I didn't give myself more chances to just relax and enjoy. There were moments of bliss, don't get me wrong. Christmas music, Christmas smells, baking, watching the snow fall, planning out gifts for loved ones, admiring the tree, and most of all, seeing the magic of the season shine through my children's eyes. But for some reason I was extra stressed this year, and as a result, more vulnerable to the pressures of the season. What's ironic is that we didn't travel this year, nor did we have guests! So what really should have been the most relaxing Christmas yet, wasn't. Needless to say, I've reflected lots, and come to the conclusion that I was the one creating the pressure. After a good slap on the hand, I am ready for next year, to put my focus on the simple pleasures and off the still good, but less important things.

December was a full month! Here are some of the high lights (in no particular order).
Zippy, the elf made his appearance shortly after Thanksgiving and stuck around until Christmas Eve night when he flew home to the North Pole until next December! If you aren't familiar with
The Elf on the Shelf
, you need to be!
Each morning, Chloe would come racing out of her room asking, "Where's Zippy?!! Where's Zippy!?" Then the second she'd spot him, her eyes would get big, her jaw would drop, and out would come an exuberant gasp. It was so fun watching her excitement and enthusiasm. I love the faith and innocence of a child. Chloe was sad to see Zippy go on Christmas Eve, but I suppose he wouldn't be so special if he hung around all year.

We had a preschool Christmas party, where the kids each brought a wrapped up book to exchange. It was a little chaotic, but a lot of fun! Reese is missing from the pictures, because he had already left. :(
As many of you know, a good part of my youth was spent in ballet class. I performed in
Vacaville

Ballet's
own rendition of 'The Nutcracker' for more years than I can count, and as cheesy as it sounds, it became a part of me. I could hum the music from start to finish if you asked me. I love the story, the music, the magic and the tender memories all of those things bring back. Since I was a teenager, I have
dreamt
of taking my daughter to see the Nutcracker ballet, and this year that dream became a reality. It was much more special for me than it was for Chloe, but I know as the years pass and we make this a tradition, she will grow to appreciate it more.
We went to a local performance. It wasn't spectacular, but then again I'm a Nutcracker snob. The important thing is that we had a good time! The first ten or so minutes engaged Chloe, but after that she couldn't sit still, nor keep her mouth shut. Strangely enough, she was more interested in the Nutcracker and soldiers than she was the dancers who were all dolled up in tutus and shimmery costumes. That's especially weird for Chloe, who is about the
girliest
four year old I know! When she saw the soldiers with guns, she asked, "Are those guns real? Are they going to come after me?" While it wasn't exactly what I
envisioned
, it was a precious time with her, and I'm so glad we did it.
Daddy took our picture before we left.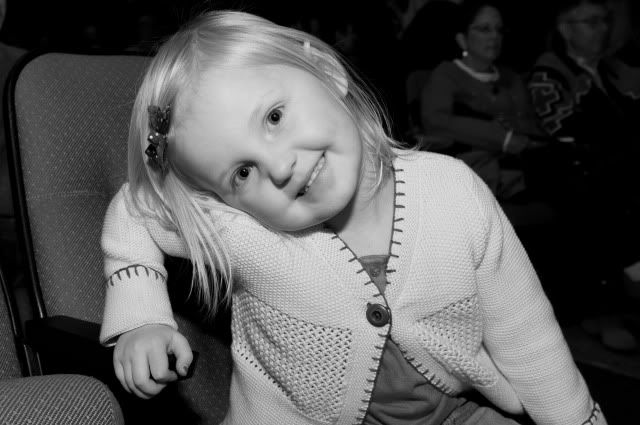 Here's Chloe anxiously waiting for the show to start.
Afterwards they had a 'tea party' for the guests with treats to munch on. While Chloe and I enjoyed some goodies, the dancers wandered around greeting the guests, and these 3 stopped by to say hello to Chloe. She felt like quite the VIP!
Here's a little peek at our Ward Christmas party. I took a handful of other pictures, but, thinking I'd already copied them to my desktop, I deleted them off the memory card. Naturally I realized this
after
the fact, but our friend,
Andrew
was able to retrieve this one photo for us. I had a pretty hilarious one of terrified Ryan on Santa's lap. You could hardly even see his face because he was trying so hard to crawl out of his arms! I am mad at myself that I wasn't thinking more clearly when I emptied that memory card because it would have gone perfectly with a certain picture I have of Chloe when she was Ryan's age doing the exact same thing.
As you can see, Ryan was pretty traumatized!
Neil and I were able to sneak away last Thursday to Winter Park for a day of skiing. We scored two free lift tickets when we attended
Warren Miller's show
in November, so it didn't cost us a dime! I'll be honest. I wasn't excited to go, mainly because I didn't want to burden someone else with my kids for an entire day, but by the second run, I was quite enjoying myself! It was a beautiful snowy day, and the park wasn't crowded at all.
Thanks,
Dan
for joining us! And thanks, Allison for taking both of the kids for a full 10 hours!
Chloe and I had fun baking Christmas cookies, fudge, popcorn balls and other holiday goodies! We read Christmas stories, watched Christmas movies like Charlie Brown, Rudolph, and Elf! Chloe has now seen the movie Elf so many times that she recognizes not just the Christmas songs from the movie, but the actual recordings! The other day we heard Ella Fitzgerald sing, 'Sleigh Ride' and Chloe immediately said, "Mommy! That's from Elf!" She's a smart one that Chloe girl.
On Christmas Eve we went to our dear friend Cindy's for dinner and an early celebration. To say Chloe loves Cindy would be an understatement. She absolutely positively ADORES this woman! Luckily Cindy adores Chloe too. And on several occasions she has taken Chloe on little dates, which has helped me out greatly! A couple weeks ago, she took Chloe out for her birthday. First stop was Build a Bear, followed by dinner at Chick-
fil
-a, complete with an ice cream cone! She has been very good to us. She might as well be part of the family.
Isn't this a great picture!?
Thanks for the
jammies
, Cindy!
The other day, Neil was taking a rest on Chloe's chair. Concerned that he might be cold, Chloe let him borrow her blanket and a couple stuffed animals too! Neil was very appreciative!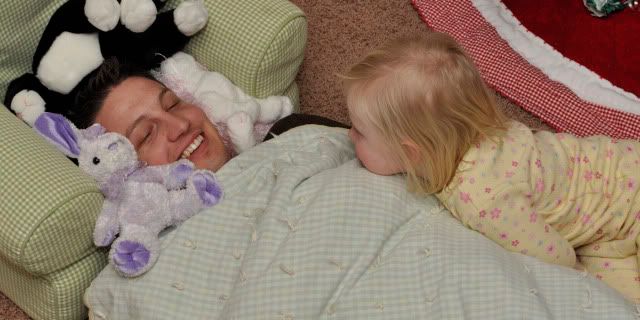 She loves her daddy. There's no doubt about it!
Here are a few other random December pictures.
More pictures from Christmas morning to come. I think this post as about reached its limit!