Chloe got plenty of use out of her costume this year, and frankly, I'm glad to finally be putting the darn thing away! What a week!


For months Chloe has had an unexplainable fascination with spiders. Terrified yet obsessed all at once. She points them out (from a distance) whenever she sees one, draws pictures of them, and has even included "our spider" in her prayers on numerous occasions. This habit started a good three months ago and I still have yet to understand where it came from. Either way, I am hoping it's all in her head. The thought of finding a pet spider in my house makes me want to cringe. Anyway, when October rolled around and I started to contemplate Chloe's Halloween attire, a spider just made sense. She was an immediate fan of the idea and has thoroughly enjoyed announcing that she was going to be a "scary spider, not a funny spider" this Halloween.


Hate to say it, but this spider looks a little too cute to be "scary". Just my opinion.



Wednesday we took her to a local high school's carnival, which she lasted a whole 10 minutes at. I think the crowd overwhelmed her. Thursday night our church hosted a carnival and trunk-or-treat, which she did much better at. She was initially intimidated by the chaos, but once we got out to the parking lot and she realized that walking up to each car and holding out her treat bag (whether she said "trick-or-treat" or not) resulted in getting candy, she quickly perked up.

Stephanie and me. We are due the very same day.



Getting the hang of trunk-or-treating



Not even strapped into her carseat and already examining her candy inventory!



Enjoying a few more treats before bedtime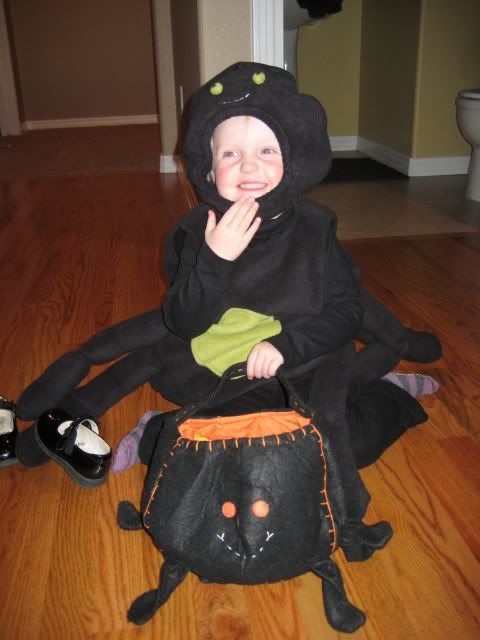 Friday morning we went to Walmart for even more trick-or-treating! Chloe enjoyed herself, and was quite proud of the stash she'd acquired by the time we left.

With her little friend, Emma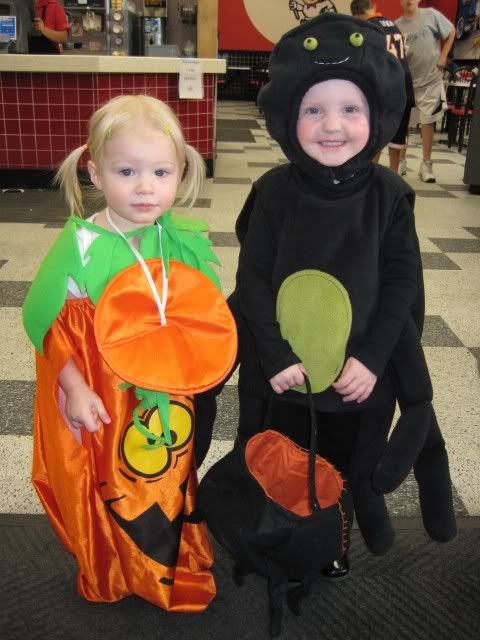 Chloe leading the way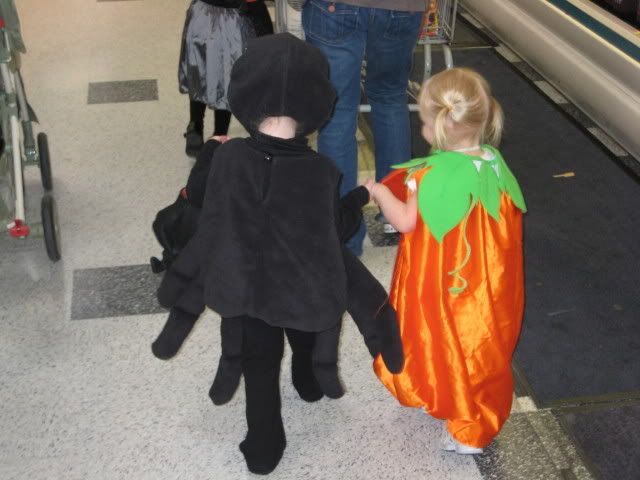 A spider in action



Taking a breather between candy stops



By yesterday afternoon Chloe was about Halloweened out. I think we all were, to be honest. A few too many timeouts and meltdowns were had, and Neil and I eventually came to the conslusion that we would be staying in for the evening. I was kind of bummed to put Chloe to bed early, having to explain that we didn't get to go trick-or-treating because of some choices she'd made. It's sad when you have to enforce tough love parenting, even on Halloween night.

Despite the minor frustrations, I'd say we had a fun and full week! Hope you did too!