Saturday, 08 November 2008
From the start my day did not go as planned. My original agenda: clean/pick up my house, grocery shop, attend a baby shower, and prepare dinner for company later that evening. What actually happened? Chloe threw up and I got a migraine. I did manage to get the house picked up, but I didn't make it grocery shopping or to the baby shower. And worse, I ended up in bed the last half of the afternoon because I felt so crummy. Around 4:00, Neil's sister, Lori and friend, Amy drove in from Greeley to stay the night with us. We, along with friends,
Dan and Stef
, had purchased tickets to attend
Warren Miller's
annual ski and snowboarding film that same evening. Not only are his films incredibly entertaining, but with each ticket purchased, a free lift ticket is automatically generated. Dan and Stef headed over around 4:30, we ate, and were all out the door by 5:30.


6:00pm
The minute we took our seats the contractions began. They were coming fast and furious, two minutes apart. While I immediately recognized that they were regular, I didn't think anything of it. I'd already experienced two bouts of regular contractions a week prior, so I wasn't about to get my hopes up over these! They were more intense than any I'd had before, but I still didn't think much of it and simply tried to relax and enjoy the show.


6:50pm
The first half ended and intermission was announced. We decided to head downstairs to enter some contests and pass the time before the second half started. That's when it happened. I stood up and GUSH! At first I thought my water had broken. It wasn't a ton of fluid, but enough that I was grateful to have worn dark jeans! I told Neil I'd felt something, but as we started to walk I didn't feel anything more coming out. Still, I thought a trip to the bathroom might be smart. When I entered the stall and took a look all I saw was blood - and A LOT of it! I didn't even stop to go to the bathroom. I just marched right back out and straight to Neil, who was standing around with everyone. He could immediately tell by the look on my face that we needed to leave - RIGHT THEN! Luckily we'd driven two cars, so Lori, Amy, Dan and Stef were all able to stay through the second half.

7:07pm
As we were pulling out of the parking lot I paged Dr. Baer. While we weren't sure whether we should head home or straight to the hospital, we figured it wouldn't hurt to stop and grab the hospital bag. By this point my contractions were intensifying and I was having to really breathe through some of them. We got home long enough for me to change pants and grab my bag. Dr. Baer also called just as we were getting ready to take off, and confirmed that we should head to the hospital to see what the bleeding was about and get the baby monitored. Our friend, Cindy, had taken Chloe for the evening and was, at the time, out and about running some errands. When I called to tell her what was going on, she immediately headed back to our house so I could kiss Chloe goodbye. Here's the last picture taken of us as a family of three! This was just moments before we headed to the hospital.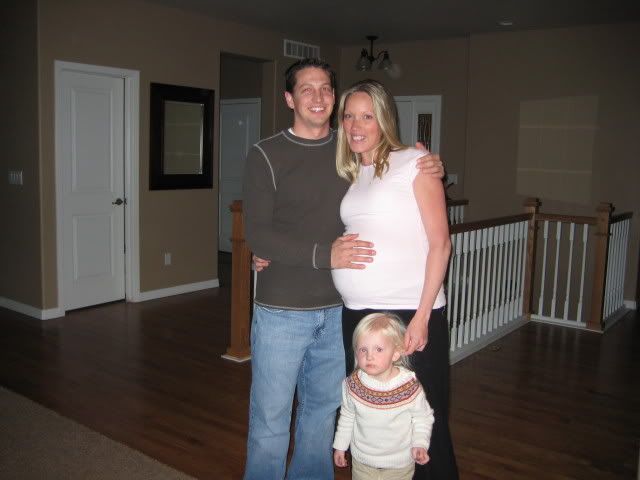 8:16pm
Arrived at Memorial Hospital and headed straight to triage. The nurse checked me and said I was about half a centimeter dilated. She then did what basically seemed like a routine pap to try and determine the source of the bleeding. After getting me hooked up to the monitors, she commented that my contractions were coming fast and hard (as if I didn't know). The baby looked great and showed no signs of distress, but the bleeding was still a concern to all of us. She called Dr. Baer to give him the scoop, and a few minutes later I was admitted. It was still unknown whether or not I was there to stay, but the nurse told me as long as I was bleeding and having regular contractions, I was probably not going anywhere!


12:20am (now Sunday, 09 November 2008)
Dr. Baer dropped in to see how I was doing. He checked me and determined I was at a 1. Still not showing much progress though, considering how strong my contractions were. When he told me I could get my epidural at any time, I said, "Well I'm not getting an epidural until I know I'm here to stay!" And his response was, "Oh, you're not going anywhere until you have this baby!" I was thrilled! Dr. Baer, being aware of my desire to attempt a VBAC told me he was willing to let me labor through the night, assuming the baby continued to look good and my bleeding didn't worsen. By morning we'd evaluate where things were and decide from there what to do.

2:30am

8:30am
Still dilated 1 cm. Frustrated! Dr. Baer broke my water to see if that might get things going. By this point I'd come to the conclusion that if in nearly 14 hours of labor I'd only dilated to 1 cm., chances were, it'd be SEVERAL more hours before I was ready to push! My bleeding hadn't worsened, but it also hadn't slowed down. I'd reached my goal of going into labor on my own, and while I'd hoped for a successful VBAC, I was content with the idea of having another c-section. I was ready to have my baby in my arms, and didn't see the point in waiting it out, especially since we still didn't have an explanation for the bleeding. Dr. Baer and I came to the agreement that if nothing happened within the next hour, we'd do a c-section.

9:30am
As I expected, nothing had changed by the time Dr. Baer made it in to check me again. Neil's sister, who was now with us at the hospital, was given permission to be in the operating room during the surgery, and she and Neil got all geared up in their blue scrubs while the anesthesiologist prepped me. It took no time at all before they were wheeling me into the OR. I couldn't believe it was finally time to meet this little baby I'd been carrying inside me for the last nine months.


This was the last picture taken before my c-section.

9:50am
Just as they were transferring me to the operating table, I threw up all over the anesthesiologist. Oh, it was horrible! Projectile and everywhere - even in his face! How I managed that, I'm not sure. He gave me a pretty hard time about it over the next few minutes, and while I felt absolutely humiliated, I was also relieved to be feeling so much better for those moments leading up to baby's birth. Neil and Lori watched on as I starred up at the ceiling, waiting to hear my baby's first cry.


9:56am
Just what I'd been waiting for - a good, loud, healthy and vivacious cry! This baby was clearly NOT happy to have been pulled from the warmth and comfort of mommy's womb! It was absolutely precious.
... ... ...


Neil: "Mommy, you have a son!"


Neil brought him over and laid him next to my face. I rested my cheek against his and talked to him for a minute, gave him a kiss, and smiled for a couple pictures before they whisked him away. I was surprisingly alert and energized during the entire c-section. During Chloe's birth, I could hardly keep my eyes open and was shaking uncontrollably (just one fun side effect of the drugs). Neither of those things happened this time around, and it made the experience so much easier to enjoy. Dr. Baer also determined rather quickly following Ryan's birth that my placenta had started to separate from the uterine wall. That would explain the bleeding. Luckily no other issues. I was put back together and taken to recovery.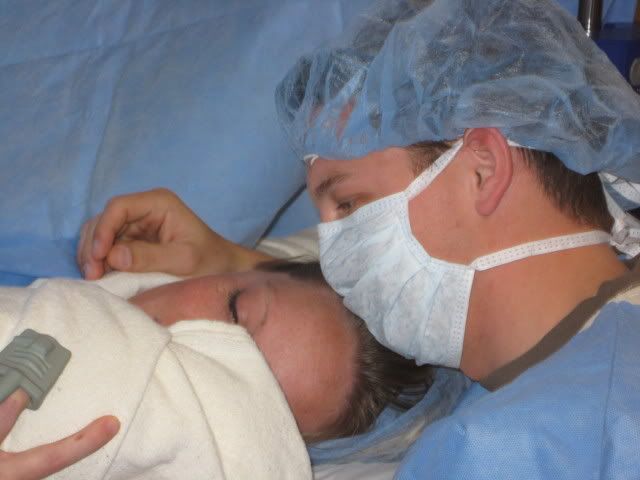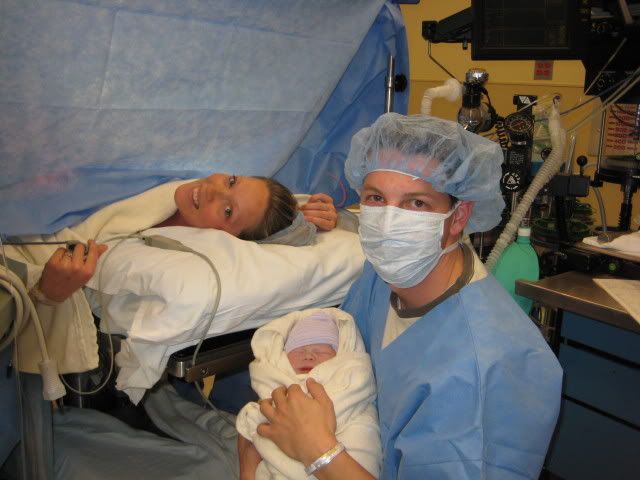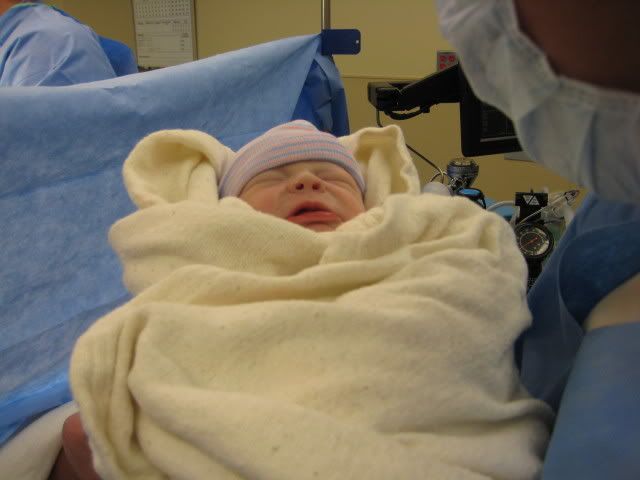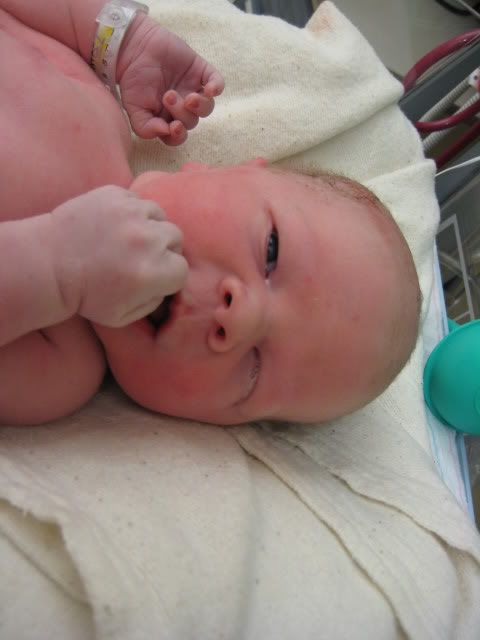 Sometime around 11:00am
Held and nursed Ryan for the first time. Absolute bliss. Nothing better.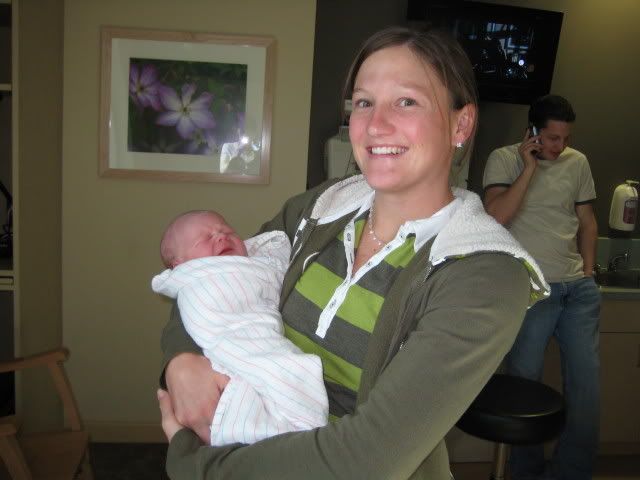 Aunt Lori chose the right weekend to drive down for a visit, didn't she?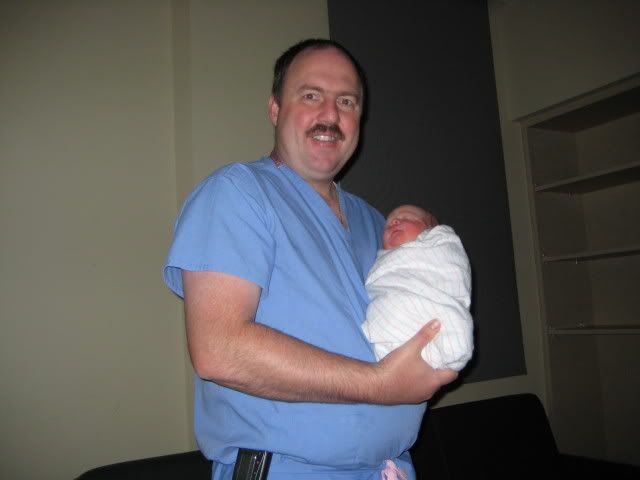 Dr. Baer with Ryan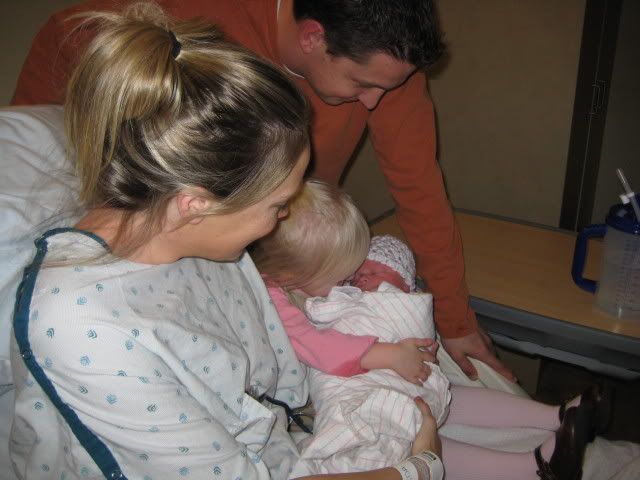 First time together as family of four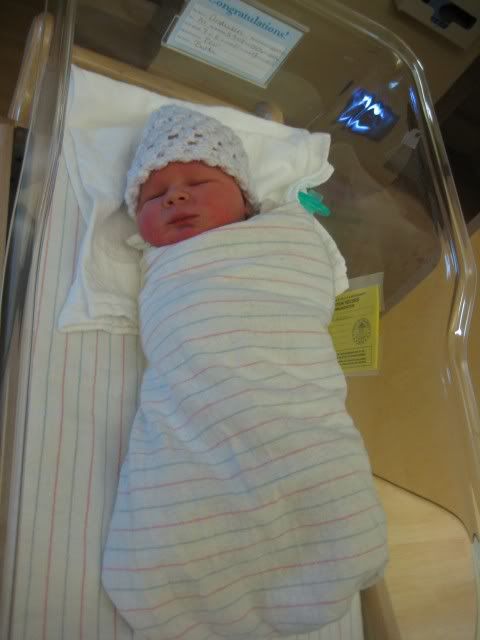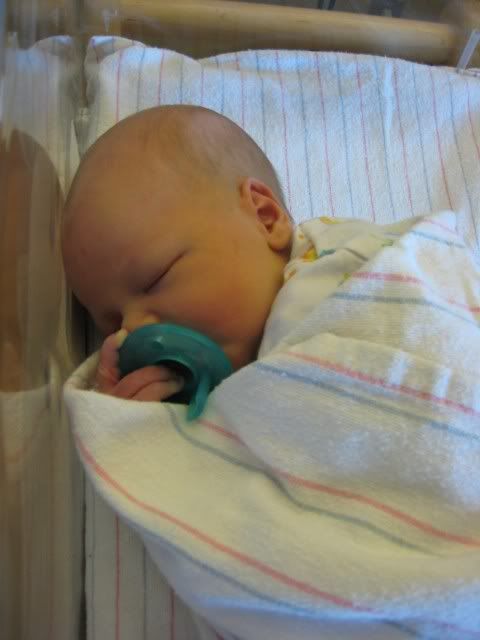 Ryan has brought such a sweet spirit into our home. He is much more cuddly than Chloe was, and loves to lay on my chest. He is nursing well, and quite frequently, which I hope eventually slows down. If he could have his way, he'd eat every forty five minutes! He's gradually becoming a better sleeper, and doesn't seem to have his days and nights mixed up like he did when we left the hospital. He has a bit of a temper like his mama, and makes it very clear when he's not happy. His lungs work well - something that was determined the second he left my womb.

I do love this little man.
Chloe is adjusting well to not being the center of the universe anymore. She's had her moments, but overall I've been very impressed with her behavior. She is constantly asking to hold Ryan and wanting to help out as much as possible. She's also asking lots of questions. The other night while I was changing Ryan's diaper, Chloe said, "What's that?" (pointing to his you know what) "...I don't have one of those!" She also asked if there was another baby in my belly (apparently I'm still looking pregnant). :) She's been carrying around her doll, attempting to nurse, soothe and rock her. She's quite observant, I'm learning. I love her innocent curiousity. She is so sweet and concerned about her new baby brother, and I can already tell they are going to grow to be best pals.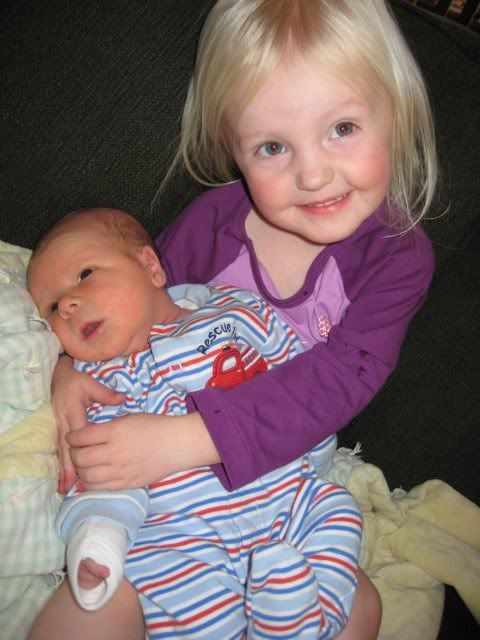 Neil, honey, we did good!