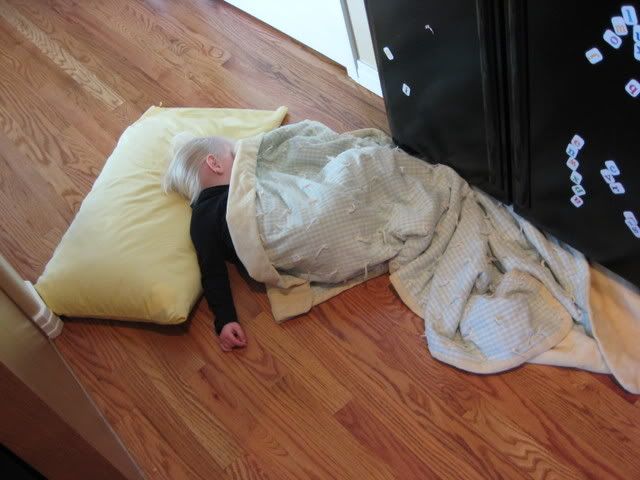 ...where all you want to do is sprawl out on the kitchen floor and go to sleep?

My poor, sick Chloe. What started as hoarseness and a cough Saturday night quickly progressed into:

an ear infection (first one ever)

an eye infection (also a first) &
My little girl has been MISERABLE these last few days, and I finally took her to the doctor this afternoon. I always hesitate to make that appointment. Call me crazy, but paying $60 to hear someone with a M.D. behind his name tell me my child is fine and to just keep giving her Tylenol every 4 hours until it passes doesn't exactly appeal to me. This morning however, as Chloe shuffled around the house with her blanket, refusing to eat, and looking as though she might pass out at any second, it was obvious that whatever I'd been doing wasn't enough.
I am hoping Chloe is back to her old happy, talkative, and yes, even sassy self soon. I miss her. Luckily the rest of us have managed to stay mostly well. My body has been fighting a sore throat and general achiness since Sunday, but if that's all I have to deal with I'll gladly endure it a few more days! The pediatrician took a peek at Ryan after Chloe's appointment and confirmed he looked perfectly fine. She did suggest I keep a close eye on him (duh), and Chloe a fair distance from him (right). I'll just wave my magic wand to make that happen. Actually, if I had a magic wand, I wouldn't be taking advice from a pediatrician because my daughter wouldn't be sick!
Here's Mr. Ryan this afternoon. At least someone in the house was happy today.