I've been on a muffin kick lately. And when I get on a muffin kick, there is only one recipe I turn to for satisfaction! The first time I made these I knew it wouldn't be my last. They were devoured in a matter of minutes and Chloe asks for them ALL THE TIME! Here is the original recipe. It has over 3,800 reviews and averages 5 stars. There, is that convincing? Enjoy.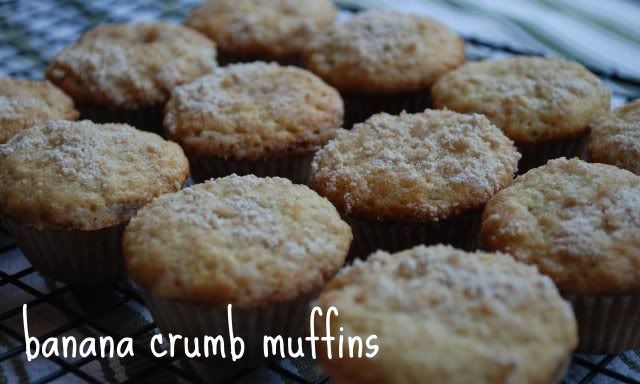 Ingredients:
1 1/2 cups all-purpose flour
1 t. baking soda
1 t. baking powder
1/2 t. salt
3 bananas, mashed
3/4 c. white sugar
1 egg, lightly beaten
1/3 c. butter, melted
1/3 c. packed brown sugar
2 T. all-purpose flour
1/8 t. ground cinnamon
1 T. butter
Instructions:
Preheat oven to 375. Lightly grease 10 muffin cups, or line with muffin papers.
In large bowl, mix together 1 1/2 c. flour, baking soda, baking powder and salt. In another large bowl, beat together bananas, sugar, egg and melted butter. Stir the banana mixture into the flour miture just until moistened. Spoon batter into prepared muffin cups.
In a small bowl, mix together brown sugar, 2 T. flour and cinnamon. Cut in 1 T butter until mixture resembles coarse cornmeal. Sprinkle topping over muffins.
Bake in preheated oven for 16-20 minutes.

My own two cents:
When I make a batch, I only bake however many we'll eat that same day (storing the remaining batter in the refridgerator) until it's all been used up. Muffins just aren't as good left over. The topping especially loses that perfect crunch and just becomes mush. The recipe says 10 muffins, but I can usually get 16. The last time I made these I used the mini muffin tins and will probably be doing that from here on out! They just tasted better that way for some reason.
~~~ ~~~ ~~~
And because I'm feeling generous, here's another yummy recipe that also falls into the 'Breakfast' category. Our friends,
Dan and Stef
introduced this to us a couple years ago during a
Conference weekend
, and it has since become a Conference weekend tradition. I'm not too fond of eggs, but I LOVE this stuff! Perfect variety of flavors and textures. It's pretty too!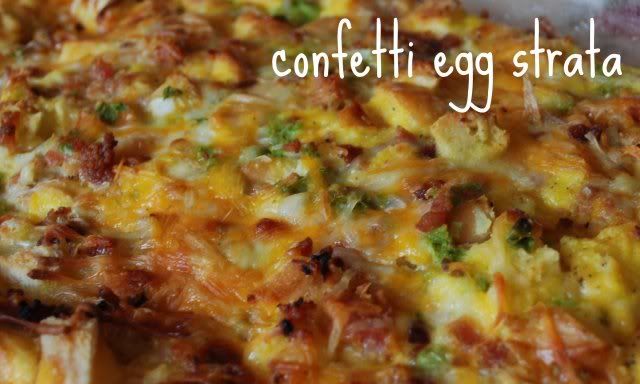 Ingredients:
1/2 loaf French bread, cubed

1 1/2 c. cubed ham

1 c. bell pepper, chopped

1/2 c. green onion, chopped

1 1/2 c. shredded Cheddar/Monterey Jack cheese blend

8 eggs

2 1/3 c. milk

1/2 t. salt

1/4 t. pepper
Instructions:
In a greased 9x13 inch pan, layer bread, ham, peppers and onion. Cover with half of cheese mixture. Repeat once more. In large bowl, combine eggs. Whisk in milk, salt and pepper. Pour over layers in pan. Cover and refrigerate overnight. Cook at 350 for 55-60 minutes. Cut and serve!