WARNING: This post contains nudity. If you consider bare baby bums to be offensive, exit this blog immediately! And seriously, get a life!
Ryan had his 6 month check up yesterday. He's my long lean boy, still with plenty of chunks! Here are his current stats:


16 lbs., 6 oz. (31st percentile)
27 inches (75th percentile)


And here are some of the things that have been occupying his time:
He's been sitting stably for a couple weeks now. It's great plopping him on the floor with a toy and walking away, knowing he'll be perfectly fine. He especially enjoys sitting in front of the mirror in our bedroom, where he can admire his reflection. He gets quite a kick out of himself. Who wouldn't starring at such a handsome face?

What a little ham!

He's slowly becoming mobile. When I lay him on his back, he immediately rolls onto his stomach, then straightens his arms, ultimately lifting his top half off the floor. Now if he could just figure out what to do with those legs, he'd be taking off! He has started to do the backwards army crawl, and also rotates around in a circle over and over again, but hasn't yet grasped traditional crawling. I'd be willing to bet that within 2 weeks the safety gate finds a permanent home at the top of the stairs.
Ryan is still a horrible sleeper! Early to bed, early to rise with lots of wakings in between is his philosophy. Drives me crazy. I've tried everything I know to try. Feeding him solids just before bed, laying him down when he's still awake, letting him cry it out at night, etc. Naps aren't much better. Rarely does he sleep for more than 45 minutes to an hour at a time. Stubborn boy. Good thing I love him so much!


He's started mumbling some with the "goos" and "gaas", but mainly just squeals and coos still. He has the sweetest temperament, and loves to just sit back and observe the action most of the time. I'm learning he is very responsive to music. Often when he's fussing, I'll start to sing and almost immediately he will stop fussing. Sunday when Neil and I subbed in Primary, Ryan hardly took his eyes off
Anna
, who lead singing time.
If you smile at Ryan, he'll smile right back, guaranteed. He's my friendly, social, sweet SWEET boy.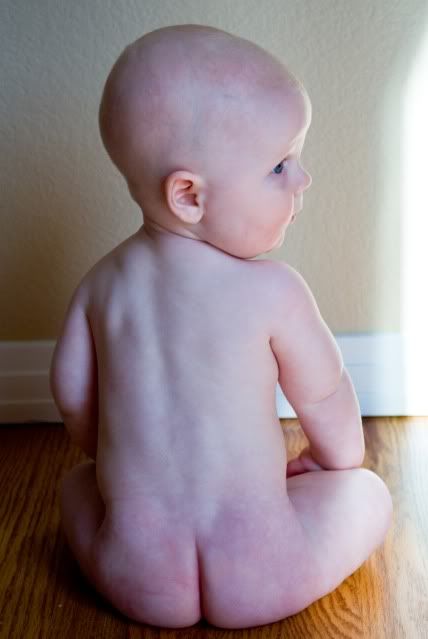 Not sure where the last 6 months went. Hopefully the next 6 give me at least a few moments to breathe and enjoy this baby before he's not one anymore!