Goofing around with Chloe at Brad and Courtney's wedding.
Jeff is Neil's younger brother by 16 months. I've heard countless stories about all the trouble and tears they put their poor mother through as young boys. My favorite is the roman candle story when they were, in Neil's words, "shooting them at one another" before eventually catching the lawn on fire. As if that wasn't brilliant enough, they proceeded to cover up their disaster by spray painting the lawn green! This story continues to make me laugh, and I can only imagine some of the other things they came up with.
They look so sweet and innocent, don't they?


My first memory of Jeff is when Neil and I were engaged, back in summer of 2002. He called me on the phone one day, claiming to be Gerald, I think it was, from my college Biology class. After introducing himself and trying to convince me that we knew each other, "Gerald" proceeded to ask me out for "a hamburger". While I never bought it, I'll have to say Jeff did a pretty good job of sticking to his story. He probably went on for a good five minutes before finally admitting he was actually Jeff, my future brother-in-law, NOT Gerald from Biology. In the seven years I've known him, Jeff has continued to be the fun, outgoing, jokester I remember from that very first phone call!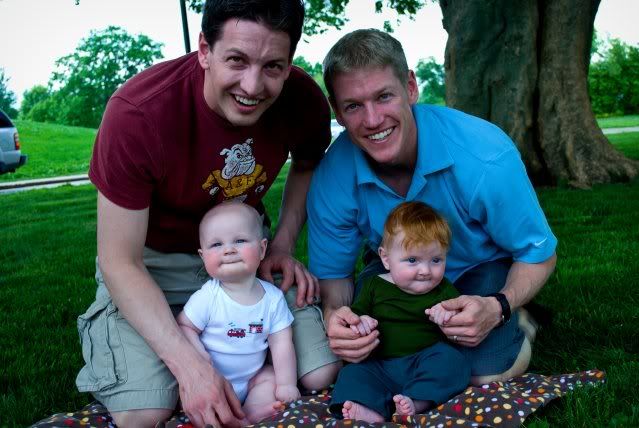 Here are Neil and Jeff with the boys. This was just taken last week.
Jeff, thanks for always making us smile. You are awesome, and I hope you had a very happy birthday!