Here's a pasta dish I recently tried out. It was a hit, and I'll definitely make it again. I found this on
My Fabulous Recipes
, a food blog I stumbled upon a few weeks ago, and have since become slightly addicted to. The original recipe can be found
here
. Or here's my own adaptation.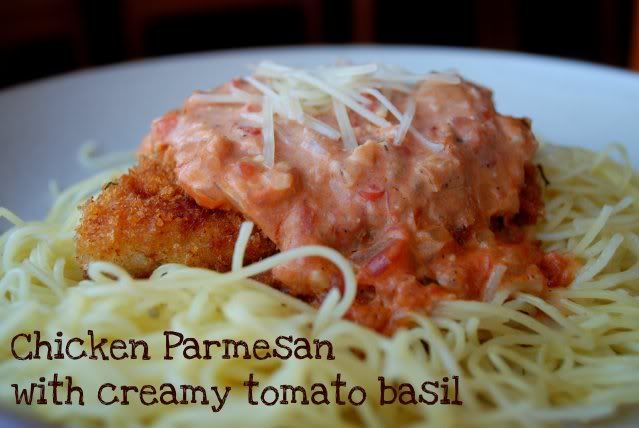 Your favorite pasta noodles (we love angel hair in this house)

1 lb. chicken breasts, pounded 1/4 inch thick, then cut in half (I basically cut them to the size of large chicken tenders)

1/2 c. flour

3 large eggs

2 c. panko (Asian bread crumbs)

2 t. seasoned salt

2 t. parsley flakes

1/3 c. grated Parmesan cheese

Olive or canola oil

Creamy tomato basil sauce, below

Instructions:
You'll need 3 shallow bowls (I used pie dishes): 1 for the eggs (beaten), 1 for the flour, and 1 for the panko. Mix seasoned salt, parsley flakes, and parmesan cheese with panko.
Dredge chicken in flour. Shake off excess. Transfer to eggs, then onto panko mixture for an even coat. In a large skillet (I use my electric skillet), heat enough oil to create a very shallow layer on medium-high heat. When oil is hot, place the breaded chicken in the skillet and cook 2-3 minutes per side, or until golden brown. Transfer to a paper towel lined plate to drain excess oil.

Ingredients for Creamy tomato basil sauce:
2 T. olive oil

1 large red onion, chopped

3 cloves garlic, finely chopped

1/2 - 1 t. crushed red pepper flakes

2 (14 ounce) cans diced tomatoes (I used 1 can and chopped them up a bit)

1 T. balsamic vinegar

1 T. dry red wine (optional - I didn't have any on hand)

1 t. white sugar

1/3 c. fresh chopped basil

1/4 t. salt

1/4 t. ground black pepper

2/3 cup mascarpone cheese (here's a substitution: 16 oz. cream cheese, 1/3 c. sour cream, 1/4 c. heavy whipping cream - if I remember right, cutting this in half came to about 2/3 c.)

Instructions for sauce:
First, start your pasta, following package instructions.
In a medium sauce pan, heat olive oil over medium heat. Add onions, garlic, and red pepper flakes until carmelized, about 3 minutes, stirring occasionally. Stir in the tomatoes, balsamic vinegar, red wine (if desired), and sugar, and cook another 10 minutes, stirring occasionally. Stir in the basil, salt, and black pepper, and simmer, about 10 minutes. Remove from heat, and stir in the mascarpone cheese, until sauce becomes creamy. Pour over pasta and chicken and enjoy!

My own two cents:
The pasta absorbed the sauce pretty fast, so when I heated up leftovers, I added half and half to thin it out, and to make it go further. Next time I'll probably double the sauce recipe portion, and still add just a touch of half and half or whipping cream. Maybe I should have used the second can of tomatoes. That just seemed like a lot to me.
I wasn't sure about the panko, considering it's Asian and this is an Italian dish. But it was really good, and I'll absolutely use it again. I bought a box at Safeway for $1.79. It had a crunchier consistency than traditional bread crumbs and as a result, made getting a decent coat over the chicken much easier.