WRITTEN SUNDAY, JANUARY 8th.
I've been back from Utah now for one day shy of a week. It's always nice to get away, but man, it sure feels good to be home, too! I also have to say that it was nice getting home and knowing I still had a solid week left of Chloe's break before the normal routine started up again. Even still, I'm not sure I'm ready for the craziness to begin tomorrow morning. Unfortunately, ready or not, here it comes!
First off, here are a few more pictures of Ryan on his first day as a Sunbeam (last Sunday). I snapped these right before Primary began. More on our Utah trip eventually.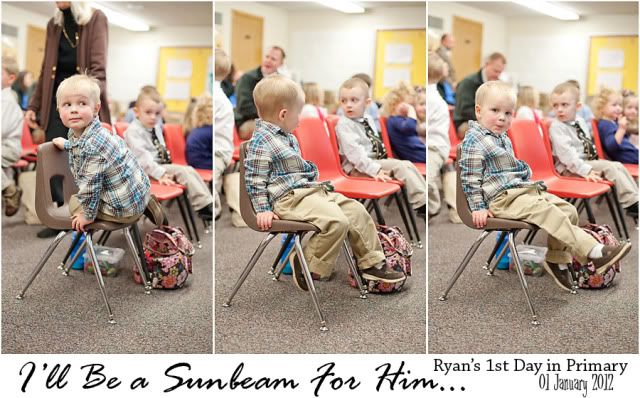 Our week was pretty uneventful. The weather was nice, so the kids rode bikes and played outside, and Neil and I got some yard work done. It's looking like we may be turning our sprinklers back on next week, which is just a puzzling concept to us. I guess we're still in the mindset of Coloradans, who have a solid three months before they'll even be thinking about sprinklers. In addition to soaking up some warm, January sunshine, the kids played super heroes with their capes and masks, taking turns playing hero, villain, and victim, which, by the way, was and is absolutely hilarious. They're pretty dramatic. The dialogue they come up with constantly has me giggling to myself. Must be all those old school super hero shows they watch on "Neck-fwix," as Ryan calls it.
Confession: these were actually taken the week of Christmas, but since they so accurately depict what these two look like when they play super heroes, and since I didn't happen to capture them in action this week, I just decided to throw these in. Yes, Ryan is wearing Chloe's mask, and no pants. And his shirt is on backwards (over the top of a pajama top). Stylin'.
Chloe broke in her puppet theater, which I'll blog about in my Christmas post.
And among other things, the kids played legos (a favorite of both), marbles, and trains.
Here's a video Neil took of Ryan playing with his
Marbleworks set
the other day. Neil is the first to admit that he loves the thing as much as his son does!
Saturday afternoon, we drove to Pleasanton to celebrate a post-Christmas with Scott, Heather and JD. It was comfortable and relaxing, as always.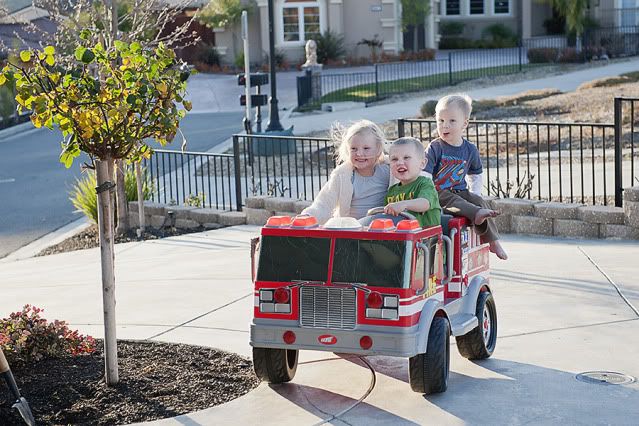 The kids took turns driving the ATV and loved every minute of it.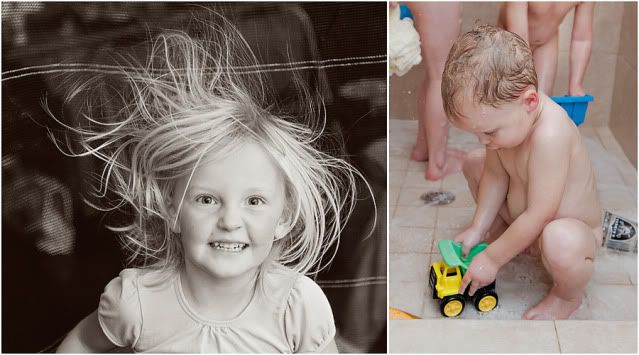 Chloe jumped on the indoor trampoline (left) and all three kids played in the shower (right).
Heather is becoming more like a sister to me these days. I love having family close, and I love how our relationship has blossomed. It's strange because she's nine and a half years older than I, and while we've always stayed in touch (hello, we're family!), we've never been in the same stage of life or had much in common. I'm sure she'd agree. But I still remember when she called me to announce she was pregnant with JD, and how fun it was that I'd just
barely
found out that same week that
I
was pregnant with Ryan. I guess that was the beginning of our bond - being pregnant at the same time and then delivering our boys just 5 weeks apart. Then, of all places, Neil's job, just before the boys turned two, moved us less than an hour from Heather. Really, who would have even imagined that happening? It's fun. Another perk to having her and Scott close is that I get to see my Uncle Jim and Aunt Karen (who live in Oregon) and come out to visit a couple times a year, as well as my other cousin, Misty (who lives in LA), who also had a baby boy just six days before Heather had JD, and also Tanya, who's in San Diego. It's a true blessing having family close-by, seeing them regularly, and building memories together. It has definitely made the transition of moving here easier.
Today was a lazy Sunday. We were terrible and didn't go to Stake Conference. Ryan had a particularly rough night last night, crying out a handful of times, which made it difficult for me to sleep soundly, and then coming in at 4am requesting to crawl into bed with us, which I naturally said no to (mean mom). Then came a good, long meltdown right there on our floor, followed by getting Ryan settled back down again and, eventually, asleep - on our floor. Then he was back up before 7 and still obviously tired and in need of more sleep. The kids got up and entertained themselves downstairs while Neil and I stayed in bed for another hour or so. Between Neil's back hurting (once he was up) and Ryan's constant meltdowns over anything and everything, we just decided to stay home rather than fight Ryan to sit still for two solid hours. We turned on the NFL playoffs, and enjoyed a quiet Sunday at home. The Broncos beat the Steelers unexpectedly, which was awesome (so happy for Tim Tebow), we had a yummy dinner, and,
best of all
, the kids were in bed by 7!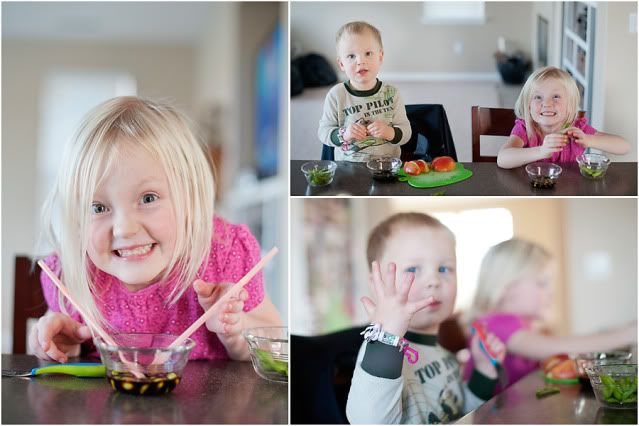 Eating apples and edamame with "chopsticks" (aka straws). On Friday night, we cashed in a gift card to a local sushi restaurant here in Ripon (with Richie and Christie, who gave us the gift card for Christmas), and there was some leftover edamame that we brought home. The kids LOVE this stuff and eat it like candy. Chloe was nice enough to let Ryan wear her bracelet while they enjoyed their grub. Again, stylin'.
CLASSIC QUOTES OF THE WEEK:
Me:
"Chloe, please go finish your applesauce."
Chloe
(groaning)
:
"Why do I have to do EVERYTHING around here!?"
Apparently I ask too much of my six-year-old.
Chloe
(while trying to get Ryan to be patient while she put together a toy for him):
"Hold your horses, Ryan!"
Ryan
:
"But I don't have a horse!"

The boy makes a point!
It was a good start to a new year! I can hardly believe we're already into 2012!