I'm slowly getting through my 2011 pictures. Here's a glimpse into our Easter festivities (yep, 9 months ago).
Chloe's preschool did a fun Easter egg hunt and party the Thursday before Easter. Chloe, as well as the rest of the kids had a blast hunting for eggs, frosting cookies and doing fun crafts. This also happened to be Chloe's last day of preschool since we were out of town almost the entire month of May and therefore pulled Chloe out at the end of April. Because it was her last day, Miss Sheryl let Chloe be the leader walking to and from the egg hunt, among a few other special things. She thought she was pretty hot stuff.
Here's little miss Chloebug with her teachers, Miss Sheryl and Miss Brittney, both of whom she adored and still talks about to this day.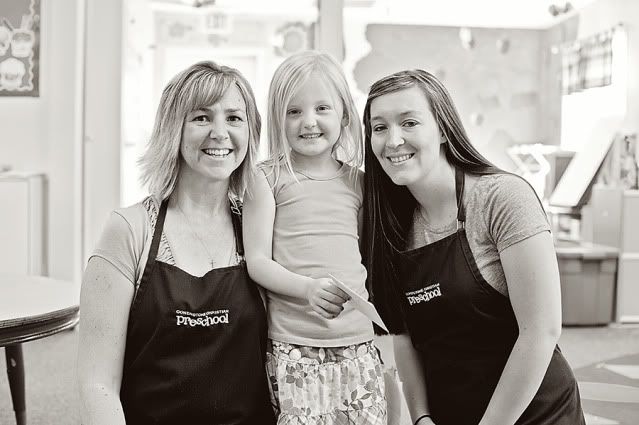 Miss Sheryl lives about a mile from us and attends most of the local events here in Ripon. Since preschool ended, we have bumped into her a handful of times, including Baskin Robbins' Dollar Scoop Tuesday, National Night Out, a Ripon High School football game, and Ripon's Labor Day Balloon Fest. These random meetings have enabled Miss Sheryl and Chloe to maintain a sweet friendship. They've become real pals, and I'm sure it's only a matter of time before we run into each other again somewhere.
The Easter party was a fun finish to a great (and final) preschool year for Chloe! We were both kind of sad to say goodbye, but also anxious for summer and gearing up for kindergarten!
Saturday, the kids painted eggs.

And on Easter, we did the normal morning routine of finding baskets and eggs, and taking lots of pictures.
After the kids had located their Easter tins/baskets and picked up all the eggs, we headed outside for a few quick pictures (for the purpose of distracting the kids while Neil did a favor for the Easter Bunny and placed the kids' new razor scooter and plasma car in the front room).
As soon as we walked back into the house, there awaited their surprise! They were thrilled with their new rides (and fun treats and goodies).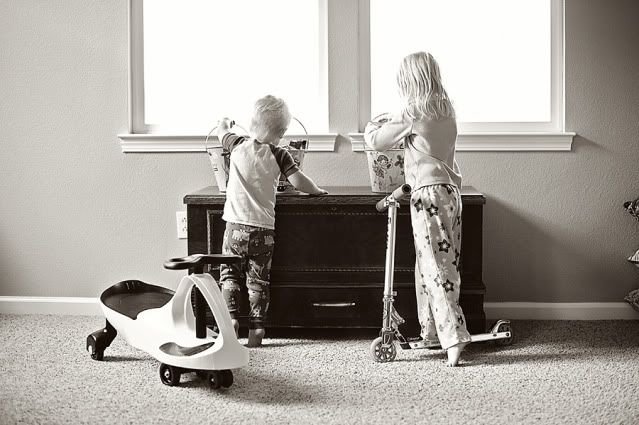 Following the morning's events, we headed to church and then enjoyed a quiet evening at home.
Sometime the following week, the kids received a small package from Grandpa Roy and Grandma Jill, including bug catchers, which the kids promptly went outside to play with!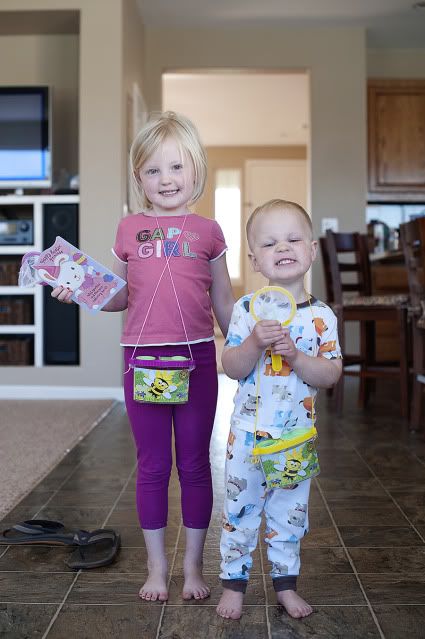 The kids also had haircuts, as you can see! It was a fun Easter week all around.