I wrote this post a week and a half before Christmas. I suppose the reason I didn't publish it right then is because I was too tired to organize and edit the accompanying photos. Well, I've remedied the situation and inserted said photos, so, 3 months later, enjoy!
ORIGINALLY WRITTEN
DECEMBER 15, 2011
at 9:08pm...
The last few days have been busy (what else in new), and I've found little time to sit and relax. Tonight however, with the hustle and bustle of today behind me, I was able to catch my breath and enjoy a few quiet moments with the kids before bed.
Among other things on today's agenda, was Chloe's Christmas singing program. Two ladies in our ward who are mother (Bonnie) and daughter (Jennifer), put together a program each year for the children nearby (mostly those from church). Then after seven weeks worth of practices, Bonnie hosts a performance for the parents in her home. It was a pretty sweet little gathering this evening. Bonnie and Jennifer did an amazing job. In addition to reciting a line from a poem, Chloe ended up singing a solo last minute (it was literally determined at their dress rehearsal just an hour before they performed). She and a couple of other little girls were going to sing both verses to Jolly Old Saint Nicholas, but she was the only one who had the second verse memorized, so Bonnie asked her if she just wanted to sing the second verse by herself. She could not have done a better job! She sang the melody on key and kept with the rhythm. She also remained calm throughout her solo and didn't allow her nerves to affect her performance at all. Very well done. I saw several moms and dads with video cameras, so hopefully I can hunt down her little spot light moment and insert it in.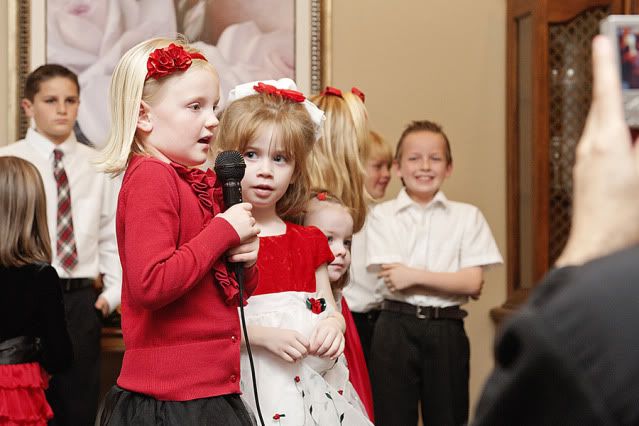 After the performance, a few treats and some socializing, we headed home. Today has been COLD, and so Neil built a fire. It was the first fire we've had since moving into our home 14 months ago. The kids each grabbed a Christmas book and together we sat by the fire and read. Chloe brought me
The Polar Express
- the very copy, in fact, that my dad gave to me on Christmas in 1989! And Ryan brought me
Carl's Christmas
- the very copy that my mom gave to me on Christmas in 1990! That book was timely back then as our dog, Bogey, was a rottweiler, and to this day, my absolute favorite pet ever. Anyway, it was really sweet sitting by the fire, reading to the kids while they rested against me wearing their cute jammies, making cute and funny remarks and asking interesting questions.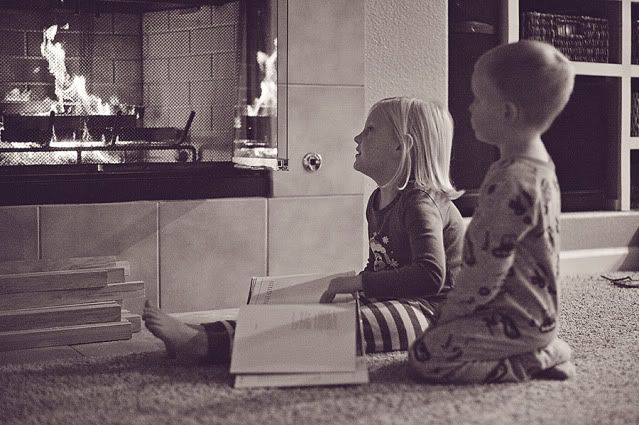 Don't mind the grain. Thank you, 2500 ISO!!
I told the kids that both books we'd read were very special because I'd had them since my childhood and they were given to me by my parents. Chloe informed me that she wanted to have Polar Express for her daughter, and that she was planning to name her daughter Valeri and so it was only fitting that she get the book since the name Valeri was already inscribed in that book.
I love simple Christmas traditions like this. I can hardly believe it's only 9 days away!