The majority of May was spent visiting family outside California. Susie,
Lori
, and baby Katie had purchased tickets to fly to Vegas to visit Jeff, Allison and Grant, and since we didn't want to miss out on any fun, we decided to join them! The timing was actually perfect because I'd been wanting to get out to Utah to see my family anyway, so it just worked out to make one big trip of it. Jeff and Allison, who for roughly five years had lived in Vacaville (of all places - thank you, Air Force), were reassigned to Vegas within weeks of Neil's move to California in the summer of 2010. It's so funny and sad at the same time that we missed living within two hours of each other by only a matter of weeks. But, that's life! Anyway, I think everyone (with the exception of Dave,
Jared
,
Brad and Courtney
, who were not able to come and who we missed) was excited to get to Vegas to see Jeff and Allison's new digs and to spend time with one another!
Our traveling adventures began bright and early on the morning of May 1st, when we hit the road for the anticipated eigh-hour drive to the desert.
Ryan, our little travelin' man.
The drive was thankfully uneventful and relatively pleasant. Upon arriving at Jeff and Allison's, we were greeted warmly by all. Then, not a minute after entering the house, I received a text from my "
Uncle Alfred
" announcing Osama Bin Laden's death. Not exactly the ideal topic of conversation to kick off a family vacation, but still very good news to hear!
The following morning, Jeff and Allison both had to work, so the rest of us entertained Grant for a few hours. I also took a run, which was actually quite miserable. The heat and dry air threw me for a loop, but the change in scenery was interesting. And now I can say I've run in the desert while watching the Vegas strip. :)
Grant and Katie
That evening (or possibly the following - I can't remember now), Jeff made his famous, amazing, delectable, heavenly, I-could-literally-just-eat-it-and-nothing-else-and-be-totally-satisfied fried turkey. And it was, as usual, everything I hoped and dreamed it could be.
Catching up with cousins!
After dinner we drove to a park nearby and let the kids wear themselves out.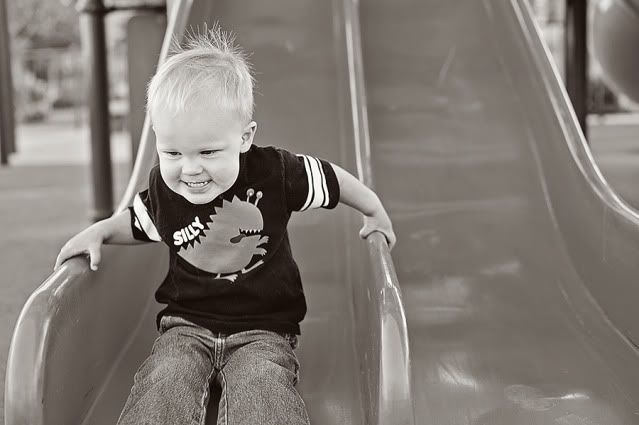 Love those bottom teeth!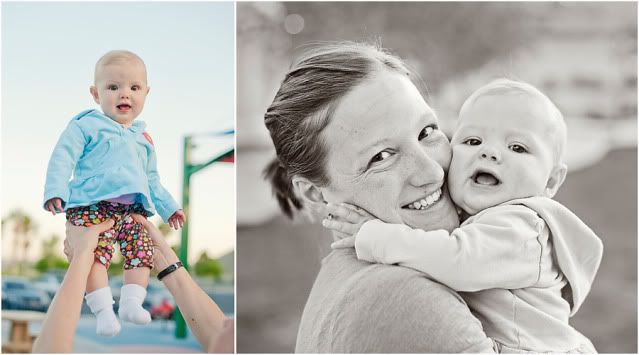 Sweet Lori and Katie
Ryan brought his plasma car, which quickly became the popular item, not just among the kids.
Over the next couple of days, we just hung around and relaxed, rotating between the basement full of toys, and the back yard, which was any child's paradise.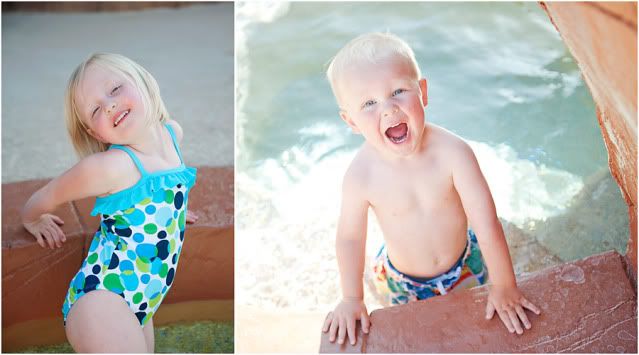 Silly kids. Not sure what I think of Chloe's pose. A little too Marilyn Monroeish.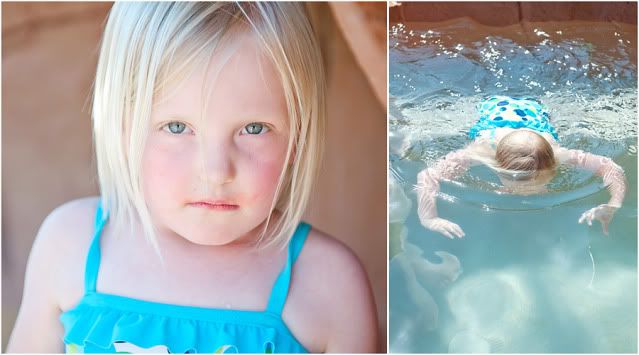 And oh, dear daughter, who's 5 going on 16. What joyfully dramatic adventures lie ahead with you.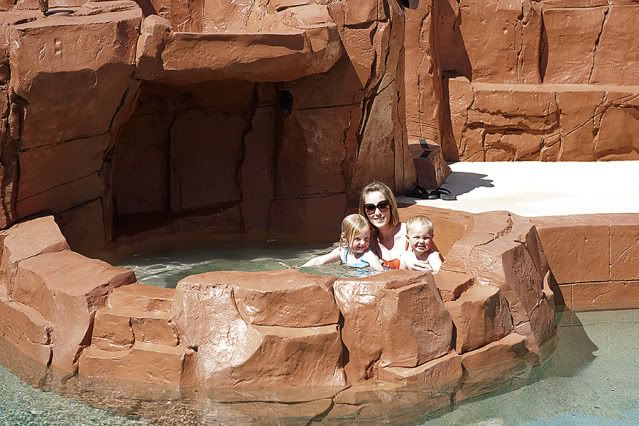 Relaxing with my stinkers.
Our original plans with Neil's family consisted of a couple days at Zion's National Park, from where we would part ways and drive on to Salt Lake. However, when we left the early afternoon of the 4th, Jeff's land cruiser overheated about 40 miles into the drive. We stopped at a gas station to better assess the situation, but it was quickly determined that we weren't going much further. With two vehicles jam-packed with camping gear and food, we really didn't want to turn back and go home. So instead, we camped at a State park within about 10 miles of our location. It was called Valley of Fire, if I remember right. Wasn't exactly Zion's National Park material, but it actually turned out to be quite beautiful. I know, gasp! Me, using the word beautiful in a sentence about camping. What are the odds? :)
It was HOT and we were all exhausted by the time we got in and found a good campsite, so initially we held off on unpacking the cars and instead grabbed our camping chairs and took a rest in the shade.
Chloe and the boys had a ball playing in the red, sandy dust and climbing rocks.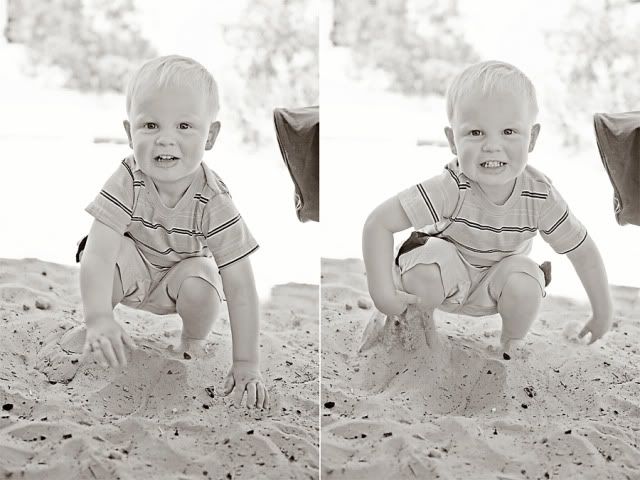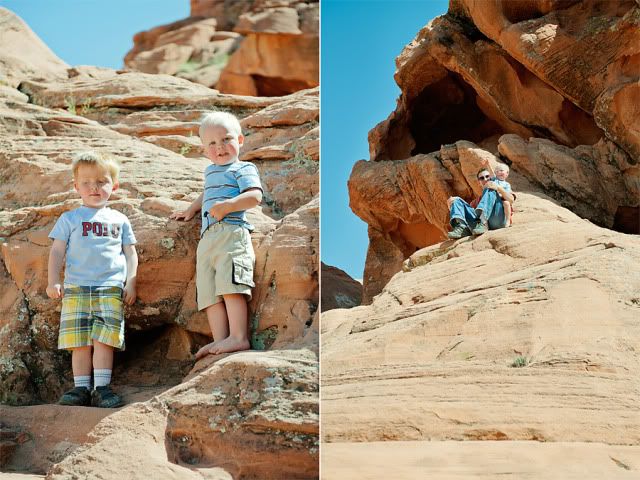 Shortly after cat naps, we did a little hiking up a large rock structure.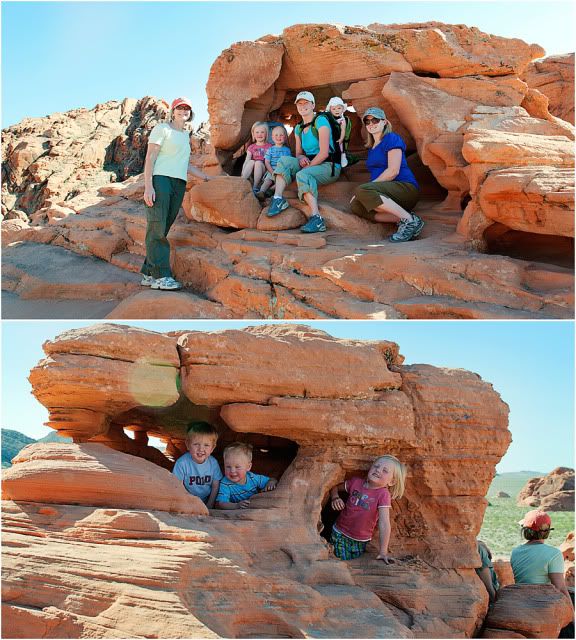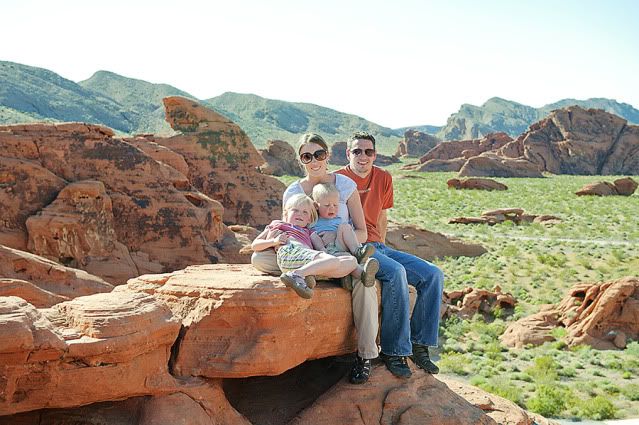 Here's a view of our campsite from said structure.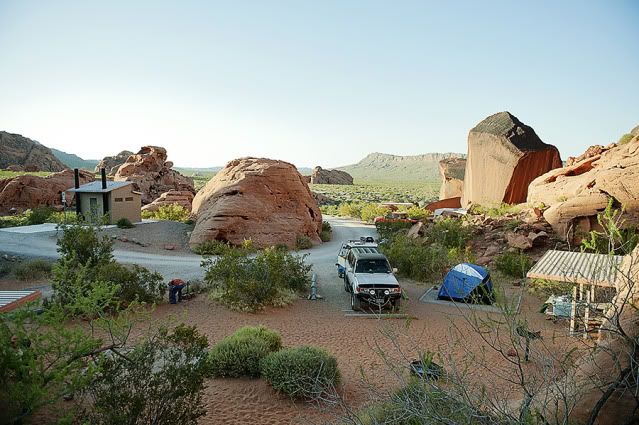 After dinner we did more exploring and playing...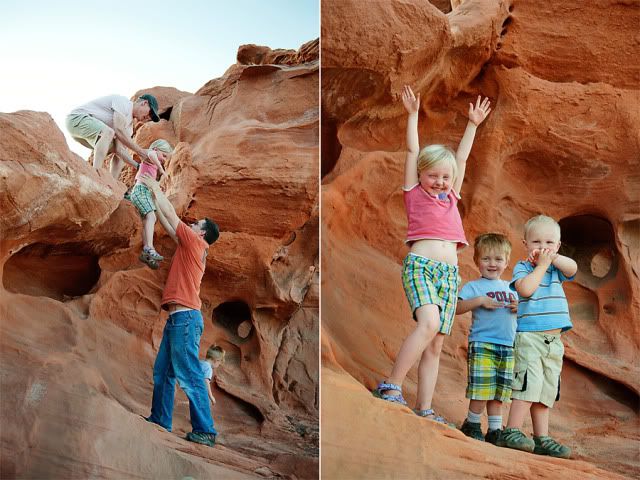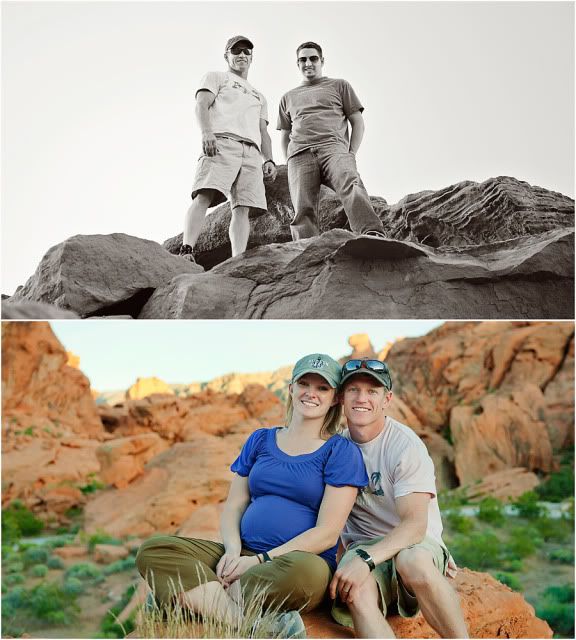 Allison looked great with her tiny 7 month baby bump.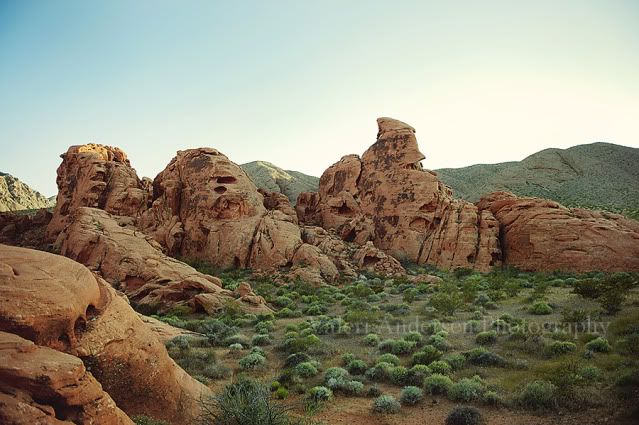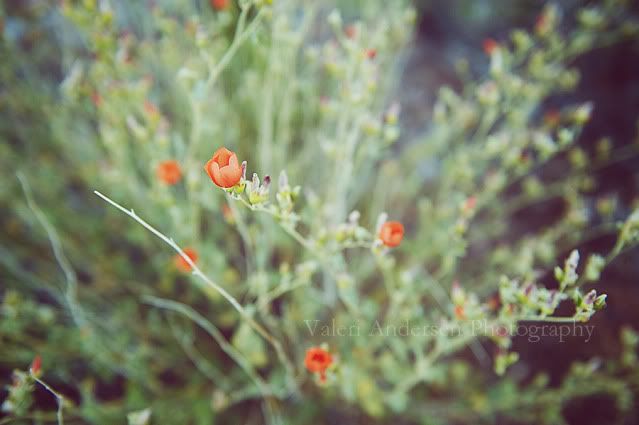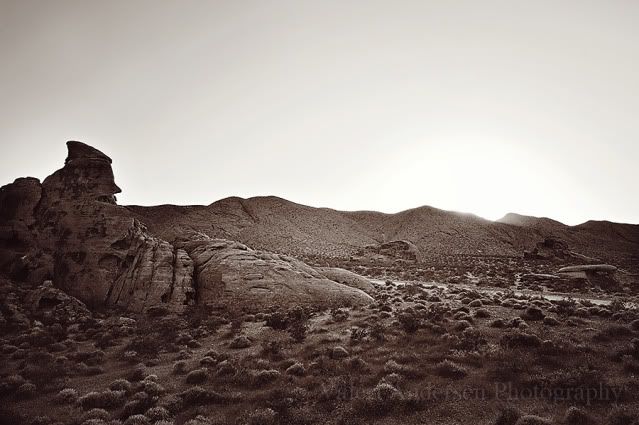 It's incredible to me the intricacy of these rocks. They really were beautiful. And the kids couldn't get enough.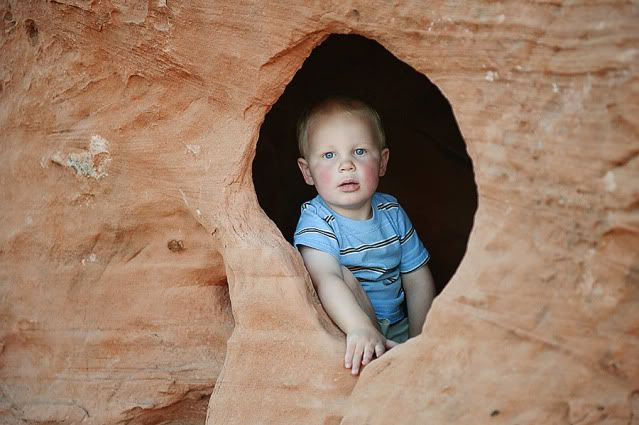 That night after dinner, we had hot chocolate and sat around the campfire. Neil and his siblings talked about camping trips of years past, which there were many of, I hear. It was really neat listening to the stories and I can easily see how such activities could create lasting memories and bonds between siblings and loved ones. Neil has said again and again throughout our marriage how much he enjoyed those times with his family. I look forward to creating similar memories with our kids as they grow. It was a pleasant, and relatively warm night, enjoyed under the stars with good company. The following morning we ate, packed up and drove back to Jeff's. This had not been in our original plans, but the thought of spending a full day in triple digit temps with no water did not appeal much to us. Upon arriving home, we migrated to the pool, where we pretty much spent the whole rest of the day.
With the kids fully engrossed in the many fun activity choices before them and plenty of adult supervision to go around, Neil and I were able to slip out for an hour to go see the Vegas temple. I LOVE visiting temples, and was really excited for the opportunity to see this one.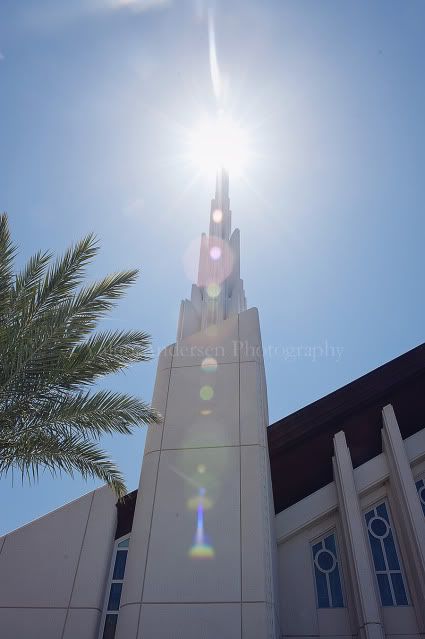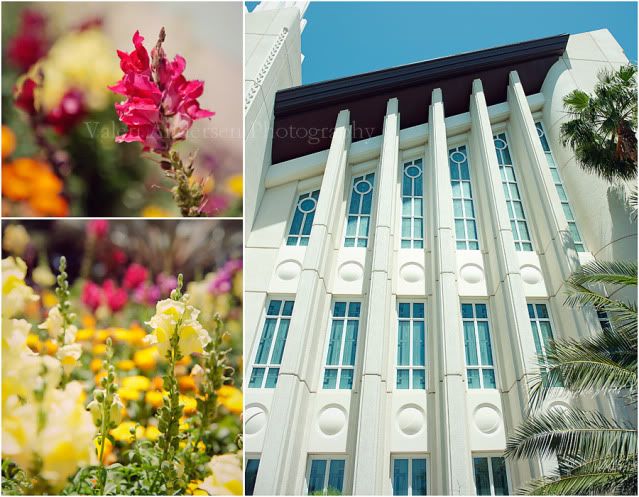 It was wonderful to walk around even for a few minutes and feel of the sweetness that abided there.
Driving home, we passed this mammoth of a plant. Looks like a big creepy spider!!
That evening we went back to the park and played one last time.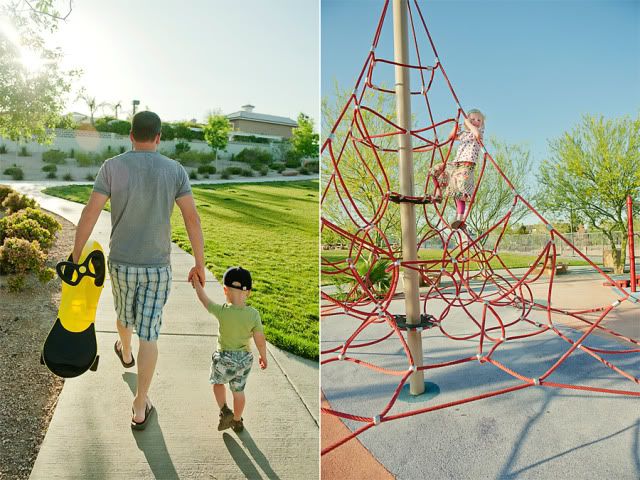 Oh what laughs these pictures will bring when Grant and Katie are teenagers!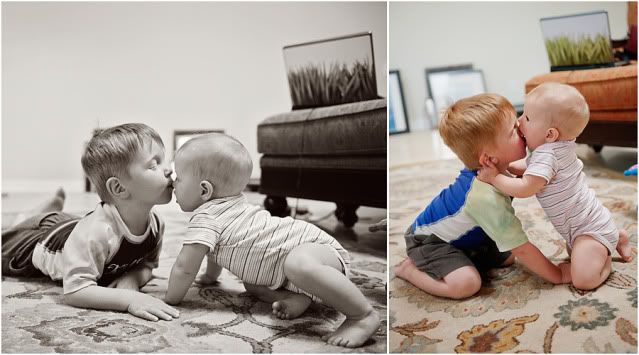 Later that night, after kids were in bed, Neil and I snuck off to Walmart to buy Jeff a birthday present and ingredients for my special queso. When we got home we presented Jeff's gift, which was the glorious game of Mexican Train, then proceeded to play it while enjoying the yummy queso. Not far into the game, it occurred to me that today was Cinco De Mayo. Made me laugh. What a more appropriate way to (unintentionally) celebrate this holiday than with a game of Mexican Train and some chips and queso. :) I think I was more entertained by this realization than anyone else.
The following morning, May 6th -
Brad and Courtney
's 2nd anniversary and my Aunt Valeri's birthday, we said our goodbyes and hit the road, Salt Lake bound. It was a really fun visit with Neil's family, and we were sad to go. Not
too
sad, however, because we knew we'd all be together again only four months later on the glassy waters of Lake Powell. Thanks again for hosting a great vacation, Jeff and Allison!