Since I never wrapped up the month of January, let me do so now. Beginning with...
CHLOE
, who learned about Martin Luther King, Jr...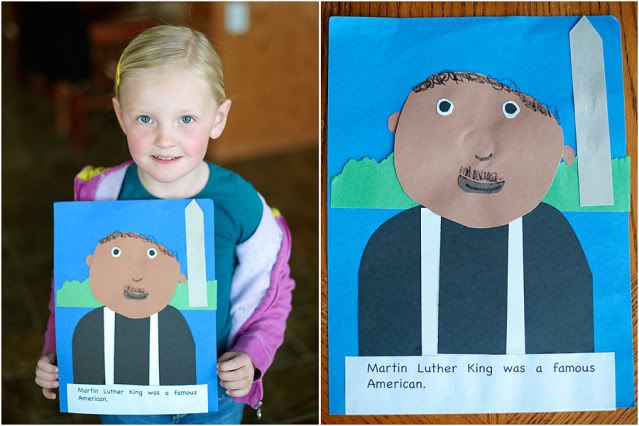 And celebrated Chinese New Year...
As well as her 100th day of school!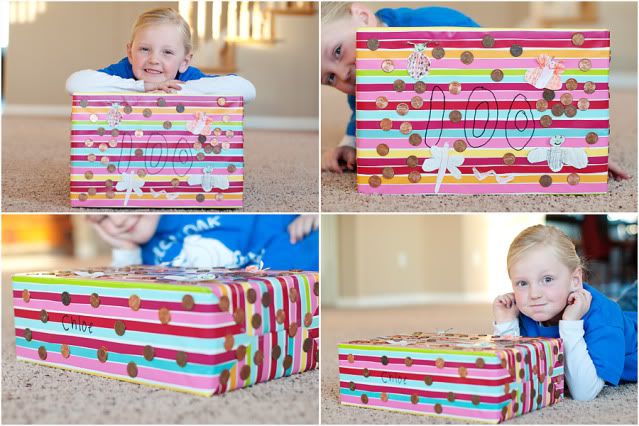 As a homework assignment that week, each student was assigned to bring in 100 of something - anything - and present it in a creative way. Chloe chose pennies, so we grabbed some wrapping paper and a shoe box and went to town. She couldn't wait to show her teacher and classmates!
Chloe also read her first book from start to finish without any mistakes or assistance!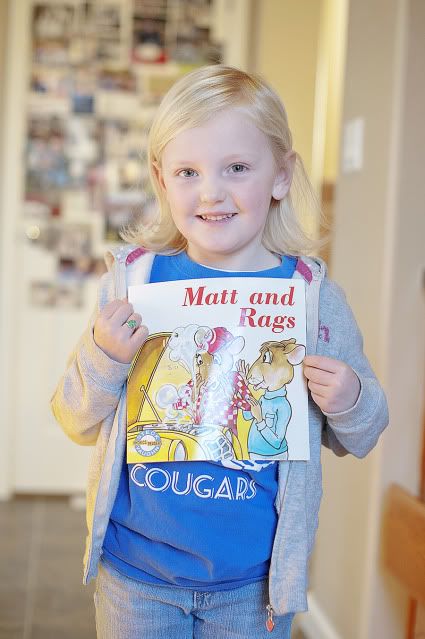 And she drew me this sweet picture. Pretty much melted my heart.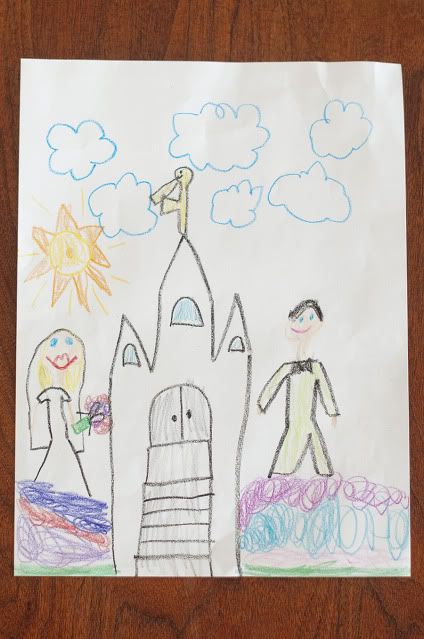 Chloe also earned "top of the class" on the 19th.
When I told her I was proud of her, she said, "Thanks. It was A LOT of work!"
And one night at dinner, she said,
"I tried the chicken and I just loved it so much that I'm gonna save it for last!"
Love her.
RYAN
, who is growing to love legos like his sister, created this masterpiece...
Helped me in the kitchen...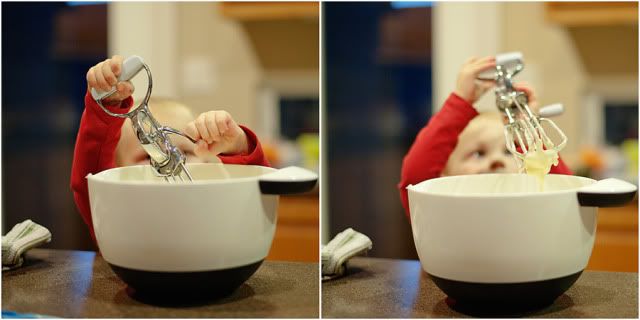 Made vicious faces at himself in the mirror while jumping on the bed (with Josh)...
Disguised himself as "Super boy"...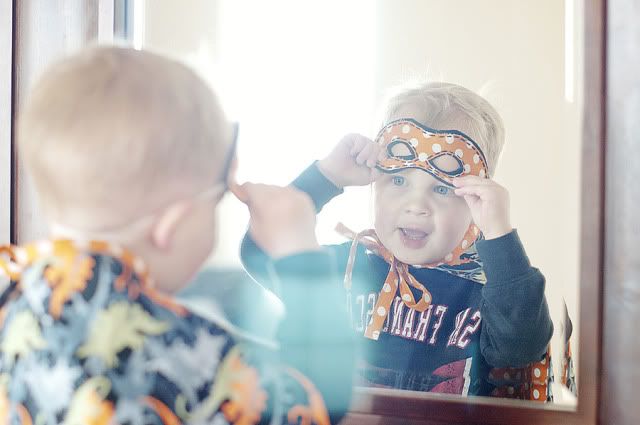 And meant BUSINESS!
He looked so adorable in the crown given to him in Sunbeams one Sunday at church...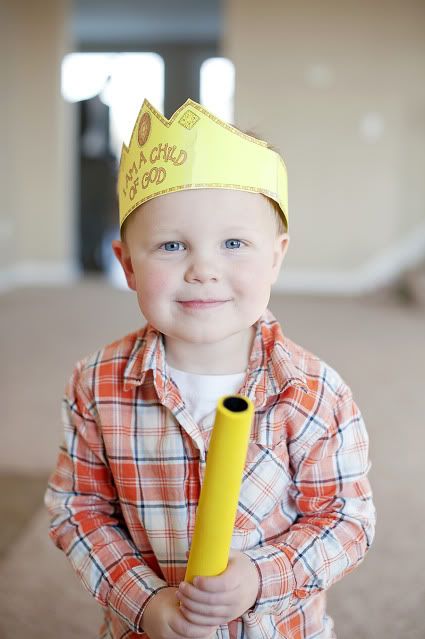 ...that I had to take his picture.
Naturally, this prompted the transformation of sweet Ryan to tough Ryan.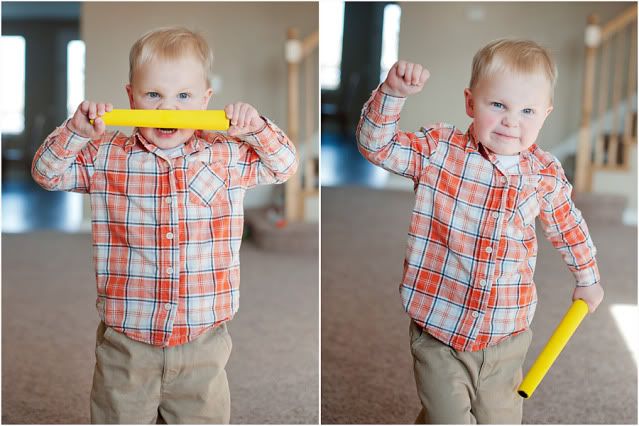 It was nice while it lasted.
THE KIDS
, as always, kept meal time entertaining...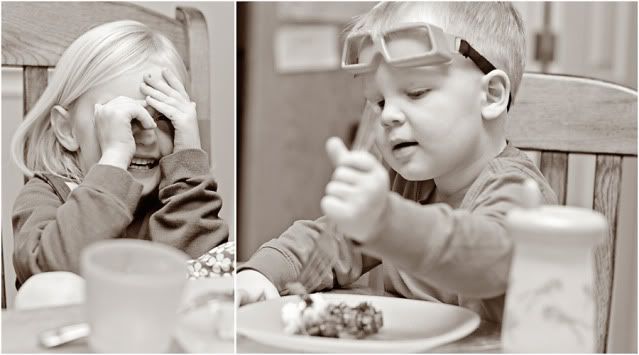 And, speaking of food, had fun helping me make snacks for the 49ers/Saints game.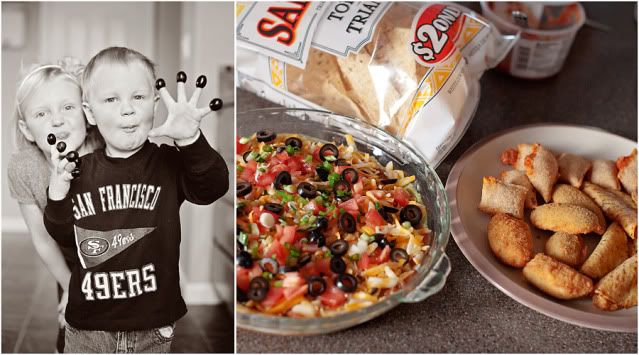 This is the grub we enjoyed while sweating through the game.
And, that same day,
I
received a text from my brother, containing this picture.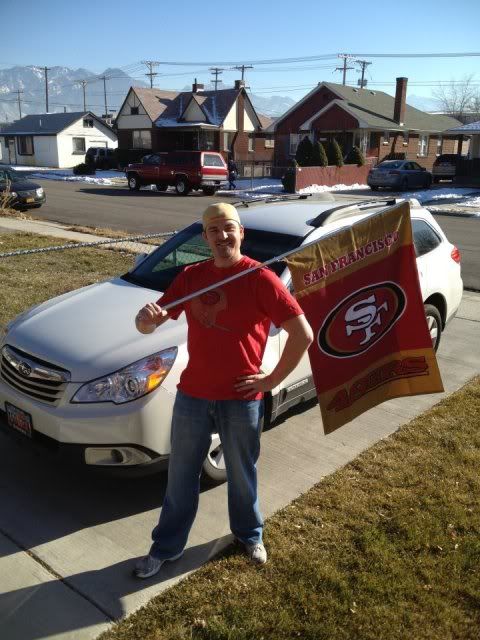 I got David this flag for his birthday and he waved it with pride for the first time, that day. Good luck? Perhaps.
Speaking of the 49ers and David, the following Friday, January 20th, I awoke to an email from him, which he'd sent at 4:47am, informing me that he had purchased a plane ticket to fly to CA the following day for the NFC Championship game and wondered if I might like to join him. :) He had been up all night searching around online for the perfect seats and the best deals, researching airfare, etc. I still can't fully express the feelings I had as I sat there starring at my computer screen. As the reality sunk in, first that my lifelong team, who hadn't had a decent season in nearly a decade was only a game away from the Superbowl, and second, that my brother was taking me to this historical event, I felt a range of emotions - all good. David has always had such a thoughtful and sneaky way of doing special things for those he loves. I never expected this - never, ever - and was so thrilled, honored and humbled by his generosity. And still, 2 months later, I'm pinching myself.

On Saturday, we all met up at Scott and Heather's in Pleasanton. David and Debbie had flown into Oakland so it worked out perfectly. And staying at Heather's Saturday night gave us a fairly easy commute to the city Sunday morning. We had a great time with family, despite poor Heather having the flu. She spent about 90% of the day in bed, but did come out to eat and visit with us for a short while.

Attempting roller skates with the help of dad...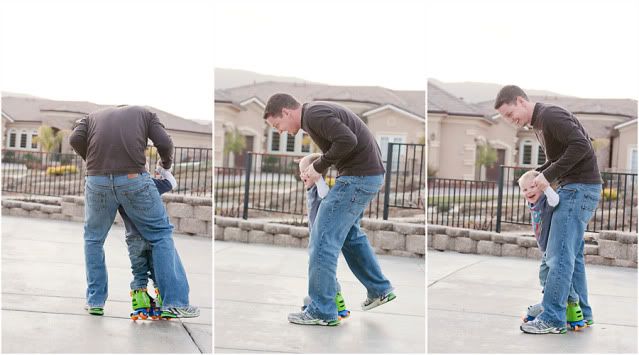 Beep beep!

After dinner, David and I snuck out to grab Neil a birthday cake, and proceeded to surprise him and celebrate his special day, 3 days early. :)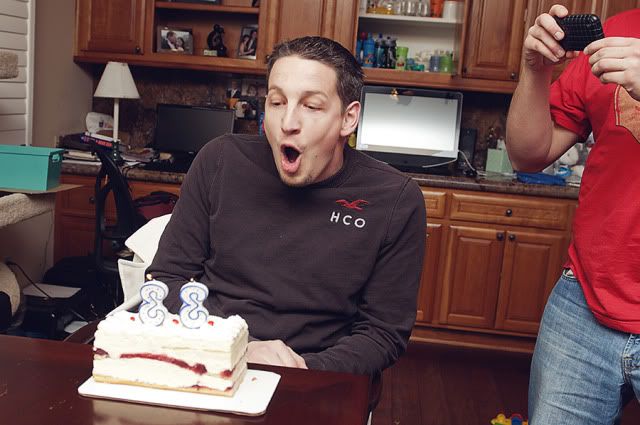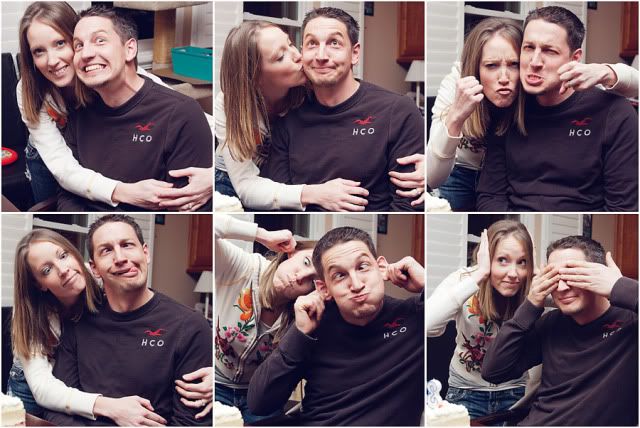 Clearly we take life way too seriously...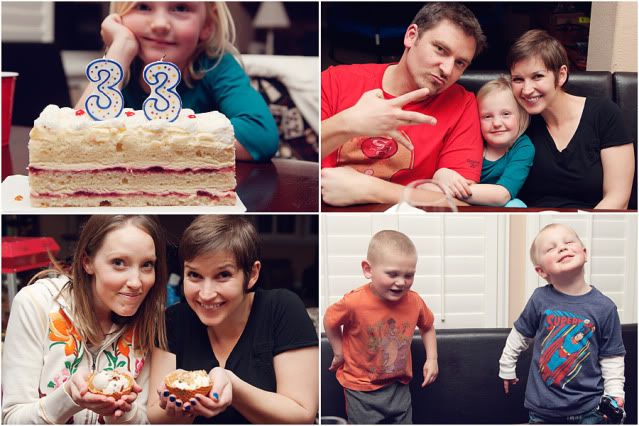 I love how comfortable Chloe looks between "Uncle D" and Debbie, and how she's holding his arm.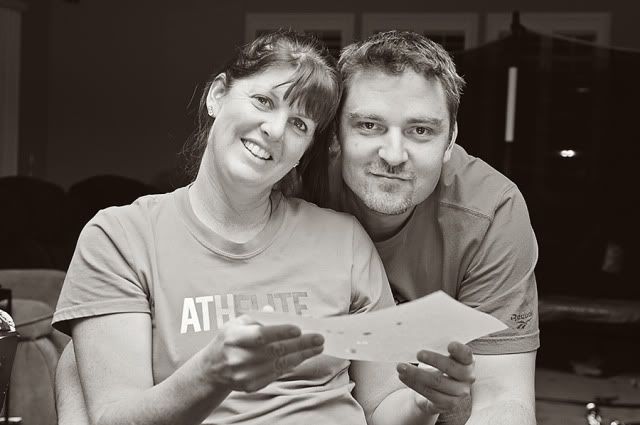 Poor Heather. She was in great spirits, as always, despite feeling miserable.
Here's Neil and me in our Niners gear.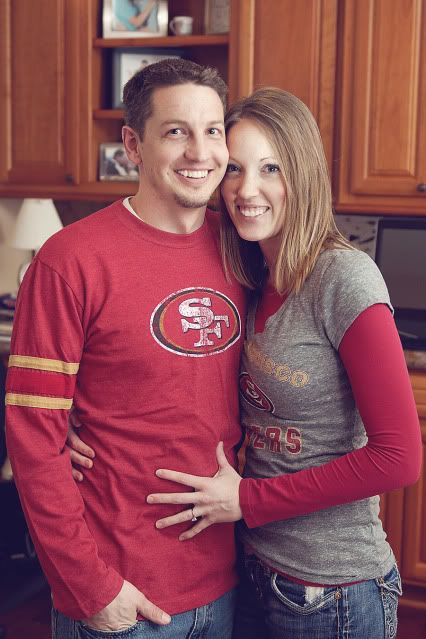 Neil did not go to the game with us Sunday, so we made sure to grab a picture together Saturday night before he and the kids headed home.
Sunday morning was rainy and gross, and unfortunately the weather did not improve with the day. We still had an absolute blast though. It truly was one of the greatest experiences of my life going to that game. It has been so long since the 49ers have been anything, and to go from nothing to something pretty significant in one short season was an exciting thing to see! And even though we lost to the Giants in the end (and really shouldn't have), I still felt a satisfying sense of pride standing there in the rain and cheering them on. Coach Harbaugh lit a fire beneath the 49ers this season, and molded them into something amazing. They accomplished great things, and will certainly be back next season with something to prove. Can't wait to see what that is...

Billboards we passed as we were exiting the freeway. Welcome to San Francisco!

Standing in line with David, just outside Candlestick Park.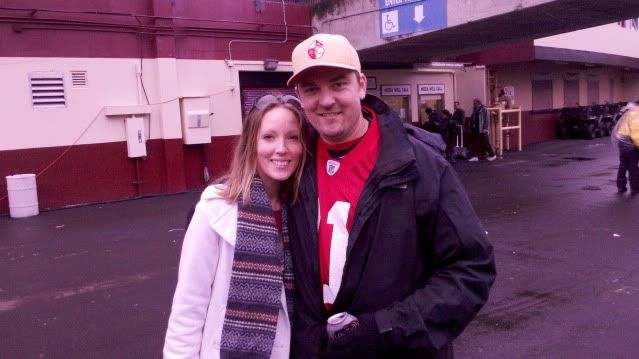 All four of us (David "Stuart," David "Mark," Debbie and me)
More pictures from my cell phone. The one on the far left demonstrates but really doesn't give justice to the crazy rain pouring down on us. It was a wet mess, to say the least. But I'd do it all over again in a heartbeat.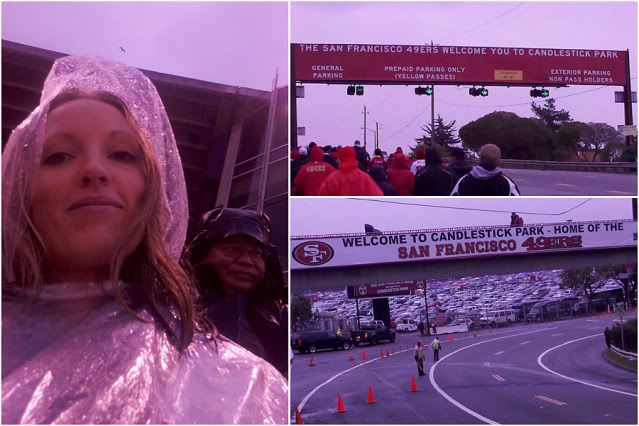 David found us awesome seats pretty much right at mid-field so we had a perfect view.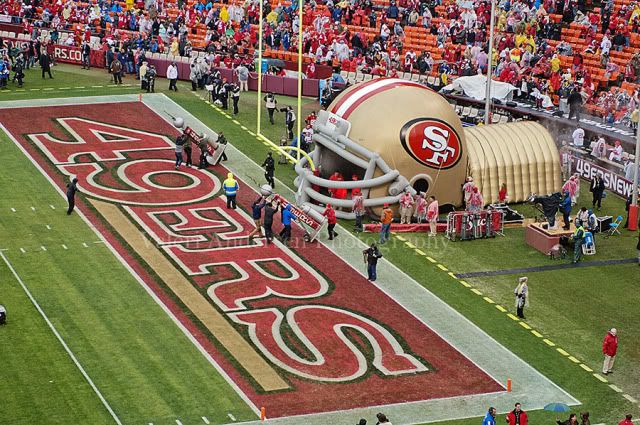 Goldrush Cheerleaders!
What a moment. The pictures do no justice...
Again, no justice. Exploding fireworks, screaming crowds, pouring rain, pure awesomeness...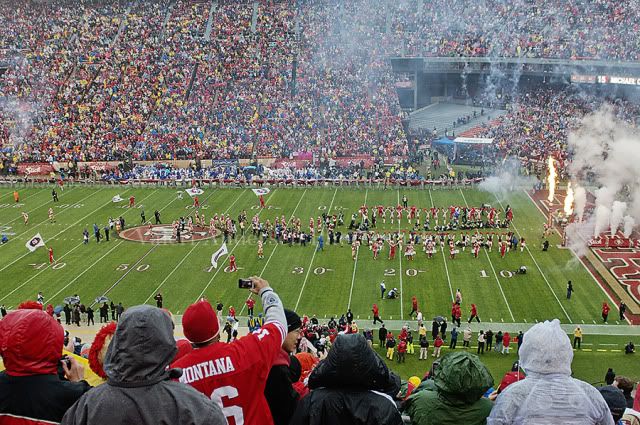 The field-sized American flag...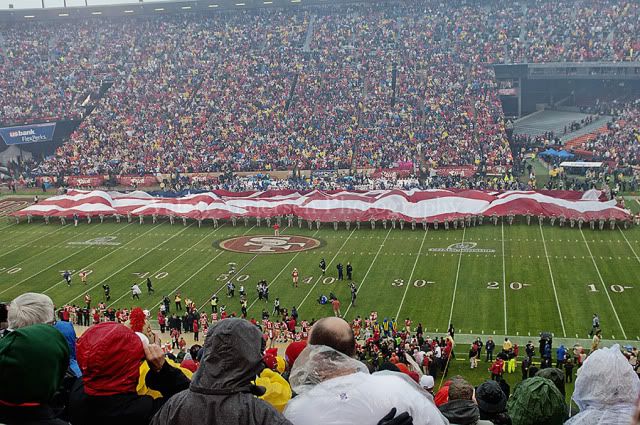 Incredible... USA!!!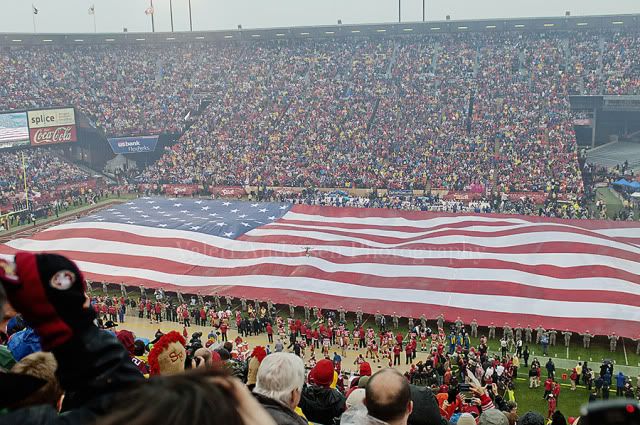 Taken during halftime, when it was still any one's game.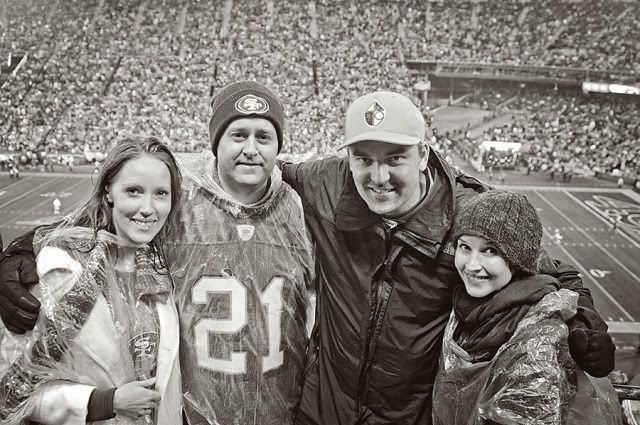 Among the many awesome experiences of this day, I also had my self-esteem boosted, not once, but twice, by two complete strangers. To a degree I hesitate to include this because I don't want to come across as arrogant, as I am quite the opposite. But inevitably there are going to be days in the future when I'll need that reminder that I still got it, so I'm just gonna go ahead and share. :) First, while standing in line to get some food, the cashier was having trouble swiping my debit card. He kept saying it wouldn't take, and even tried my credit card as a last resort. It turned out he was swiping both cards the wrong direction, but that's beside the point. Anyway, during this somewhat uncomfortable process, the guy standing next to me in line, who without hesitation had struck up a friendly conversation asking who I was, where I was from, etc, etc, etc, saw what was happening and practically insisted on paying for my food, saying something like, "a pretty girl like you doesn't need to go hungry," or something to that effect. Thankfully, the cashier discovered the problem and finally got my card to take. With that, I kindly declined the nice guy's offer, thanked him and walked away.

Then, just as the third quarter kicked off, I was walking back to my seat and some random guy, who was standing close by and starring me right in the face nonchalantly and in somewhat of a dreamy tone, said, "Wow. You must be the most beautiful girl in this entire stadium." !!! Uhh, what?! Are you talking to me? Me? The mom of 2 kids? Who just turned 30!? Who's standing here in this miserable, wet rain, with my hair soaked and mascara most likely running down my face? Who's wearing layers and layers of clothing, not to mention this awesome rain poncho? Really? Me?!! I was so touched by his compliment, and by the direct and honest manner in which he delivered it. And hey, maybe he'd just had a few too many beers and was telling every girl he happened upon the very same thing. But I don't know that he didn't do that, and either way, it made me feel really good. I thanked him profusely and continued to my seat.

I don't go to great lengths these days to do my hair and makeup every time I leave the house, I certainly don't dress to impress, and let's face it, things aren't exactly what and where they used to be. So it's nice to be reminded, even though it's not often, that I still have the ability to turn a head. :)


I love football and I love 49er football. It is so awesome having been a fan my entire life, and to once again (after 10 years) be living within 80 miles of their home turf. I love driving around and seeing 49ers license plate holders, random strangers wearing 49ers gear, and having 49ers merchandise and apparel right within my fingertips. Shoot, I got the shirts Neil and I were wearing in the above picture at Target! I also remember walking into Old Navy last August to this display in the front of the store.
Don't mind Ryan there in the center. He wanted to be in the picture too.
Those mannequins sure are creepy, but it warmed my heart to see all that red and gold! Sometimes it just hits me that I'm living in California again.
GO NINERS!!!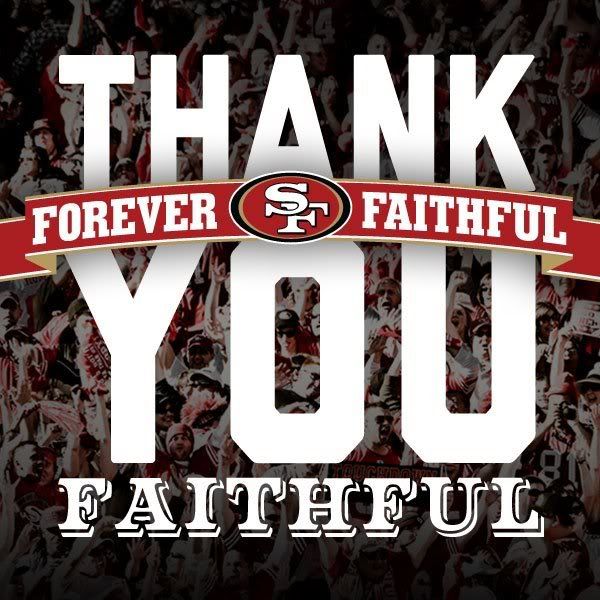 So January was a good month. Lots of fun times had and memories made. Thanks again, David, for the awesome experience! And Happy 33rd Birthday to Neil!!