Apparently Ryan doesn't think I have enough on my plate. Saturday he made this ever so clear by adding numerous tasks to my already busy day! To start off, he produced thee nastiest blow out diaper I have ever seen in my life! I'll spare you the details, but trust me - it was memorable!

Shortly after that exploding surprise, Ryan decided he was hungry. Now mind you, he'd already eaten 2 bananas for breakfast! I kid you not - 2 bananas! That's actually standard for him these days. He eats like a little pig but it never shows. Anyway, I'm in the kitchen unloading the dishwasher when Chloe runs out of our bedroom announcing that Ryan had just dumped a box of Lucky Charms all over our floor. Dear heavens! How did the box get to our bedroom in the first place?


Upon entering the room, here is what I found: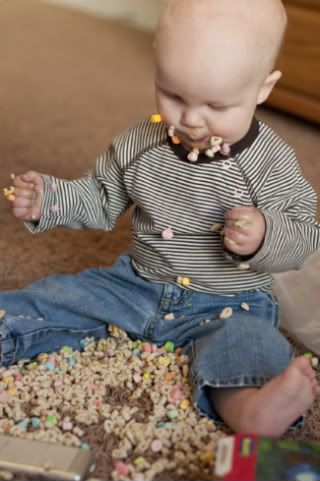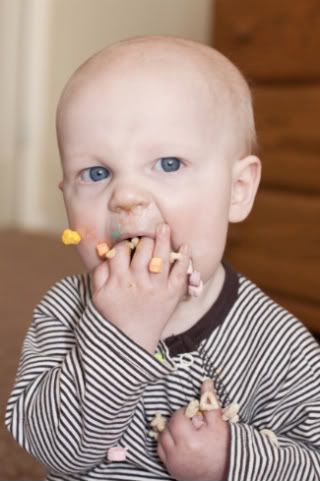 Frustrated? You bet I was! But I couldn't help but shake my head and smile. It was the look of delight in Ryan's eyes as he stuffed his little mouth, then extended a sticky handful in my direction as if to say, "Here Mommy! There's plenty for you too!" that got me. Precious little stinker.
I suppose he looks a little guilty. But who could stay mad at this sticky-faced cutie pie? Not me!

Before I delve into Ryan's next mission of destruction, let me give you a little background. Earlier in the week, I helped Neil with a young men's activity where we learned about photography. Our Bishop, who shares this hobby graciously lent us an instructional booklet/DVD set to use during the activity. He then allowed me to take it home because included in the set was an instructional DVD specifically designed for my camera and I was curious to check it out. I had been so careful with it, keeping it out of both Chloe and Ryan's reach. Friday night I placed it on top of my diaper bag on the bench in our mudroom so I wouldn't forget to bring it to church Sunday. I placed it where I thought Ryan could never get to it. But whether it was within or without Ryan's reach, he found a way! Not only did he get his hands on it, but within a 30 second period, managed to open the booklet, get one of the DVDS out of its plastic sleeve, place it face down on the floor, and rotate it around in circles. Oh yeah, it was scratched big time! Upon discovering what he was up to, I rushed over and grabbed the DVD out of his hands, cleaned it with some special spray, and then nervously popped it into the DVD player to see the actual damage that had been done. It looked pretty destroyed, but miraculously, I played it from start to finish and it didn't skip once! I still felt horrible, and dreaded confronting the Bishop about it the following day.
As if the morning wasn't thrilling enough, only moments later, Ryan was onto the pantry for another snack. Apparently the DVD fiasco burned off the sugar high from the Lucky Charms, and he was, once again, hungry! So I'm in the kitchen freaking out about the DVD when suddenly I hear a spill. I turn to look around the corner, and what do you know? Another mess! This time, goldfish!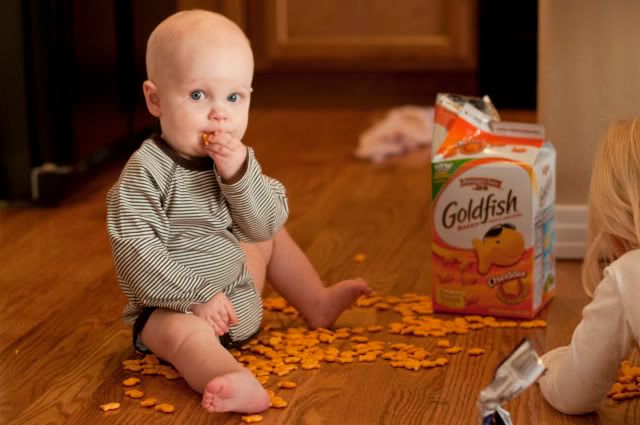 Oh Ryan...
The rest of the day was much less eventful, but Ryan still kept me on my toes.
To start, there was the "How can I make up for my transgressions of the day? Oh, I know! I'll help mom with the laundry!"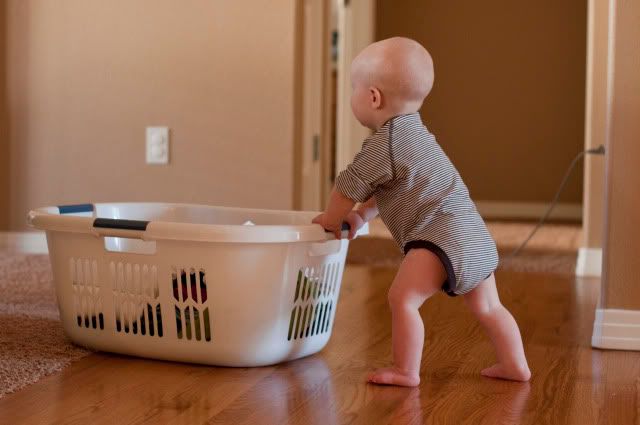 (Right after this picture was taken, he started pulling the freshly folded clothes out of the basket. Good thing I was there to stop him!)
...Followed by the classic, "Let's see if this roll of toilet paper is longer than the last one I played with!"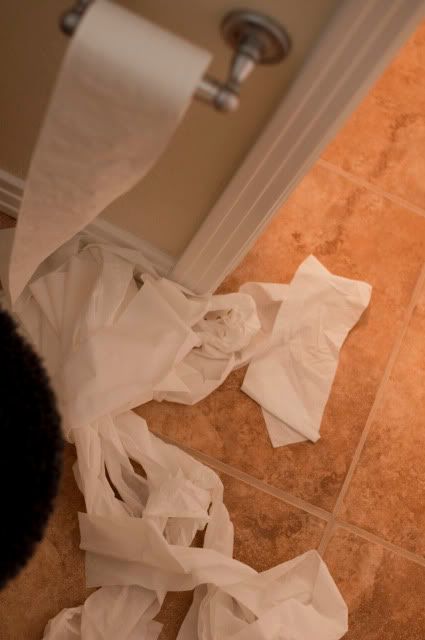 And what could possibly be more entertaining than turning the TV on and off over and over and over and over and over and over and over again?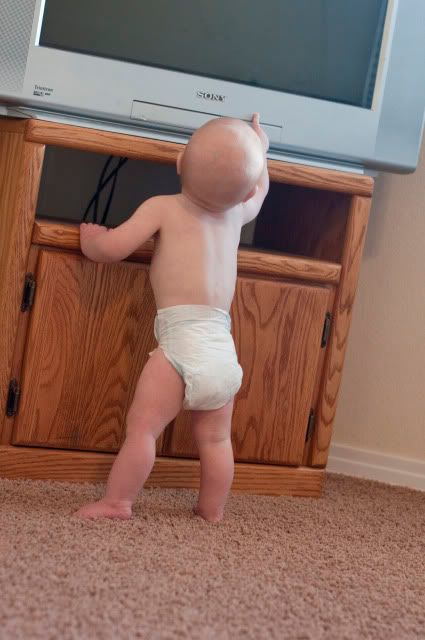 These were taken sometime last week when Chloe decided Ryan was a better fit for her stroller than her doll! I know I shouldn't have allowed it, but it was absolutely hilarious watching her push him around in this thing, and I had to capture it! Ryan was having just as swell a time as Chloe was. Their laughter was contagious.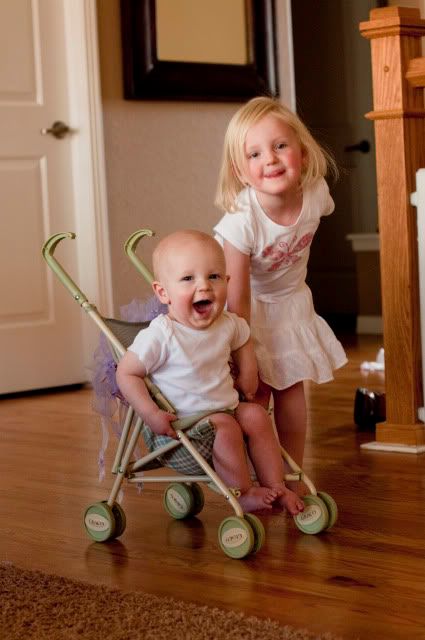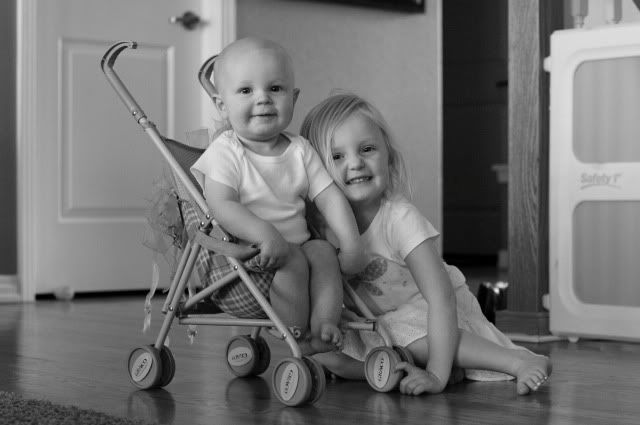 My children certainly drive me nuts, but I love 'em. It'll be interesting to see what these coming months bring as Ryan really starts trying to get away with stuff!
Halloween updates just around the corner!