Yesterday Ryan turned one. Wow! It's amazing how quickly this year has flown by. I know every mother says that on her child's first birthday (or any birthday for that matter), but it's the truth!
Seems like a matter of weeks ago that he looked like this!

(4 weeks old)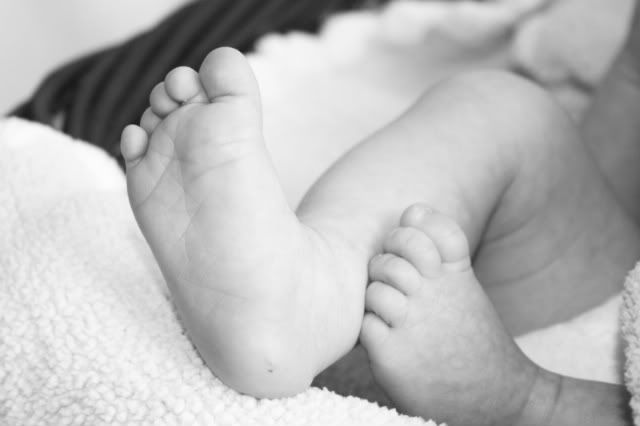 In honor of my favorite boy, here are some facts about his first year of life! In the last 12 months, Ryan has:
Gained 9 pounds and 15 ounces


Grown 8 inches


Endured the breaking through of 4 teeth (#4 barely broke through yesterday or today)


Visited 5 states


Endured RSV, and a 4 day hospital stay


Flown on an airplane twice and taken several road trips


Seen Diana Krall in concert


Taken up to 3 steps on his own (though shows little to no interest in walking)


Learned to roll over, sit up, scoot, crawl, grunt, growl, giggle and squeal, climb the stairs, feed himself, wave, clap, give 5, point, and dance. Still no words. Everything continues to be, "Dat dat dat!"

At Ryan's year check up, he weighed in at 17 lbs., 10 oz., and measured 29 inches. That puts him (or should I say

keeps him

) in the 1st percentile for weight, and the 26th percentile for height. He's in size 3 diapers, size 2 shoes and 6-9 month clothes. He can wear some 12 month stuff, but most of the new stuff I get out and put on him just drowns him. Chloe was the same way. I love it!

Ryan's food of choice these days is a banana. He would eat 2 for every meal if we let him. Yogurt is another favorite. He's been on whole milk for over a month. I introduced it to him when he was showing less and less interest in formula (can't blame him). While he's doing a lot better with milk, he still has days where he refuses it. I'm resisting adding strawberry syrup to make it more enticing since I am STILL trying to break that habit with Chloe, who turns 4 next week!

Speaking of Chloe, Ryan is beginning to learn the art of teasing. It's great. He'll go over to Chloe while she's sitting on the couch watching a show and start yanking at her blanket. Makes her so mad! It's hilarious! I think the days of pay back are finally approaching. Goodness knows Ryan's endured enough torment in his day. We were at Costco the other week and Chloe and Ryan were sitting side by side in the front of the cart. Every time Chloe got a free sample Ryan would reach for it and sometimes get it out of her hands. If he wasn't able to reach it, he would instead start pulling her hair. We certainly don't encourage it, but I'll admit it's pretty funny to see that the tables are beginning to turn.

Here are some birthday photos.

Sunday night we went over to the Hasler's for dinner and had a pre-birthday celebration. Ryan had his first helping of strawberry shortcake and loved it! He has good taste like his mama.

Here he is sitting on the exam table waiting for the evil nurse to come in and make him cry. What a mean mom I was to schedule my son's check up

on

his birthday when he had to have shots. Good thing he won't remember in years to come!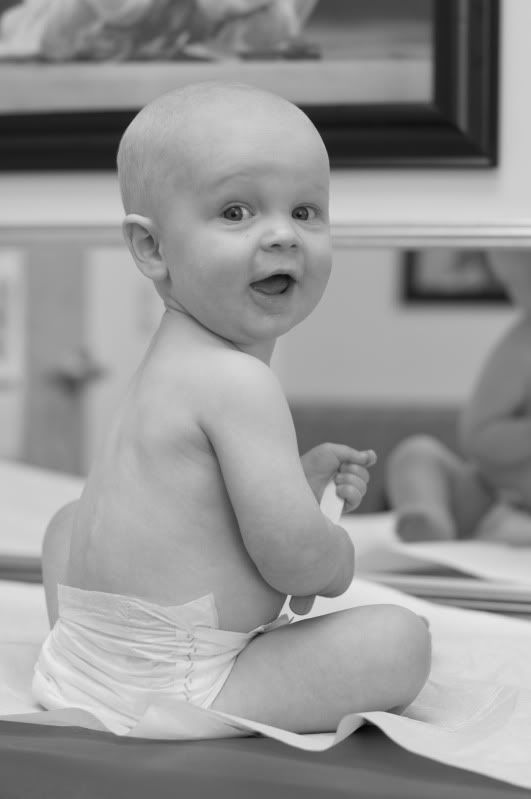 After Ryan's appointment, we met Daddy at Chili's for a birthday lunch.


Ryan got his very own birthday sundae! Definitely made up for the shots!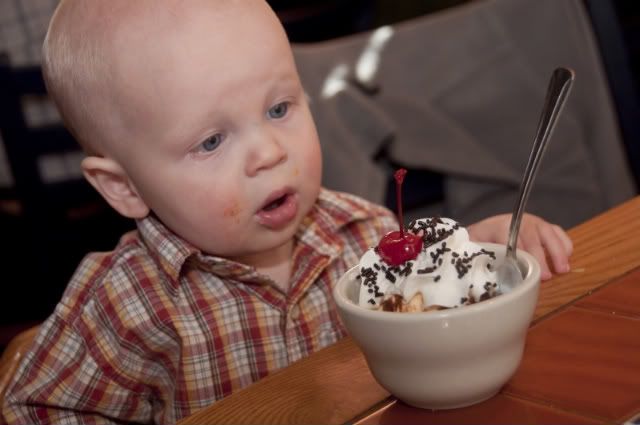 He was a little overwhelmed at first, but ate EVERY. LAST. BITE.

The sugar high wore off pretty fast... he crashed on the way home.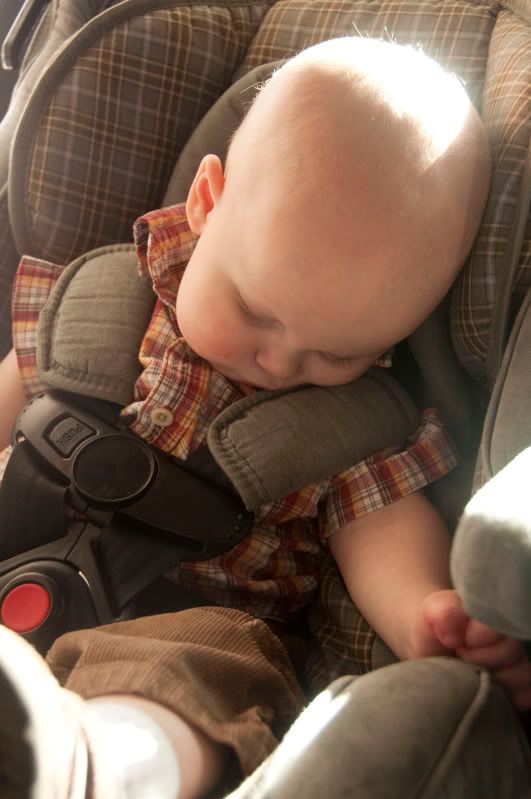 After a nice long birthday nap, it was time for presents!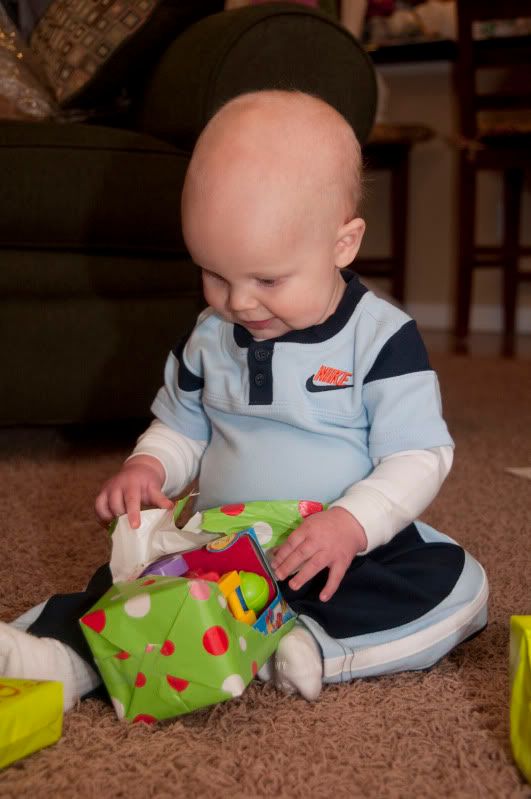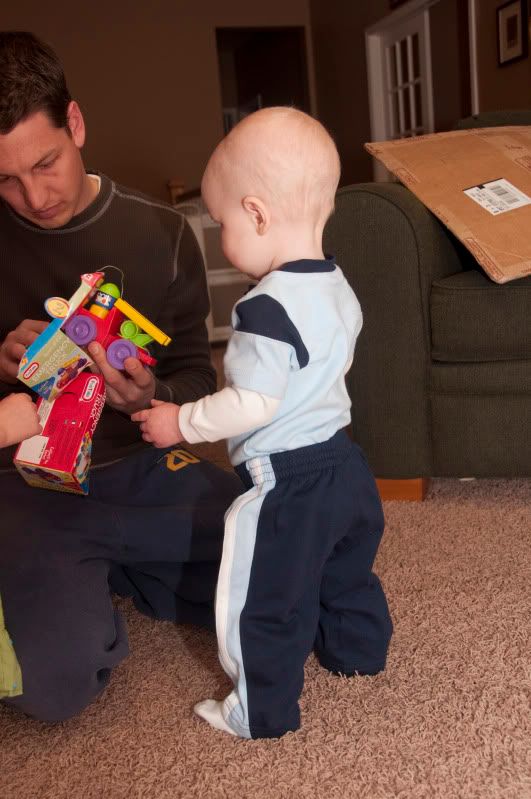 Thanks Grandpa and Grandma G and L for all the fun clothes and toys! You guys are the best!
And... more dessert. Wow, I think I could really get used to this birthday stuff!


This is Ryan's latest expression. Where it came from, I haven't a clue! Isn't it adorable?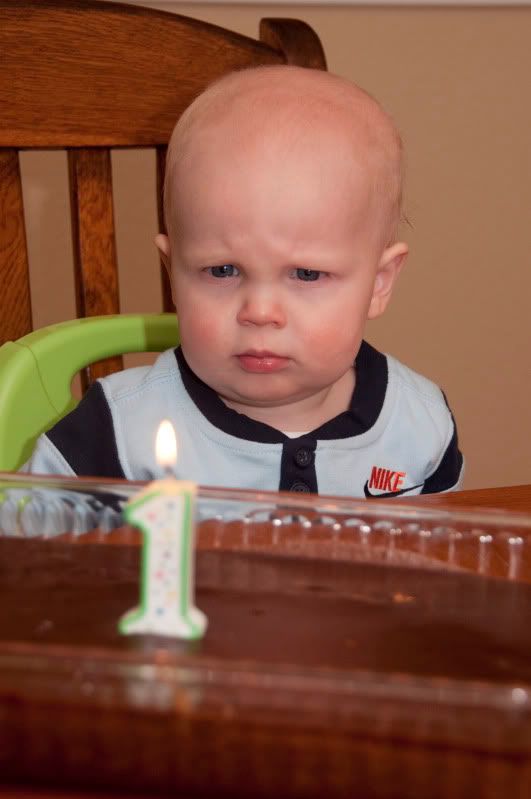 Yum!

(I did get some video, but for some reason it wouldn't load into blogger. I'll keep trying.)
I am so lucky to be this little guy's mom. He is so sweet tempered and happy. He inspires me to find more joy in the simple things of life. I love him so much and can't wait to see what the coming months bring for his growth and development. Happy Birthday, little man!