On the 1st of May, Chloe had her 6-month teeth cleaning appointment, during which Dr. Shah showed Chloe an x-ray of her teeth. These particular x-rays were really cool in that you could see one of her adult teeth sitting directly beneath her baby tooth. Dr. Shah told Chloe that, based on this x-ray, it wouldn't be long before the baby tooth fell out, making way for the adult tooth. Chloe was fascinated with this concept. Several of her friends at school had already started losing teeth, and she had been asking for months when it was going to be her turn. Now there was light at the end of the tunnel. Upon leaving Dr. Shah's office that day, Chloe proceeded to announce to all who would hear her that she had an "almost loose tooth." :)

Sometime between the night of June 24th and morning of June 25th, Chloe's tooth went from being "almost loose" to "loose." She was thrilled to make this discovery, and spent a good part of the day sitting in front of the bathroom mirror wiggling said tooth back and forth.

Well, Sunday (the 8th) is when the monumental event finally took place. As I was awakening from an afternoon nap (a rarity these days, but certainly one I earned after staying up late the night before preparing a church talk and then delivering it that morning), Neil came into our bedroom and said, "
Looks like the tooth fairy will be making her first visit to our house tonight
." Apparently Chloe's tooth wasn't just
loose
, but
barely
hanging on. In fact, we worried that she might lose it in her dinner, so Neil offered to pull it out before we ate. Surprisingly, Chloe was happy to let him. After all, this had been a long time comin', and she wasn't going to allow fear to stand in her way!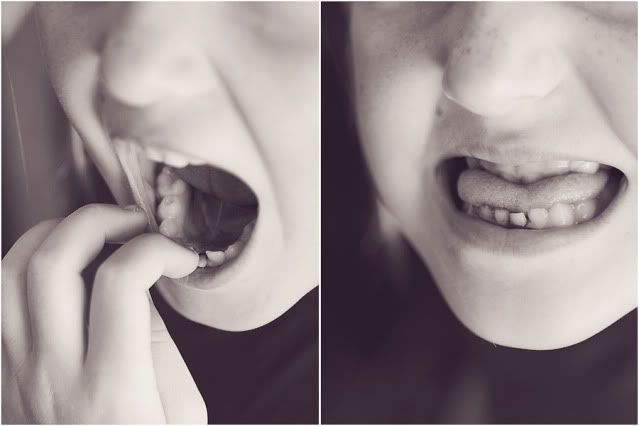 With little to no effort, Neil gave the tooth a gentle tug and out it came. Chloe proudly held it in her hand, then ran to the nearest mirror to admire her new grin.
Sunday night she placed her tooth inside a ziploc bag and under her pillow. The following morning, she was delighted to find, in its place, a dollar and a
First Lost Tooth
certificate.
She was and is still quite proud. And she looks oh-so-cute with that little gap in her mouth. Won't be long before there are plenty more. The other night I asked her if she'd please stop growing, to which she defiantly replied,
"But I HAVE to! That's what we do!"
Love her. Congrats, little miss!