I had a really sweet Mother's Day. I awoke to two eager little people standing at my bedside, who when prompted, hopped onto the bed and presented me with a gift bag containing my Mother's Day treasures. As we sat there together (Neil laying beside us, still half asleep), I could feel the fresh morning breeze and warm sun gently filtering in through the window blinds. It was a comfy, happy setting, and perfect way to start the day.
Chloe was especially excited, as she had put a lot of work and thought into her gifts. She gave me a homemade framed picture of herself (taken by her teacher at school), a lovely card, which she also made herself, and a little finger print drawing. The kids, with the help of their daddy, also got me some new gardening gloves and tools (which will arrive sometime this week). Chloe then brought me breakfast in bed, which consisted of a toasted pop tart and bottle of water. She was so gracious, attentive and determined to accommodate my every need. It was pretty sweet. During Sacrament Meeting, a couple hours later, she asked me,
"Mommy, are you grateful you have me because of what I did for you this morning?"
:)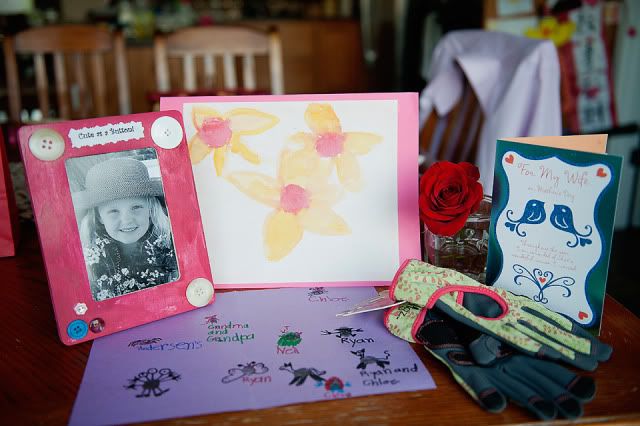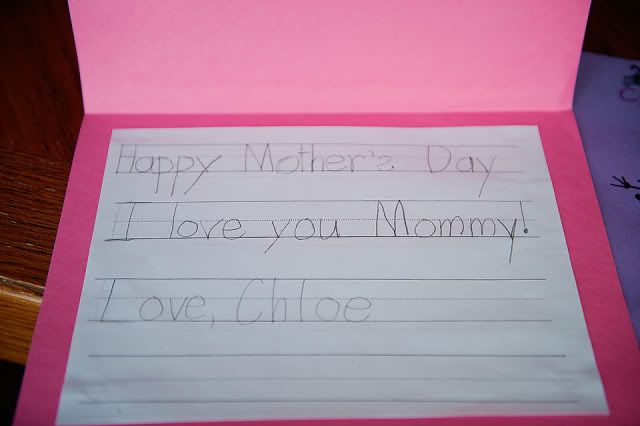 The talks and lessons at church were all beautiful, and I felt uplifted and divine. During third hour I got to go to Relief Society, which is not a common privilege since I'm normally in Young Womens. It was wonderful to feel loved and celebrated, and it was wonderful to reflect on the many amazing women in my life. At the end of church, the Priests came in and passed out red roses to all the ladies.
I took a long nap when we got home, and later, Neil grilled steaks. After dinner, we skyped with my family. My grandma and great aunt were at my parents' for dinner, so in addition to my amazing mom, I got to see and talk with them as well. What a blessing technology is! What a priceless Mother's Day gift to get to communicate so closely with these great women (and of course my dad and brother, too), even being hundreds of miles away. It was a perfect way to finish a nearly perfect day.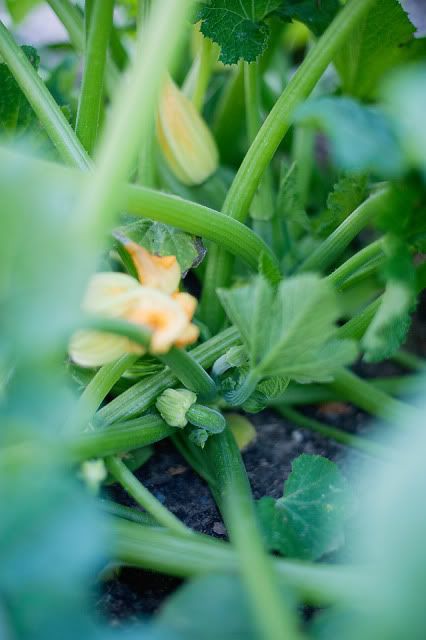 Every single day, without fail, the kids go check on the garden. It's quickly become tradition, particularly after school when we've just arrived home. The kids love seeing what's grown since the day before and if anything's yet produced fruits or vegetables. Well, yesterday, just before we skyped, Chloe went out for her daily inspection. Not a moment later she came racing into the house yelling, "Mom, Mom! MOM! You've GOT to come SEE this!!! Come on, Mom! Right now!" When I got outside, she pointed to our zucchini plant, which is easily 15 times the size it was when we planted it a short month and a half ago. Beneath the leaves, was this!! Our first tiny zucchini, and also the first fruit or vegetable to be produced in this garden. I thought it was so cool that this discovery was made
on
Mother's Day, of all days, when we celebrate new life (and, of course, those who provide it)! I LOVE gardening, by the way, and am quite positive I have found a new passion. Happy Mother's Day to me!
I am so grateful to live a life which has always surrounded me with exquisite women. I am grateful to come from such a rich heritage, and to have the opportunity to raise a daughter to be like these women. I am grateful to be a women myself, a wife, and a mother. It has its challenges, but it is such a divine gift. I love the scripture that says where much is given much is required, and I wholeheartedly believe that applies to motherhood. It truly is a privilege, but not one to be taken lightly.
"She is co-partner with God in bringing His spirit children into the world. What a glorious concept! No greater honor could be given. With this honor comes the tremendous responsibility of living and caring for those children so they might learn their duty as citizens and what they must do to return to their Heavenly Father...A mother has far greater influence on her children than anyone else has, and she must realize that every word she speaks, every act, every response, her attitude, even her appearance and manner of dress, affect the lives of her children and whole family."
--President N. Eldon Tanner
I love the wisdom and truth of the above quote, and the promise and reassurance of the one below.
"If you, mothers, will live your religion, then in the love and fear of God teach your children constantly and thoroughly in the way of life and salvation, training them up in the way they should go, when they are old they will not depart from it. I promise you this; it is as true as the shining sun; it is an eternal truth."
--President Brigham Young
I am so lucky to have these two little darlings in my life. As much as they exhaust and irritate me at times, I would never EVER choose any other path or role than that of their mother. The rewards surely outweigh the frustrations, and I know this will be more and more evident as they grow.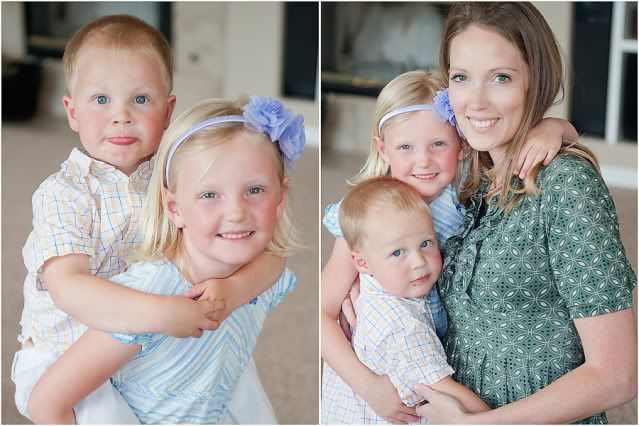 Happy Mother's Day and much love to all the amazing women in my life, mothers or not! You know who you are!