Chloe's school hosted a jog-a-thon on May 4th. Chloe earned some pledges from family and friends, and was pumped to run her heart out. Ryan and I went to cheer her on, and even ran a couple laps with her. Chloe lost focus quite frequently, stopping to chat with teachers and/or parents, and grabbing a cup of water whenever one was offered to her. It was pretty hilarious, actually. Then, about 10 laps in, she started complaining that she was tired. After a quick pep talk and reminder that those who sponsored her were depending on her to stick it out and run hard, she was back on course. She continued to have weak moments, but by the end had completed 19 laps.
She loved running with Ryan, and he actually kept up with her pretty well.

Chloe with her cute friend, Anniston, and a view of the running track.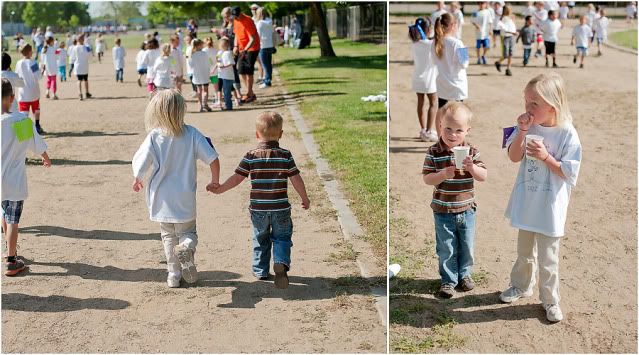 More running; more breaks.
Happy jogger with her punch card, totalling 19 by the end.

The jog-a-thon lasted one hour, which seems a little long for the kinders. But I was really impressed by how well they kept up. They were rewarded with popsicles for their efforts, and thankfully there was an extra for Mr. Ryan.
A special thanks to Scott and Heather,
Jared and Lori
,
Brad and Courtney
,
Ryan and Misty
, and
Carl and Lorilee
for sponsoring Chloe and helping her raise money for her school! We are all very touched by your generosity. Be watching your mailbox for a thank you card.