Wow, crazy last couple of weeks! My computer was having issues week before last and ended up in the shop up until last Wednesday. While I missed the convenience of having photoshop and blogger at my finger tips, I'll have to say the break was nice, and somewhat needed. And really, what a great week to be without a computer with sunny, upper 70 degree temps! Last Thursday and Friday even crept into the 80s and was actually hot! We ate dinner on our front porch and opened windows that night when the cool breeze kicked in. It is so bizarre to me that it's already beginning to feel like summer and yet we're barely into April. I love it though.


Neil and I spent quite a bit of last week working in the yard. We moved a few bushes around, replaced some dead plants with new ones, planted 2 trees, installed countless drip lines and potted some flowers for the front porch. Neil did most of the work while I kept the kids out of his way, but I would like to think I was fairly helpful too. I took a lot of pictures, mostly for my family - Neil's mom in particular, who is the greenest of all green thumbs out there and will appreciate the assortment of pictures below probably more than anyone else who bothers to read this post!
So let's rewind back to March 19th when we had a massive rain storm, complete with I don't even know how many mile an hour winds but definitely not an appealing number! Earlier that day I participated in a photo shoot that my friend Tami had arranged for some photographers in the area. It was cold, wet and windy then, and unfortunately only got worse as the evening progressed. I ended up having to run out at 10pm to get some things for a church program the following evening. As I was exiting the freeway to come home a huge branch fell from a tree just ten or so feet ahead of me, which was pretty scary. Luckily I dodged it. Then all night we heard the wind and the tree branches in our front yard hitting the windows. Needless to say by morning when the winds had calmed, we were relieved. I glanced out the window at some point that morning and discovered a couple things that were out of place.
Notice anything odd? Like, oh, I don't know. A trampoline sitting on its side and crunching into the fence?
What about here? Yep, you got it. A basketball hoop that once stood.
And as if that wasn't crazy enough, here's what we discovered backing out of our driveway to head to church!
Our poor tree on the side of our house got knocked down. When we got home from church and gave the tree a closer look, Neil quickly discovered that the largest roots had snapped in half, and that the tree had no chance of survival. We were both really sad because it was a beautiful tree and a decent size! How ironic, too, that of the 2 trees in our yard (not counting the ugly palm tree in our backyard which we are considering replacing down the road), one of them would get destroyed during a storm! Neil said the roots were very shallow in the ground to begin with, which could have contributed to the fall.
So there's that story! What's also ironic is that less than a week prior, we planted an orange tree just 20 feet from where this tree stood. Right now it's 21 inches tall, and luckily the storm didn't have any effect on it. It's just ironic that the very week we planted a new tree, we lost an old tree. I'll post pictures of the orange tree planting extravaganza soon. It was a lot of fun. Okay, now onto the fun part of the post!


So the front walk way had quite a few weeds and dead plants which we ripped out, and then Neil and I headed to Lowe's to find some new stuff to fill in the gaps. It was so fun picking out flowers and plants. I don't know what it is about Spring but it just makes me feel so happy! The process of filling my cart with greenery and other vibrant colors, all the while inhaling the various fragrances; then coming home and planting the goods in the warm sunshine, followed by watering, and finally, admiring! Ahh! The whole process from start to finish just makes me happy!
Thursday was the hottest day of the week, and at one point we turned on the sprinklers so the kids could cool off. They only lasted 15 minutes before they were finished, but it was 15 minutes of giggles and squeals. It was great watching them. And as I sat there on the sidewalk doing just that, I realized I was living a moment which years before I envisioned in my head and hoped to someday live. Who wouldn't love watching their children have the time of their lives running through sprinklers on a warm Spring day?
I probably ought to start thinking about buying Ryan a swimsuit.
Friday and Saturday I potted some plants. I think our porch still needs some touches, but it's off to a great start. Neil is planning to build a wooden bench and possibly a matching planter box. I also want to get a large shrub (one of those twirly looking tree shrubs - you follow me?) to sit in a large pot directly left of the front door. In time. In time. Anyway, here are pictures.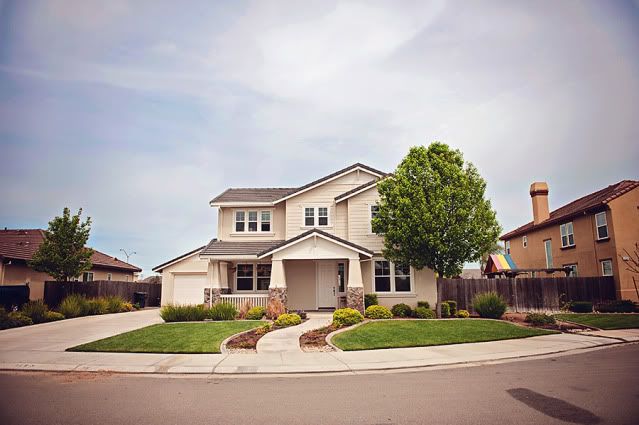 You really can't even see the walkway very well. All the plants are still so tiny, but give them a year or two and they'll fill up the space and look gorgeous!
Here's the side of our house. That door on the far left leads into the kitchen. That alone is probably my favorite feature of the house. The sun light that creeps in through that big window around dinner time is just amazing, and the convenience of unloading groceries, checking on the kids while they play on the driveway and I cook dinner, etc. is just more than I could have asked for. I love my kitchen door, and I hope those hydrangeas Chloe and I planted next to the door grow and flourish so I have just one more thing to admire!
Another view from the side. Just to give you an idea of how large Chloe's bedroom is, the 2 top windows on the side of the house are hers, as are the 3 around the corner from it AND the 2 next to it. 7 windows!! The other 2 windows on the far right (covered by the trees) look into the play room.
We aren't crazy about the shrubs lining the side of the house, and would rather have something that has a little more character and that flowers. We had to rip out a plant that was overtaking some of these shrubs and are now waiting to see how it all fills in. They certainly don't look bad. Just not our first choice.
Neil's Grandma Jean painted the pots below (chili peppers and strawberries). Love them.
The left center picture is of a magnolia tree we planted on the far right side of our yard. I fell in love with it at a Nursery by our house. It's beginning to bud now and produces the most beautiful pink flowers! The right center picture is of the tree we planted in place of the one we lost during the storm. Right now it's about 2 feet high, but it supposedly grows 4 inches a month, so in no time it'll be a decent size. I can't remember what it's called. Bottom right picture is the view from our front door.
Bench will go to the far left of the porch (not seen in the picture below), and the potted shrub will go right smack against the blank wall to the left of the door.
I am so grateful for an established front yard that we can simply add to here and there, for a good sized tree that I can admire out my windows, for a huge porch where I can sit and watch the kids play, and for the overall warm and cozy feel that exists here. There are still things we aren't crazy about like the placement of some of the bushes and the lack of variety, however we made great progress last week and will continue to as time passes. Eventually it will feel like it's ours. I am really growing to love this house, and I think the more we can do to improve it, the more it will feel like "home."