I just wanted to say a little something about my parents. First of all, they are wonderful. They've always been wonderful. And I've found them to be even more wonderful these recent weeks as they've reached out to me more than ever.
Chloe adores them - always has, of course - but on a whole new level now. Part of it is that she's growing old enough to develop relationships and true feelings for others. Another part of it is that she spent a solid 2 weeks with my parents in July. It's been a pretty cool experience watching her discover what it is to love and care for someone deeply.

She and my mom have always been close. But this trip Chloe took a particular liking to my dad. Tonight he told me, "Chloe's the apple of my eye." I think if Chloe knew what that meant, she'd say the exact same thing about him. During the time we were visiting, she would just follow Grandpa around everywhere. She wanted to be a part of everything he was doing, and hardly left him alone. Luckily he didn't mind one bit, and welcomed her company. Those two developed a true bond during their time together, and it was hard to go back home for that reason. She was overjoyed when he, my brother and two of their close friends drove through last week on their way to New Orleans, and cried genuine tears the morning they left. Since then, she's said at least once a day, "I miss my Grandpa."
Tonight I had a chance to catch up with my parents on the phone. After getting the kids to bed and sitting down to work on the usual: pictures, I started to ponder my parents, their journey, and the amazing individuals that they are. I find it's when I've grown that I discover yet another quality that they possess. Well, I've been doing a lot of growing lately, so I suppose that's where this post stems from. I am so grateful for my parents, for their hospitality, for their acceptance, for their support, for their example, and for their genuine love and concern for me and my family. I really couldn't ask for anything more.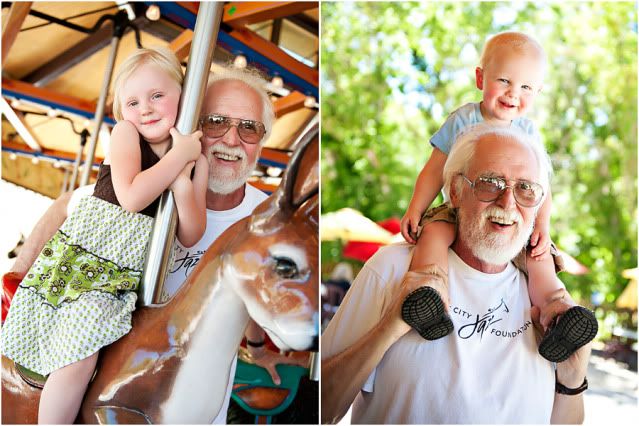 Grandpa with the kiddos - Hogle Zoo, July 2010
Grandma Jill with the kiddos - Paradise Bakery, July 2010
Don't I have a pretty mom? Thanks for all you do, guys! We love you.

On a side note, I am closing up business August 31st. I am officially burnt out, and just too busy and stressed to be enjoying it anymore. I do hope to resume business once I'm settled with Neil in California, but for right now my focus needs to be the kids and our home. Once I'm caught up, which seems like an eternity away, I will be able to invest my late nights into this poor blog. It kills me how behind I've gotten. I took over a thousand pictures during our UT trip last month, not to mention the hundreds of May and June pictures which I have yet to even look through. Hopefully after Labor Day I'll be able to find some ME time and get back on the blogging bandwagon.