Wow, what a weekend! My brother,
David
, who is a well known jazz saxophonist in the Salt Lake area, was invited to open for
Diana Krall
, renowned jazz singer and pianist, at Red Butte Gardens Friday night! He announced the exciting news Wednesday afternoon, and that same evening I decided to make the 9 hour drive to be there. Aside from the fact that I love Diana Krall (and have since her 2001 album,
'The Look of Love'
came out), I just simply couldn't miss witnessing this opportunity of a lifetime for David. And so, Thursday evening after Chloe's swim lessons, we packed up the car and headed to Laramie, where we stayed the night with a friend of my brother's. Friday morning I got up way too early, hopped back on the road, watched the sun rise over the hills of Wyoming, and arrived in Salt Lake around 11:30. David and I met up and headed straight over to my parents', who had NO IDEA I was coming. Ah, just icing on the cake. The look of shock in their eyes was priceless. And wonderful. Not only did I just see them a few weeks ago, but my mom is coming to Colorado Springs next week. So never in a million years were they expecting this!
I hung around with my parents for a couple hours while David did whatever he needed to do, then at 4:00 he picked Ryan and me up and the three of us headed to Red Butte for his sound check. As we were pulling in we saw Diana Krall's tour bus with a lovely Mercedes SUV parked right in front of it. While David and guitarist, Kenji Aihara, got ready for their sound check, Ryan and I explored the garden, which was beautiful, then sat down at the back of the stage and watched on as the stage crew got things set up, tuned the piano Diana would be playing, and got everything else squared away. I kept waiting for someone to tell me to get off the stage, but even with a few funny looks, no one said a word to me. I soooo wanted to have my camera out and snapping shots of anything and everything, but they didn't allow cameras, and I was afraid if I got mine out early on, I wouldn't have a chance to sneak in a couple shots during the actual performance.
Here's one that David got from basically where I was sitting.
Around 5:30, David, Ryan and I headed up to the catering tent for a fabulous dinner. I felt like quite the VIP. We kept waiting and hoping for Diana to wander in, but we knew it wasn't likely. And we were right. We did, however, meet one of her producers.
Doors opened at 6, and shortly thereafter Ryan and I were settled on a blanket in the front row, only 20 or so feet from stage, along with my parents and some family friends.
Here are the boys, ready to bring it!
At 7:00, David and Kenji opened. And might I add they sounded absolutely amazing?! They captured the audience instantly and really set the mood for the night. They were so compatible and well-synchronized. They just killed it! That's all there is to it.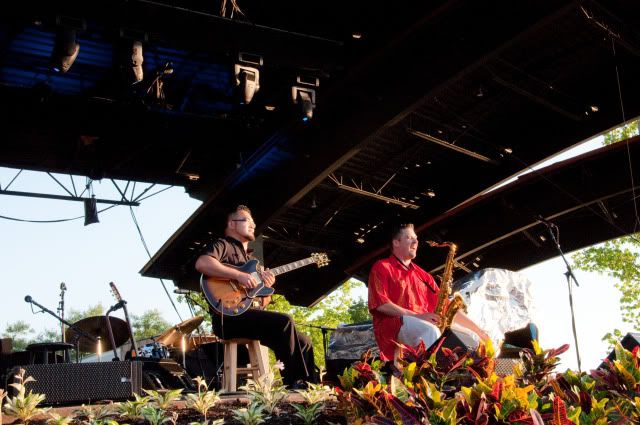 I know David's my brother, so of course I think he's all that, but it had been quite a while since I'd heard him play and he really truly just blew me away! I was so SO proud of him. And I wasn't the only one whose heart he stole! He and Kenji received a standing ovation, and after their performance, people were practically swarming us with "Where does David play regularly?", "Does he have an album out and where can I buy it?", etc., etc. I was so honored!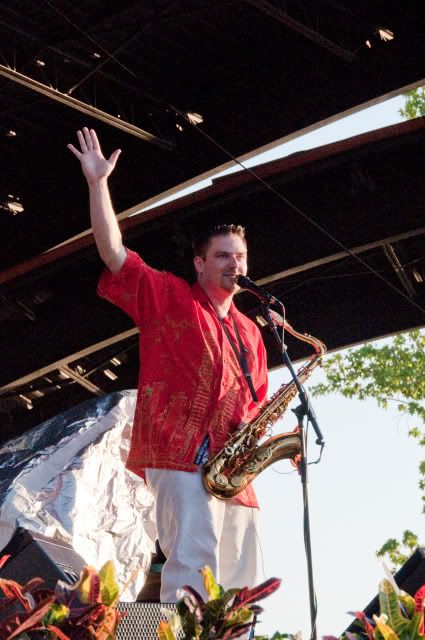 At 8:00, Diana Krall was announced and came out to stage with her band (Anthony Wilson - guitar, Jeff Hamilton - drums, and Robert Hurst - bass). Her presence alone gave me chills. She was so beautiful, confident and calm. She sat right down at the piano and without hesitation, began playing. Wow. I couldn't believe I was sitting just a matter of feet from her. It was an experience.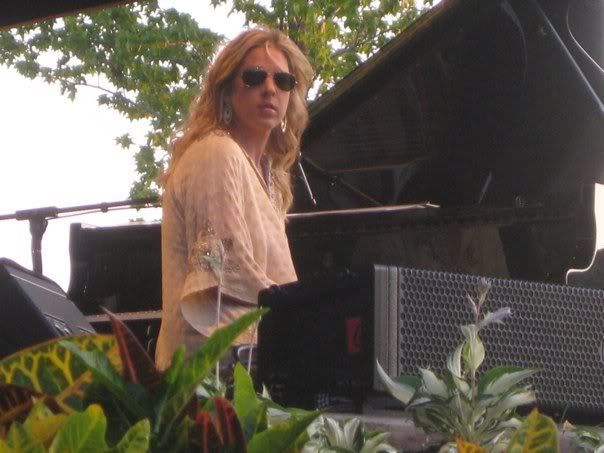 What was an even greater experience, however, was something she did about halfway through her performance. I had noticed her glancing in my direction a few times, but didn't think much of it. Well, after finishing a song and once again looking my way, she nonchalantly said something along the lines of, "I can't stop looking back at that mother rocking her sweet baby..." It took me a good five seconds to realize she was referring to me and not someone else! But it didn't end there! THEN! She proceeded to play a soft lullaby on the piano as prelude to her next song, "I'll String Along With You" (which is most likely playing right now, or will be starting momentarily - turn up the volume). It all happened so fast, that in some ways it's just a blur. But wow! Of all the thousands of people in the audience, Ryan and I were the ones that caught her eye. I was blown away. That song, which I already adored, holds a whole new meaning now. And how wonderful it will be to tell my son years from now, that when he was 9 months old, Diana Krall played him a lullaby?! Ironically, Ryan was due on her birthday. So really, their connections go back further than Friday night. :)
I love this one. Diana's glowing like an angel. Great shot, David.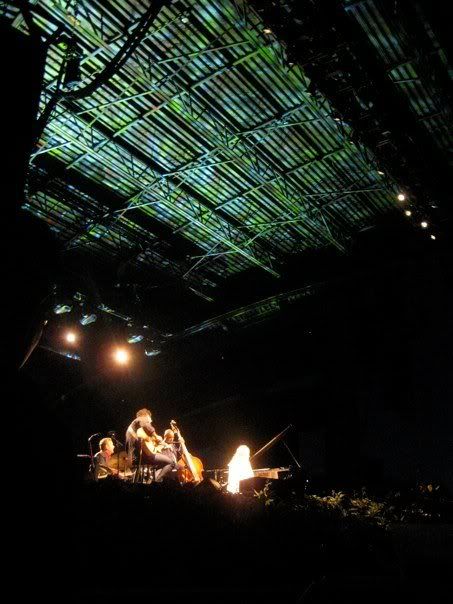 It was an amazing night. Diana Krall rocked the house, and I love her more now than ever. She talked quite a bit between songs, which gave the audience a chance to get to know her a little. I learned that she has 2 1/2 year old twin boys, which of course made her all the more endearing to me (and probably everyone else too). It also became obvious in her talking that she values family. I was really touched by that, because so many celebrities nowadays just don't! She seemed very down to earth.
Here she is with her sons: Frank and Dexter. They were born December 6, 2006, which happened to be her and Elvis Costello's 3rd wedding anniversary. Love it.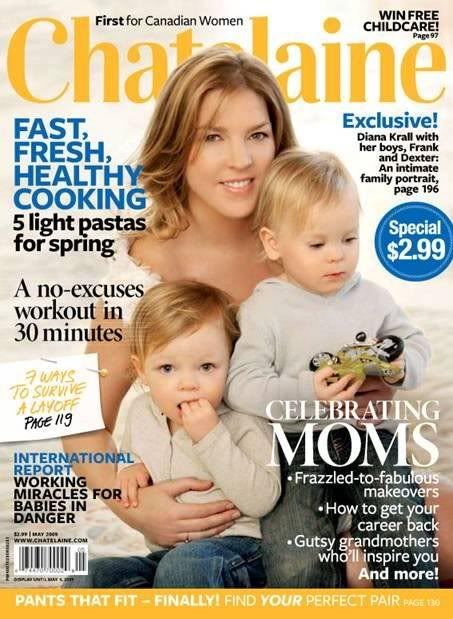 This is the one decent shot I got of the band (David took all the others).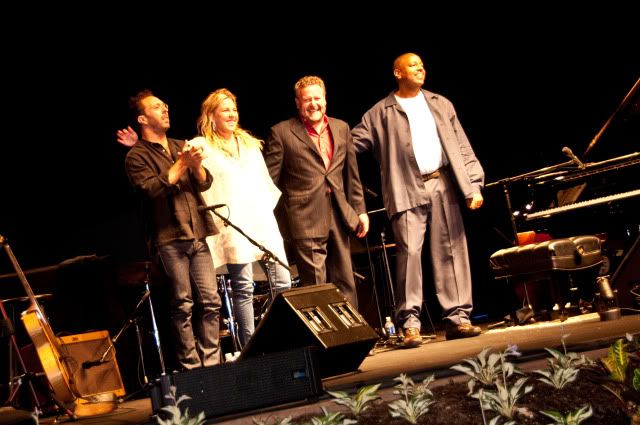 Sometimes having a big bulky camera is a disadvantage. I was approached by a security guard twice about having it out. He hee. Thank goodness David had his little point and shoot he could sneak some good shots with.
Neither David or I got to meet Diana in person (I was especially bummed for David's sake), however after the show, as we were loading his car, we noticed the rest of the band sitting in the van just a few feet away. David went and introduced himself to the guys, and I followed. I wasn't going to shy away from this opportunity. I had Ryan with me, which I'm sure helped. They were nice guys.
I slept good and hard that night. I was SO exhausted. And luckily, the kids slept well too. Ryan slept 6 hours straight, which is unheard of for him. We got up at 9:45am Saturday, and Chloe slept in until 11! Wow.
Saturday was just relaxing and low key. My mom took me early birthday shopping, we had lunch at Cafe Rio, and just goofed around. Here are some shots of Grandpa and Grandma with the kiddies.
Ironically enough, the matching shirts were
NOT
planned.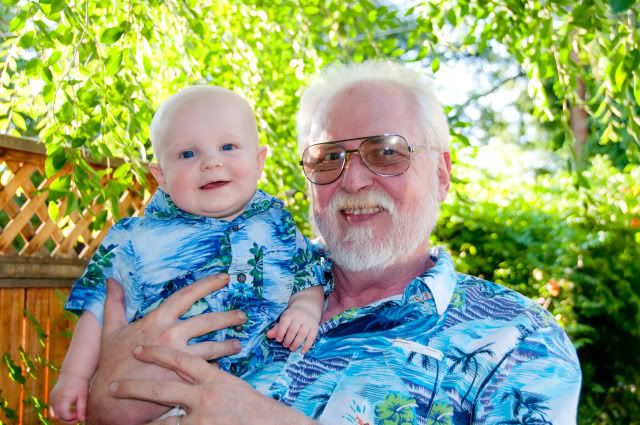 I brought this shirt for Ryan to wear to the concert, but because it was SO HOT Friday, I ended up putting him in something a little lighter. Then my dad shows up to the concert wearing practically the same shirt. So anyway, I put Ryan in it on Saturday and my dad put his shirt back on so we could get some pictures of the matching men.
I looooove this one.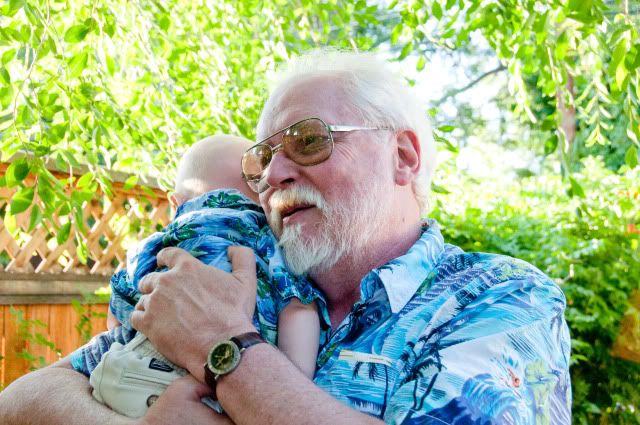 Grandma and her girl (the pink hat was per the request of Miss Chloe).
Looks like Chloe's casting a spell on her brother. Poor kid.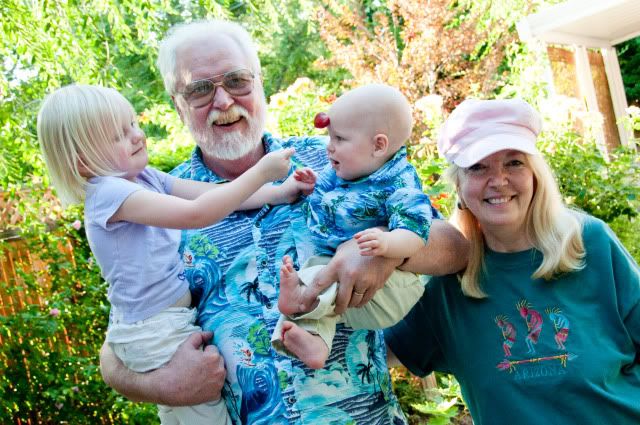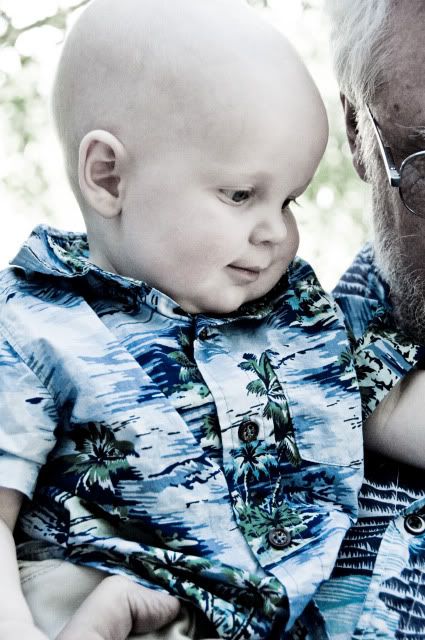 Saturday came and went too quickly. Before I knew it, it was time to pack the car up again and prepare for another long drive. We headed out Sunday morning at 4:50am. Ugh.
While every moment of insanity and exhaustion was worth this trip, I will never drive 18 hours in a 48 hour period again! :)
Here's Sunday's sun rise. Approximately 6:20am. Beautiful, isn't it?
A perfect ending to a perfect trip...
Thanks again, David, for this wonderful memory. I'm proud of you on so many levels, and I love you.