Chloe is on Fall break this week. I have really been looking forward to this for a while. After all, I don't get to hang out with my girl nearly as often as I used to. Now tack on the joys of no alarm to set, no morning and afternoon school grounds traffic to deal with, no homework to help with, no lunches to prepare, and
no library
books to remember, and I'd say it's been a pretty nice week! I put together a list of fun activities and crafts to occupy the kids during the week and have so far managed to incorporate one thing into each day's agenda. Here's what we did on Day 1 (Monday).
This is the second year we've been able to enjoy this pumpkin patch (
here's last year's outing
). It's about 20 minutes from our house and a really great place to go with your family to get into the spirit of Fall. They truly offer everything a pumpkin patch should. This was actually our second trip there this month. I took the kids two Saturdays ago with my cousin, Heather and her son, JD. It was a complete madhouse, and while we were there for at least three hours, we spent the majority of that time standing in lines. Ryan had had a fever earlier that morning, which broke a couple hours before we headed out, but spiked again the last 30 or so minutes we were there, so of course he was miserable almost the entire time. It just wasn't a great day to go, so I promised the kids we'd go back on a weekday when there weren't crowds. Monday was truly perfect. We got there at 11 and practically had the place to ourselves. We did the scarecrow ride, rode the train, jumped on the jumping pillows, took 74 pictures (29 of which are below), ate an enormous slice of pumpkin pie and picked out our very own pumpkins. It was just starting to get hot when we left, so we not only beat the crowds, but the heat too! It was a really fun outing with the kids. I wish Neil could have joined us but he had a crazy work day.
Anyway, here are those 29 pictures. Go ahead and count.
Ryan tried so hard to be as tall as his sister. Look at him on his tip toes reaching as high as he can.
The middle shot was taken just after we'd boarded the train. As you can see he was a pretty happy kid.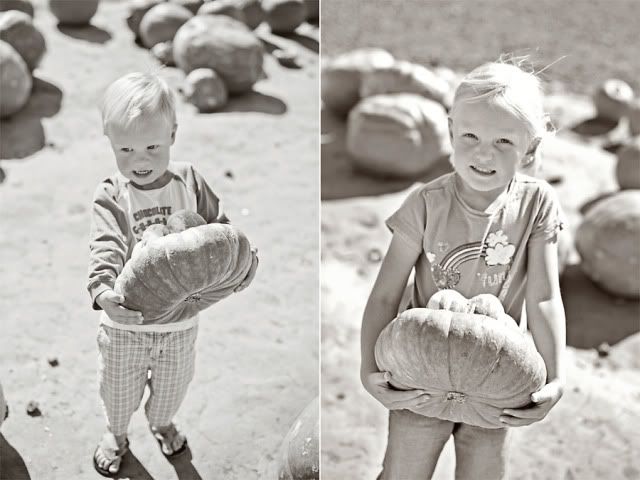 When we first walked through the pumpkins, Ryan immediately spotted this one, picked it up and attempted to bring it to me. It probably weighed what he weighed, which made my observation of the whole thing all the more precious. He was truly huffing and puffing trying to lug that thing around. I eventually convinced him to drop it, but naturally, Chloe had to have a turn.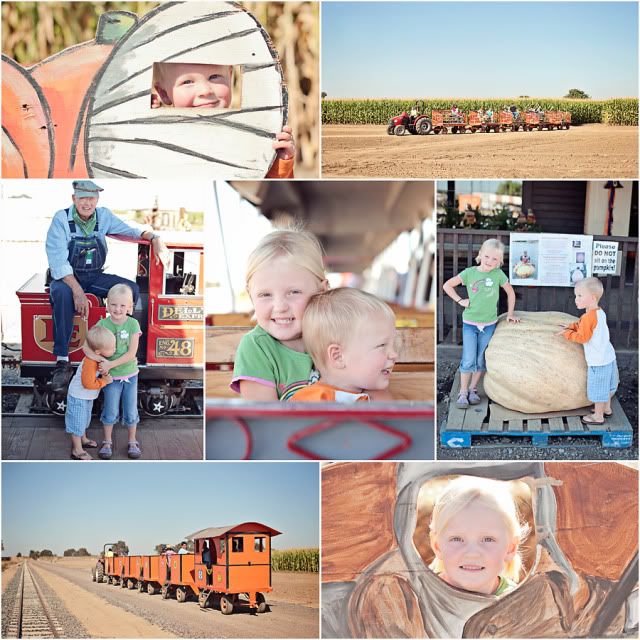 It is getting more and more difficult to convince Ryan to look at the camera. He is as stubborn as they come.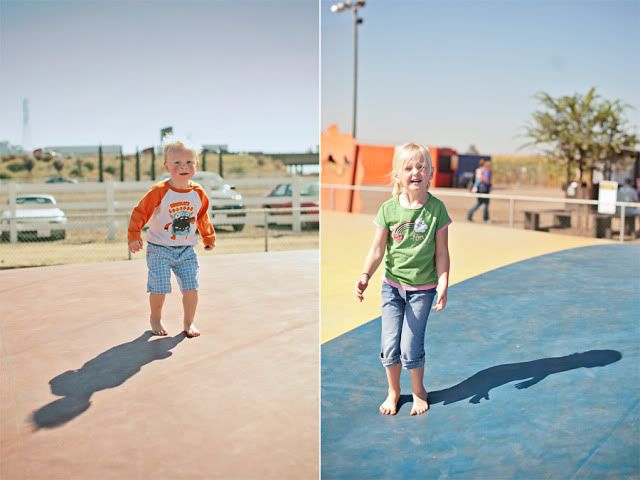 Jumping pillows!
These make me laugh. The fact that Ryan wasn't quite tall enough to fit his entire face in the opening, not to mention that expression on his face! Priceless.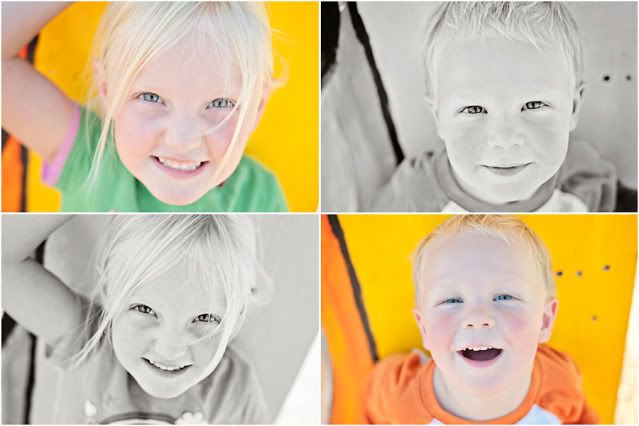 A few fun close-ups.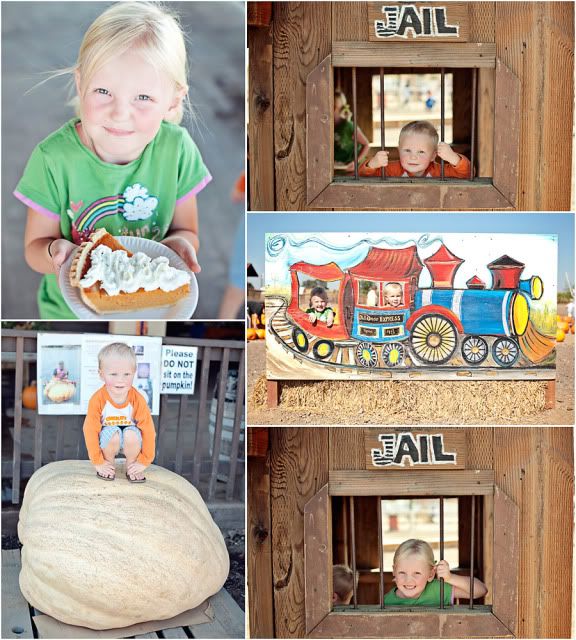 That pumpkin pie was so good. Bottom left photo - notice the sign behind Ryan? I suppose he wasn't sitting but rather squatting, which the sign did NOT discourage. So technically we didn't break any rules, right?
As soon as we got home, Ryan played on the floor with the pumpkins and squash we had picked up at Dell 'Osso. At one point, after lining up four of the squash, he enthusiastically said, "Take a picture, mommy!"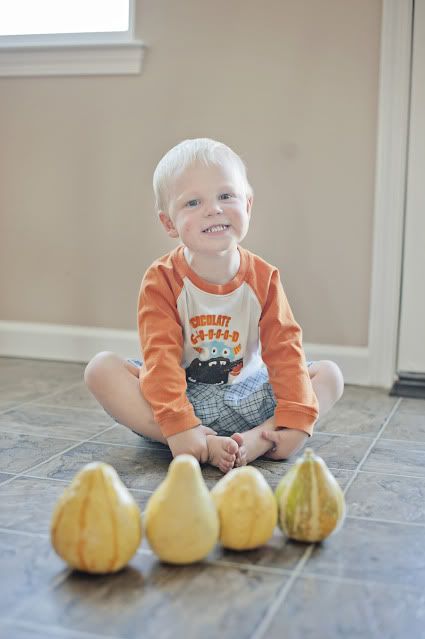 So I did! Cute kid.

And here, the pumpkins, which were thoughtfully chosen by Chloe and Ryan, now grace our front porch!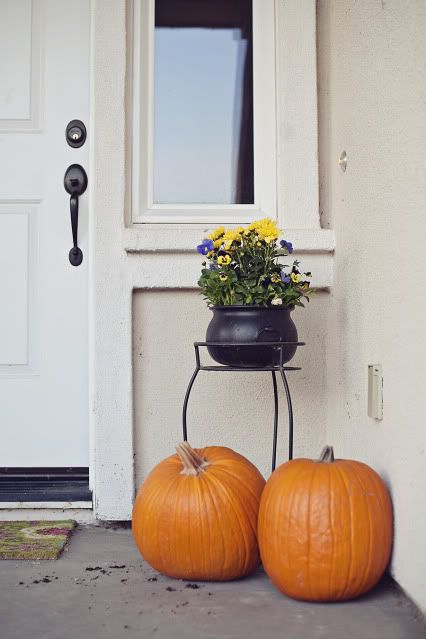 Day 1 was a good day.