Day 2's morning and early afternoon consisted of cleaning and errand running. Not too exciting or festive. I kept promising the kids that if they were good and did what I asked that we would do a fun craft activity involving messy hands after ballet. I'm not sure they kept their end of the bargain, but they did try. After lunch we headed out the door to run errands, the last of which included a trip to Target. After grabbing what we needed there, we rushed to ballet. After that, we went to Qdoba with Tami, Misty, Lorilee and their girls (all of whom are in Chloe's ballet class - still need to blog about that!). Tami's husband, Toby and Neil work together. Toby's in trauma and Neil spine, but over the last few weeks Neil has been helping out the trauma team due to another employee going on unexpected medical leave. Needless to say, we've seen a lot less of him lately, and "Day 2" was no exception. Because he wasn't going to be home until late, we joined the girls for dinner and by the time we got home it was close to 6. Chloe, who had
not
forgotten about the promised activity of the day, was nagging me like crazy all the way home, so eager to get started, that upon pulling into the garage, she jumped out of the car and yanked all the groceries out of the trunk herself!
Not two minutes after walking through the door, both kids were sitting at the table, decked out in their Ikea art smocks. While I really wanted to get things put away and just have a moment to sit before diving into a new task, I felt bad making the kids wait any longer. And so the Target bags sat, and out came to the paint!
The finished products!
These cute little handprint trees were inspired by
this
. They didn't turn out quite the same but I suppose that's what makes such creations unique and special. About five minutes after Chloe had finished hers, Ryan decided it was missing something, and proceeded to apply a few strokes of purple paint. Thankfully I snapped the above picture of her holding the original masterpiece prior to its demolition.
While Chloe was displeased (I would be too!!), she quickly snapped out of it as she had already moved on to another picture containing happy faces. After that she drew an alien with three eyes, four arms and four ears! Such a creative little thing she is!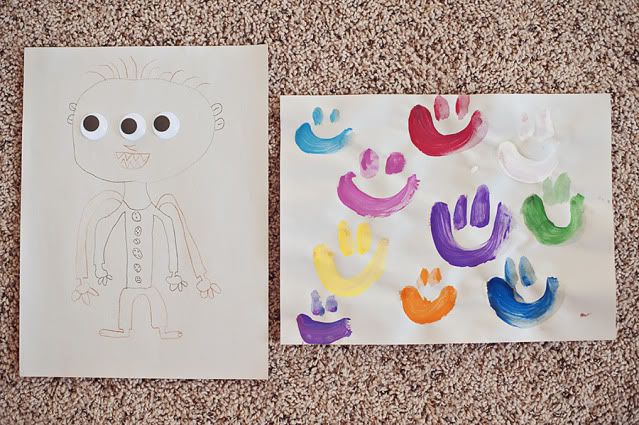 Ryan also came up with a couple other creations, and while I had to closely monitor to ensure he was limiting his brush strokes to paper, I think we all had a really good time.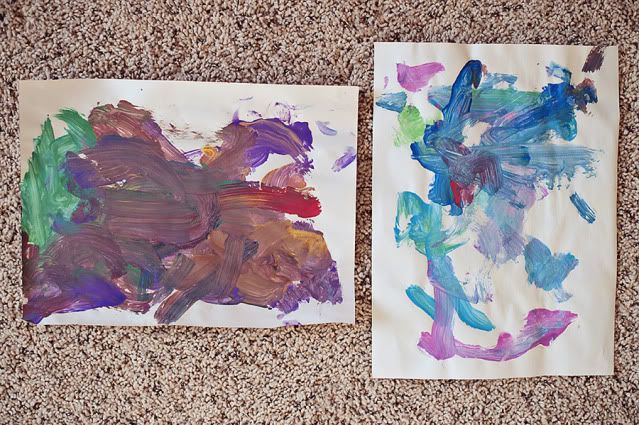 Day 3 is in the works, so stay tuned!