My mom flew in last Monday for five days. I wish I could say we played lots, but we actually didn't. Most of the time she was here I was upstairs trying to catch up on wedding pictures while she occupied/played with/took care of the kids. We did get a little bit of play time in, but her main purpose this trip was to help me so I could work. I am now finished with two of my three June weddings, so I guess you could say mission accomplished, but I was a little sad at how quickly the week flew by and how little time I got with her. She was awesome and so helpful, just knowing what to do all the time and taking charge. I'm sure the kids absolutely wore her out, but she never complained once. Only smiles from Grandma Jill! Only smiles!
Neil and I snuck off to San Francisco on Friday with some old friends, Brett and Leslie, who were spending the weekend there for their 10 year anniversary! We hung out for the day and went to a Giants game, which I'll blog about when I have pictures loaded on my computer and ready to share.
My mom flew home on Saturday, and guess who she took with her? A while back she and my dad expressed interest in stealing Chloe for a few days before the school year began. We happily obliged. Chloe thought she was pretty hot stuff, and bragged about her much anticipated trip for days and even weeks leading up to Saturday. She even told her Primary teacher two Sundays ago that she was going on an airplane all by herself to visit her Grandma Jill and Grandpa Roy, and further, apologized in advance for not being at church the following Sunday. I think Chloe concerned her teacher just a tad because she went out of her way to talk to Neil about it after church that same day. He quickly clarified that yes, Chloe was going to fly on an airplane, but that she'd be accompanied by Grandma, and yes, she'd also miss church the following week due to her trip but that we had it all under control. I was sad to have to say goodbye to my mom, especially since this trip was really different from past trips and I hadn't quite gotten my 'mom fill' yet. And naturally, as I'd never done this before, I was also a little apprehensive about letting Chloe go. I knew she'd be just fine, and boy was she ready to hop on that plane! But I'll admit I didn't like saying goodbye one bit.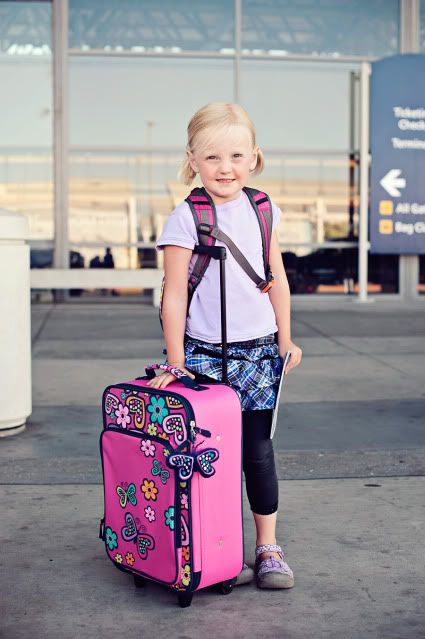 Such an independent little thing with her very own backpack and suitcase! She's gonna rock kindergarten!

"See ya, Mom!"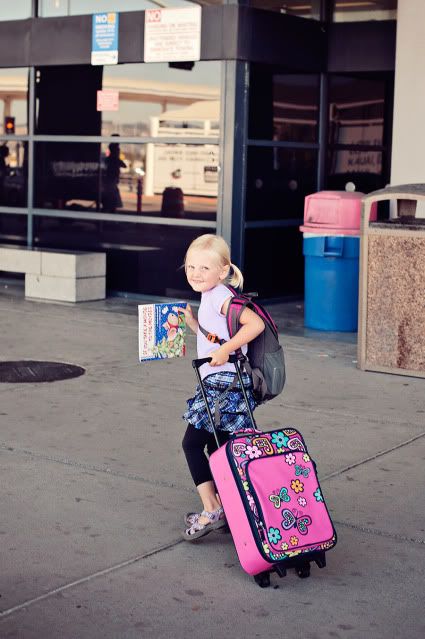 Notice her reading material in her right hand:
If You Take a Mouse to the Movies
, and her "cell phone" in the side pocket of her backpack. That's my old phone, which she now pretends is
her
phone.
It was strange driving home in a quiet, empty car. Ryan quickly acclimated to the freedom he could only enjoy a few short days before his sister returned. Just look at that face! Simply irresistable.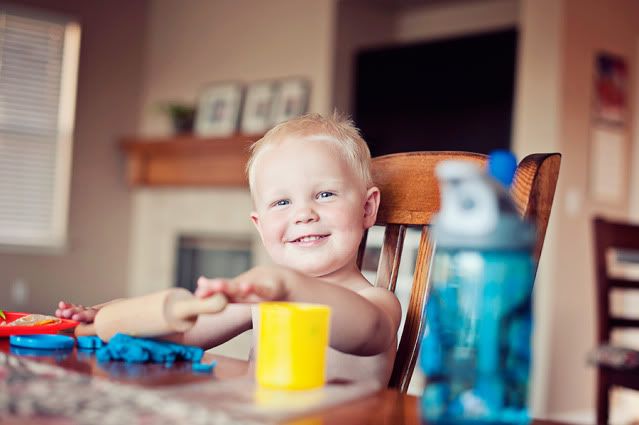 "This play dough is all mine!"
Chloe has called us each day and seems as happy and content as ever. My mom said she made quite a few friends at the airport and on the airplane, announcing her name and age to just about everyone she saw, and then asking for theirs. Typical. I'm so grateful for awesome parents who love their grandchildren and want to spend time with them. It's been a nice break, and wonderful enjoying some one on one time with my boy, but I'll be glad when Thursday rolls around and our family is once again complete.