Last Thanksgiving, Neil and I started talking about possible Spring sports/activities for Chloe. She had expressed interest in swimming and ballet, and when Neil suggested soccer, she seemed equally pumped. We never really made a decision about where we would start, but agreed that since she didn't seem particularly partial to any one thing, it might be wise to let her try a little of everything. So that was November.
In early March, my friend,
Camille
, who was registering her Aly for soccer, invited us to register too so the girls could be on the same team. Chloe and Aly have been pals since birth, and have already done swim lessons and preschool together. Since we'd been talking about the possibility of soccer for a few months, and Chloe still seemed interested, we had no hesitation registering her. We went and bought all the needed things like soccer socks, shin guards, and of course, a pink soccer ball. She was so excited and ready, and Neil and I felt good about our decision.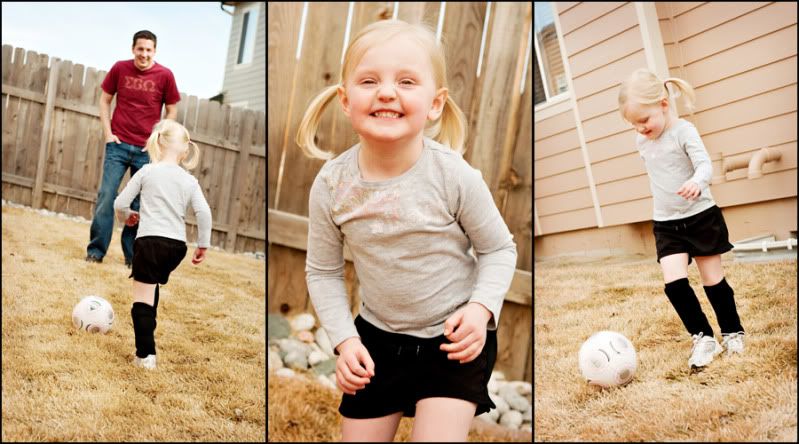 Here's Chloe practicing in the backyard just before her first practice. Looks pretty happy, wouldn't you say?
Chloe's first practice was March 15th. She did really well until about the half way point. For starters, she was not fond of the rule that she could not touch the ball with her hands. Among other things, it quickly became evident that soccer might not be her cup of tea. She refused to play the latter half of practice, and instead pouted in my lap.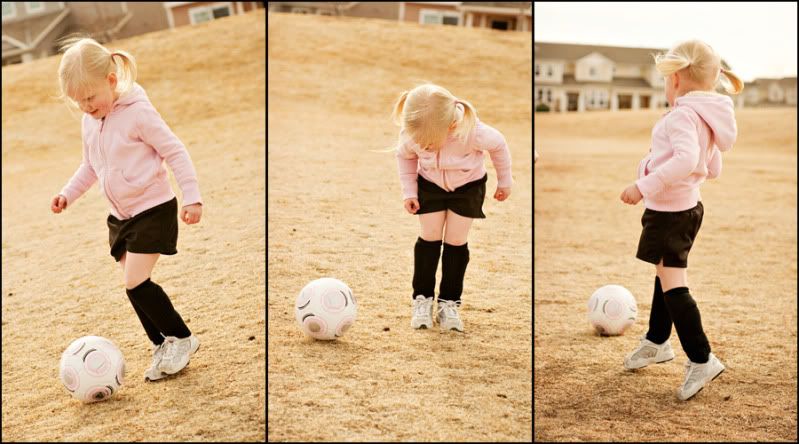 These were taken during her first practice, when she still thought soccer was fun.
And here's Ryan, watching on.

Future practices weren't any better than the first. Chloe fought it big time, pouting, whining, melting down and just plain refusing to play! At one practice, which I wasn't there for, Camille told me that the assistant coach approached Chloe at one point to ask why she didn't want to play. She had just plopped herself onto her ball, elbows on her knees, scowl on her face. Her response to the assistant coach was simply, "Ballet is so much better than this!"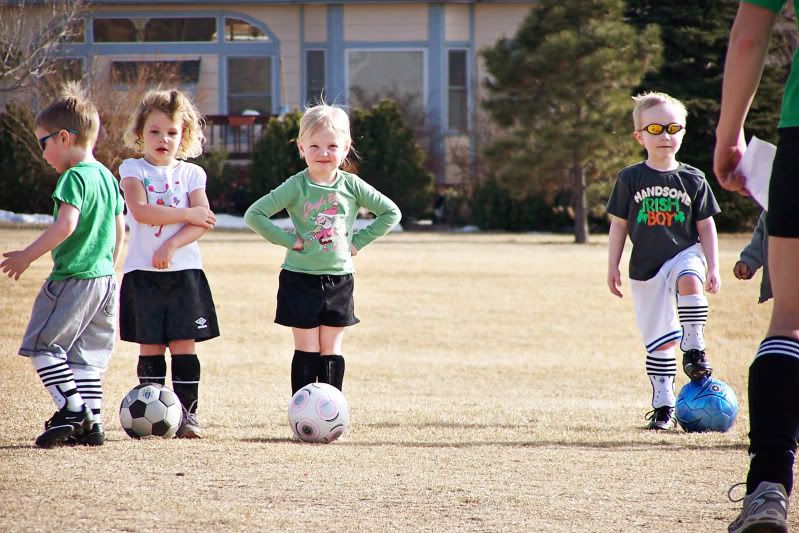 I stole this off Camille's blog.
While it was obvious Chloe wasn't going to be the next Mia Hamm, Neil and I agreed she needed to stick with it until the end of the season. After all, we had talked with her about soccer for several months and on several different occasions. We didn't feel like it was okay for us to pay for and go to the trouble of getting her into soccer, only for her to decide right off the bat that she hated it and didn't want to play ever again. Maybe that's heartless, but it's what we felt was best. Neil finally told her that once the season was over, she could start ballet and never look at a soccer ball again. But until then, we expected her to try and enjoy it and give it her best. She seemed to think that was reasonable.
Chloe's first game was April 5th. She was definitely in better spirits then, but I think it helped that she was given a pretty green uniform to wear, and had several parents cheering her on. Again, in these photos, you would never know of our struggles, as Chloe looks like she's having the time of her life.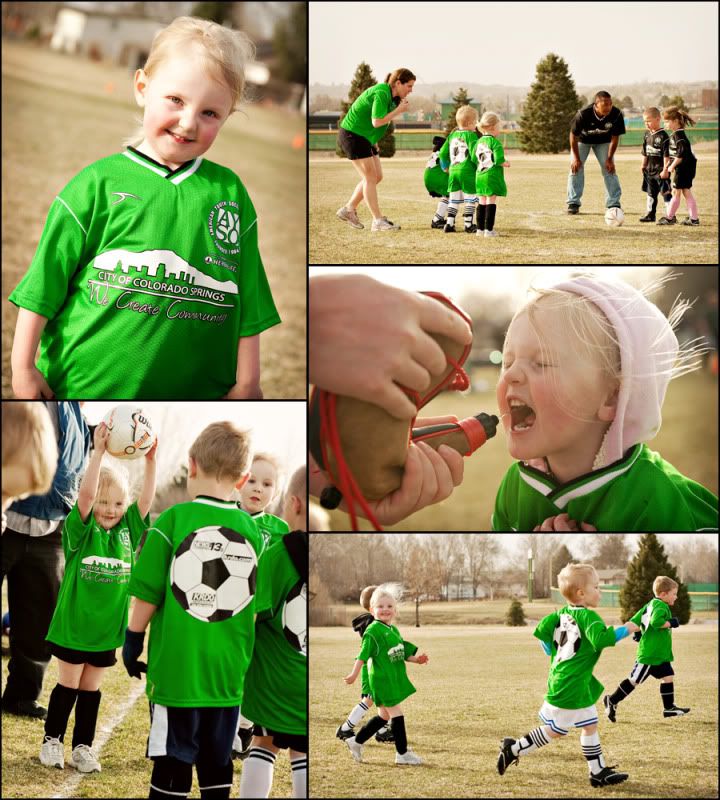 Notice Chloe in the bottom right picture. So typical. Not paying a bit of attention to the game, but smiling happily for the camera.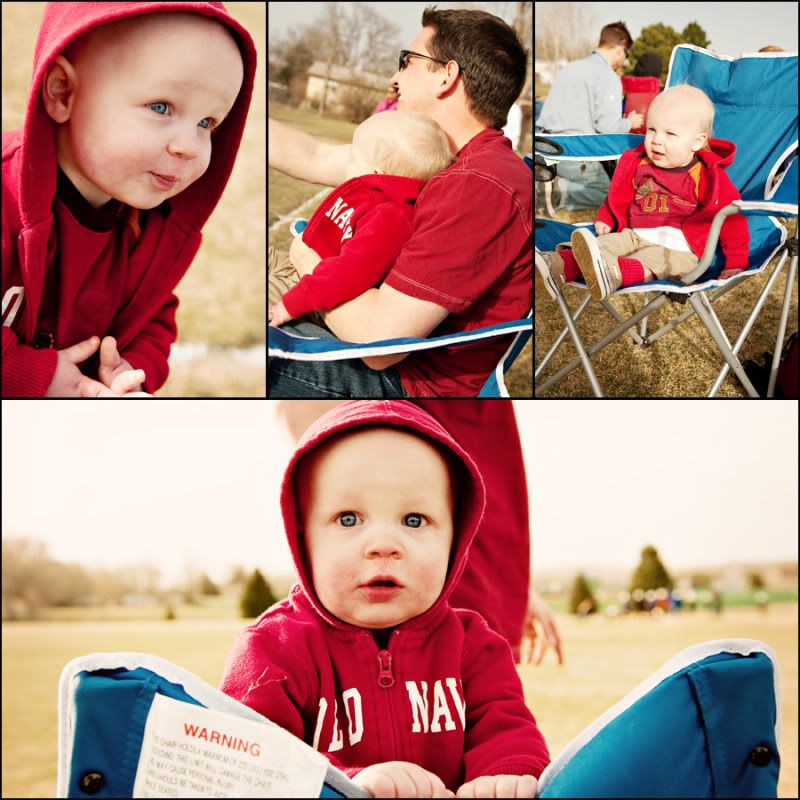 2 of Chloe's biggest fans...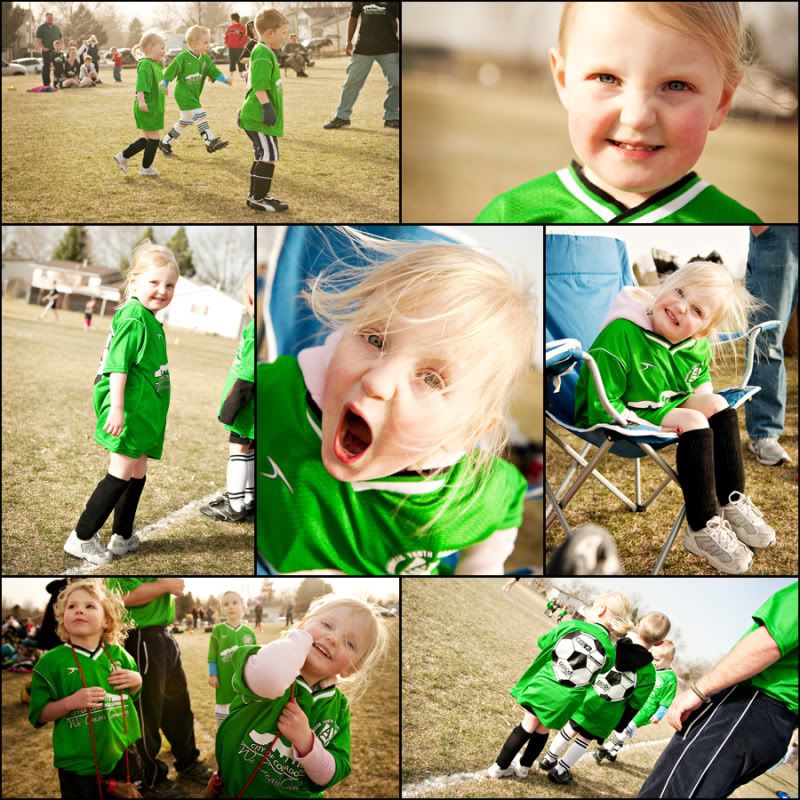 More silliness and smiles...

Clearly Chloe takes the sport seriously, as she dances around with cones on her head (above). Also above are Chloe and life long pal, Aly. They are two peas in a pod.
I know pretty much all these pictures contradict the misery I claim we've endured these last few weeks. But before you call me a complete liar, let me share
this
one with you!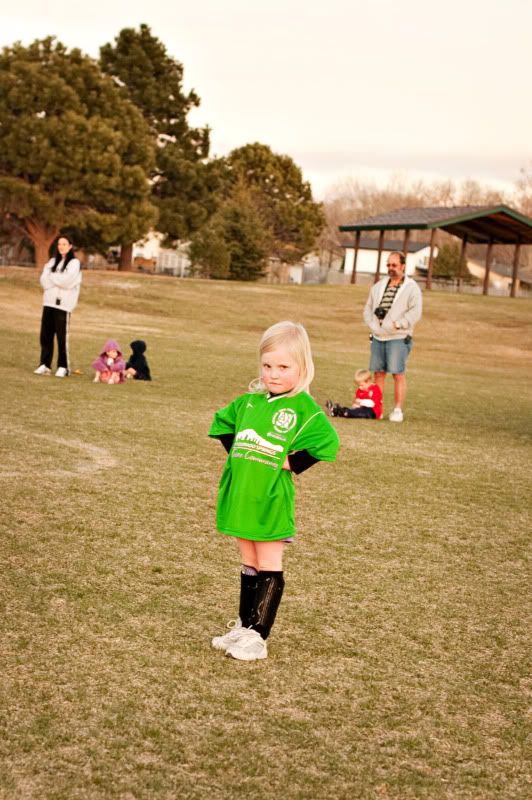 Here is the version of Chloe that claims,
"ballet is so much better than this!"

My mom came out to visit last week, and was able to come to a game.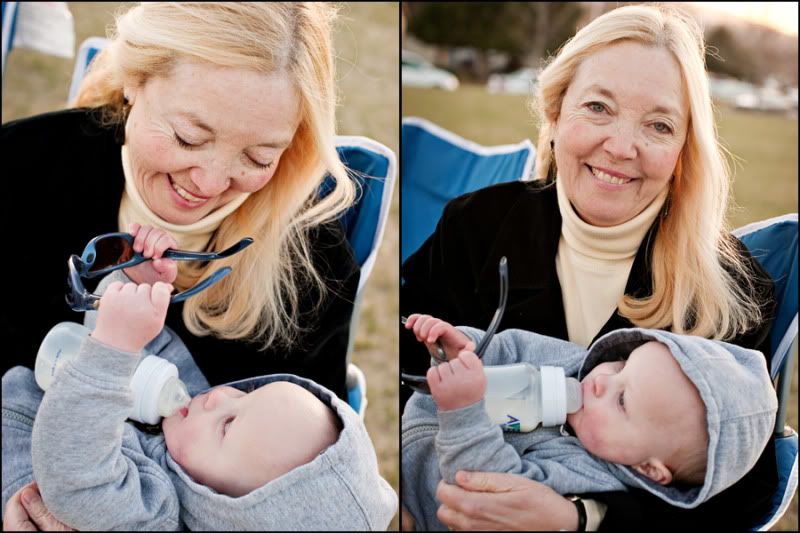 What a treat that was, although Chloe still refused to play the second half of the game.
Proud Grandma Jill with her favorite little people.

Overall soccer has been a good thing, I think. A few weeks ago, I wouldn't have said that, but since the games started things have gradually looked up. Chloe is so entertaining to watch. She really has no clue what she's doing on the field. She just runs with the crowd and giggles. I could probably count the number of times she's had contact with the ball. At least she finally seems to be enjoying it. After her game last Wednesday she told me, "Ballet is hard. It might be too hard for me. I might need to stick with soccer!" Funny, indecisive girl. Gotta love her.