Chloe had a birthday party a few weeks ago with some of her preschool pals. It was a hit! The night before as I was scrambling to come up with ways to entertain 8 three and four year olds for an hour and a half, I found myself beginning to stress! What's funny is we ended up playing generic games like Duck Duck Goose and Hot Potato, and they just thought it was the greatest thing ever! It never ceases to amaze me how something as simple as sitting in a circle with a bean bag can entertain a child.
For weeks Chloe told me she wanted a Tinkerbell party. She also told me she wanted
only
boys at her party. Maybe it's just me, but an all boy party with a Tinkerbell theme just doesn't mix! Needless to say, we made some compromises.
Want a simple and inexpensive solution to satisfying 8 hungry children?
-1 (8 ct.) tube Pillsbury Grands biscuits
- Pizza sauce
- Shredded mozzarella
- Pepperoni
Place 1 biscuit on a plate for each child. Have them flatten their biscuits, then decorate with sauce, cheese and pepperoni (or any other desired toppings). Bake at 350 for 12-15 minutes. It doesn't only feed 'em, it entertains 'em! Always a plus!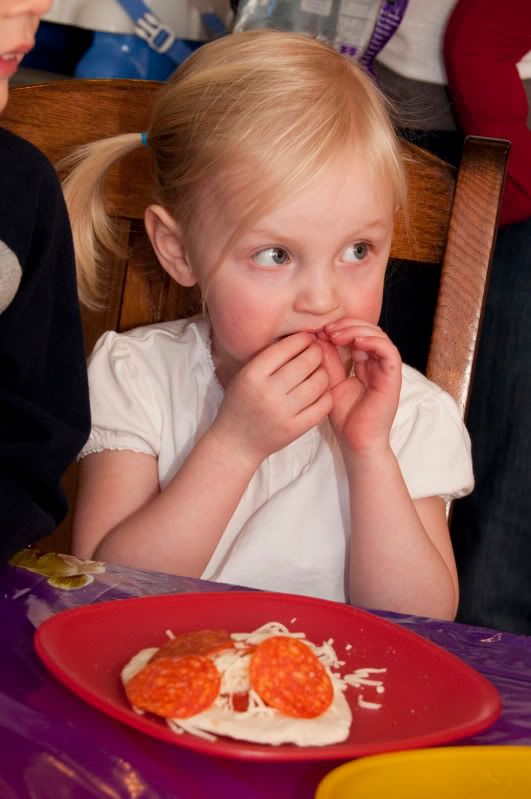 And what's a birthday party without a Tinkerbell pinata? Luckily, each child had a turn to whack the thing around before the birthday girl finally knocked it to the ground!
Time for presents!
This process was pretty entertaining to watch. With each present opened, the kids migrated closer and closer to Chloe. By the time the last present was opened, they were practically on top of each other!
Time for some birthday cake... or should I say a Tinkerbell cup cake tower!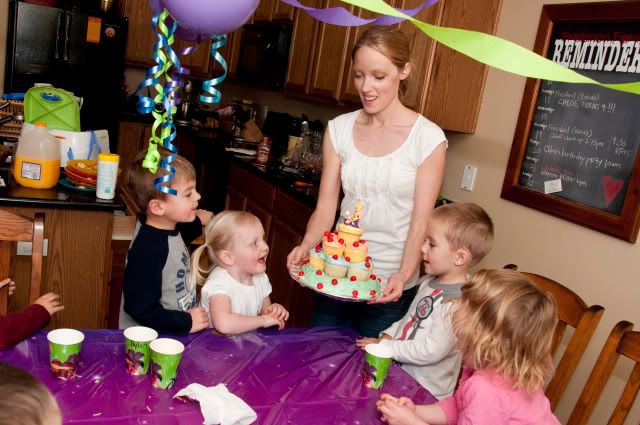 Thank you, Better Crocker, for being more creative than I! I never would have thought of this on my own! Then again, cake decorating was never my cup of tea.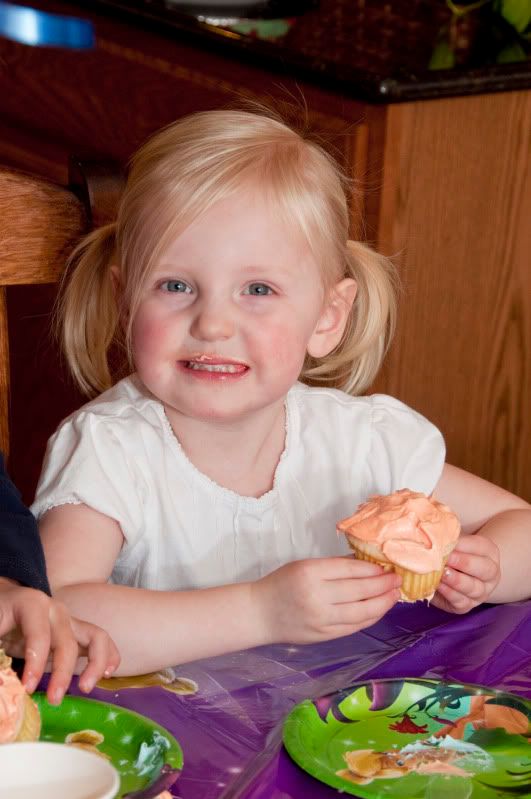 Starting this year, I began a tradition that's been in Neil's family for generations. I wrapped pennies, dimes, nickels and quarters in wax paper and inserted one in each cup cake. Growing up, Neil said this was always one of the highlights of birthday celebrations, and that the goal was always to end up with the piece of cake containing the quarter!
All in all, Chloe's party was a success! Thanks, Allison, for helping with crowd control. It was great fun and even three weeks later, Chloe's still talking about it.