I've had low back pain now for over 6 months. Initially, I thought I'd overdone it lifting Ryan or some other heavy object. As time passed it mellowed some, but remained present, varying in intensity depending on my activity and stress level. It got bad the week of our move from Colorado, and then made a huge jump in the worse than bad direction two Saturdays ago when we unloaded the truck. That night I couldn't even help Neil stand our dining room table up from its side after he stuck the legs on it. Pathetic! Over the course of the next week I stretched my back a ton and tried to take it as easy as I could. By the following Sunday though, I was in no better shape. By the third hour of church I was wiggling out of my seat because it hurt so much to sit. Monday morning I finally called a chiropractor, and that afternoon, with kiddos in tow, headed to his office. We discussed medical history (which there wasn't much of), brainstormed possible explanations for the pain, tried 15 or so minutes of electrotherapy, and eventually, did an x-ray of my lower back.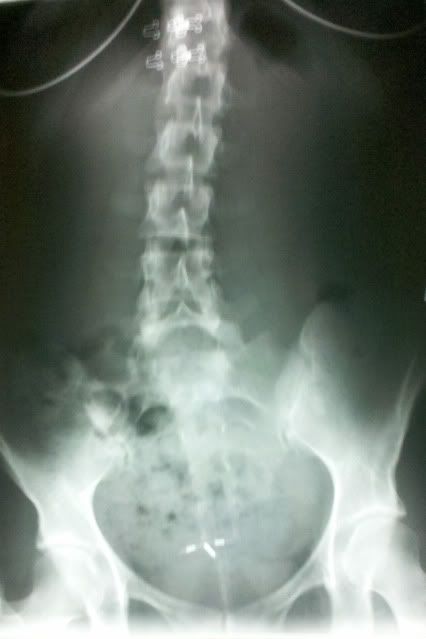 Now I'm no medical expert. But it doesn't take much to see that things aren't sitting quite straight here. This is a cropped version of the x-ray (which Neil took with his phone) so it isn't quite as profound as the real thing. BUT! It is still a very level shot of my lumbar spine and pelvis. Notice anything out of the ordinary? Perhaps the fact that my pelvis tilts up, or that my spine carries with it a lovely curve?
Translation: I have scoliosis.
Don't worry, it isn't as scary as it sounds. The chiropractor classified it as "somewhere between mild and moderate". Based on the tilted pelvis, he said he was shocked that I didn't suffer from back pain as a teenager or during my pregnancies. He agreed that the posture and core muscle strength that ballet helped me to maintain probably saved me during my teen years. As for my pregnancies, well, I guess I got lucky.

At this point our #1 goal is to eliminate the pain. Then he would like to work on correcting the problem. Because of the tilt, one of my legs basically functions as if it's longer than the other, and he wants to work on that. Scoliosis is not generally a disease that can be cured entirely. Our bodies do what they do, and rarely are they perfectly proprortioned. But he feels that my case can be improved in time with proper therapy. Yesterday I went in for my second round of therapy, and I will continue going twice a week until the pain dies down significantly or all together. From there, we'll play things by ear.
I'm a little wigged out by the whole thing. With all the recent changes in my life, this is just icing on the cake - icing that doesn't taste very good. The chiropractor suspects stress is what finally triggered symptoms, and I think he's right. As unpleasant as it has been though, I'm grateful to finally have answers. It's a pretty unsettling feeling to be in pain and not know why. I also think the timing of it all is ironic. I mean this is right up Neil's alley. He sits in on spinal surgeries all day, looks at x-rays just like the one you see above, and consults surgeons about the products he sells for patients with scoliosis or other spinal problems. Neither the chiropractor, Neil or I expect that I will ever be a candidate for surgery (thank goodness for that!), but how funny that in all these years I've apparently lived with this disease, I'm finally diagnosed with it just 4 months after Neil's accepted a job working in this very industry.